Among Big Oil stocks, Exxon Mobil (NYSE:XOM) and ConocoPhillips (NYSE:COP) are typically viewed similarly. They are both huge U.S. oil & gas producers, and both companies pay 3% dividends to shareholders. However, that is about where the similarities end. Exxon Mobil and ConocoPhillips have gone in vastly different directions this year, because their business models are actually quite different.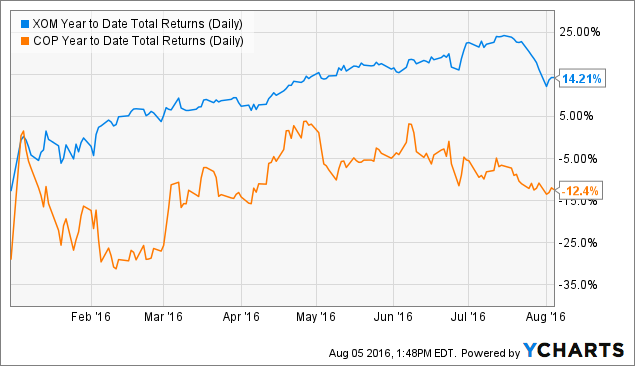 Exxon Mobil has provided investors with a very solid double-digit total return so far this year, while ConocoPhillips investors have been hit with a double-digit loss. I expect this trend to continue. There is a good reason for this divergence, which is that the companies are structured differently. Exxon Mobil is an integrated major, meaning it has a large downstream business in addition to its huge exploration and production business.
For its part, ConocoPhillips is an independent E&P firm after spinning off its refining and midstream businesses in recent years, which now trade independently as Phillips 66 (NYSE:PSX) and Phillips 66 Partners (NYSE:PSXP). Although this was an advantage for ConocoPhillips when oil prices were high, the flip side is that the losses are amplified when oil prices decline. Now that oil prices have reversed course and are trending down toward $40 per barrel again, investors should stick with Exxon Mobil, a best-in-class integrated major.
Exxon Mobil: The "Lower-for-Longer" Pick
There is a good chance that oil prices may stay at $40 or even dip lower in the coming weeks. The rally in oil prices off the February low has incentivized oil companies to ramp up production once again. For example, consider the Baker Hughes weekly rig count data. In the week ending August 5, U.S. producers added seven oil rigs, marking the sixth consecutive week of net rig additions. Increasing production in the U.S. is likely to keep pressure on oil prices, as is the fact that OPEC has still signaled little to no interest in cutting production.
This matters because if oil stays in a "lower for longer" pricing environment, E&P pure-plays like ConocoPhillips will struggle. Plain and simple, ConocoPhillips needs oil prices to be significantly higher than they are to make money. The company lost $4.4 billion last year because it is highly sensitive to fluctuations in oil prices, and conditions have not improved much to start this year. It has lost more than $2 billion over the first half of this year. If oil prices head back toward $30-35 per barrel, it is likely ConocoPhillips will continue to lose money.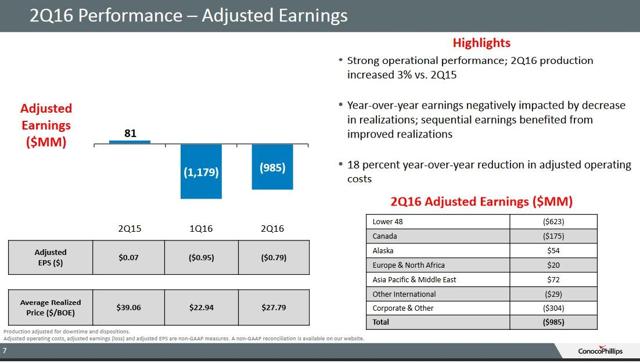 Click to enlarge
By comparison, Exxon Mobil has remained profitable this year. It earned $1.7 billion last quarter and $3.5 billion over the first half of the year. A big reason for this is its refining business, which generated $825 million of profit for the company last quarter. Refining tends to improve when oil prices decline, because low oil prices typically reduces refining feedstock costs, which then results in higher earnings.
The other key fact that has helped Exxon Mobil is its significant cost cuts. As the largest publicly traded energy company in the world, Exxon Mobil has a great deal of financial flexibility to cut costs during hard times. It cut capital expenditures by 38% last quarter. For its part, ConocoPhillips cut operating costs by 18% last quarter.
It goes without saying that no company can rack up losses quarter after quarter and maintain its dividend forever. In February, ConocoPhillips cut its dividend by 66%. I wrote about this risk in December, before the company cut its dividend. In that article, I advised investors to expect a dividend cut because of a key fundamental reason. Without a downstream refining business, there is nothing to help ConocoPhillips blunt the impact of collapsing oil prices.
While I don't expect ConocoPhillips to need to cut its dividend again, I also don't expect it to raise its dividend anytime soon. The company seemed to imply this at its annual shareholders' meeting. It appears that repairing the balance sheet by paying down debt is the first priority for any excess cash flow, and next up is investing in strategic growth opportunities. From management's comments, it does not seem like returning to dividend growth is a priority until oil prices are substantially higher.
Meanwhile, Exxon Mobil has the financial capabilities and balance sheet strength to continue raising its dividend. It increased its dividend by 3% this year, and even if oil prices drop back down to the 2016 low, I believe the company can continue to raise its dividend each year. Exxon Mobil is a Dividend Aristocrat, having raised its dividend for 34 years in a row, and has paid dividends for more than a century. Such an impressive history of consistent dividends speaks to the company's ability to navigate the cycles of the oil business.
Therefore, with oil prices trending lower once again and threatening to break below $40 per barrel, the preference should be for best-of-breed integrated operators.
Income Investors Should Stick with Exxon Mobil
In the end, while ConocoPhillips and Exxon Mobil have similar dividend yields, income investors should go with the best-in-breed oil stock, and that is Exxon Mobil. ConocoPhillips could provide greater returns if oil heads back to $100 per barrel, as it is more sensitive to commodity prices. However, this is not very likely. I believe it is more likely that we are in for a prolonged "lower for longer" oil price environment. If that is the case, upstream firms like ConocoPhillips will face a protracted recovery ahead.
Buying ConocoPhillips will provide investors with a slightly higher current dividend yield, but I believe Exxon Mobil will catch up quickly. Even with low oil prices, Exxon Mobil should be able to continue raising its dividend each year, while it may be another few years before ConocoPhillips increases its dividend.
Disclaimer: This article represents the opinion of the author, who is not a licensed financial advisor. This article is intended for informational and educational purposes only, and should not be construed as investment advice to any particular individual. Readers should perform their own due diligence before making any investment decisions.
Disclosure: I/we have no positions in any stocks mentioned, and no plans to initiate any positions within the next 72 hours.
I wrote this article myself, and it expresses my own opinions. I am not receiving compensation for it (other than from Seeking Alpha). I have no business relationship with any company whose stock is mentioned in this article.