On August 2, 2016, American International Group (NYSE:AIG) reported Q2 2016 earnings that were well received by the market, which is shown by the fact that the insurer's share price is up ~9% since the results were released. To put the performance into context, the S&P 500 is up only ~1% over the same period of time.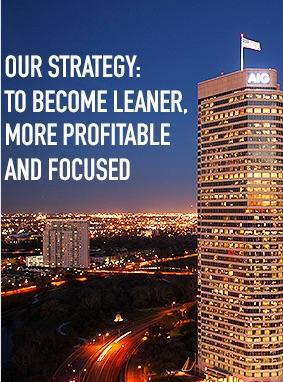 When compared to the same period in the prior year, the operating results were not that impressive; however, when compared to analyst's current expectations, which factors in the challenging operating environment, the operating results were better-than-expected and resulted in a sharp increase in the stock price. The increase in the stock price is warranted based on the earnings report, and, in my opinion, this may just be the start of a period of time where the insurer's stock price will outperform the broader market. Additionally, it appears that Goldman (NYSE:GS) may believe the same thing, as AIG was just added to the bank's Conviction Buy list.
The Better-Than-Expected Q2 2016 Results
AIG reported Q2 2016 adjusted EPS of $0.98 for the quarter, which beat the consensus estimate of $0.93. For Q2 2016, the insurer reported operating revenues of $13.56 (compared to $15.63b at Q2 2015) and after-tax operating income of $1.11b (compared to $1.89b at Q2 2015).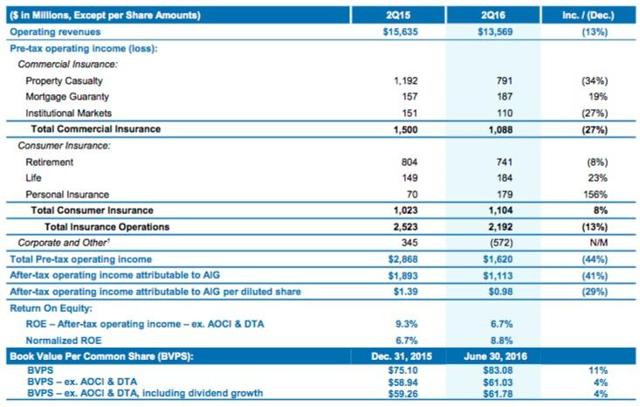 Click to enlarge
(Source: Q2 2016 Earnings Presentation)
The top- and bottom-line YoY declines are not encouraging, but it is important to consider the significant headwinds that AIG is facing in this challenging operating environment. The most notable headwind is the low interest rate environment, which is a topic that management covered in great detail during the Q2 2016 conference call. Pundits are now calling for interest rates to stay low for an extended period of time, i.e. lower for longer, but management is already taking the necessary steps to position this company to prosper in the current environment.
For example, as part of management's on-going de-risking of legacy assets, the insurer has reduced the amount of market sensitive assets (i.e. assets recorded at fair value through earnings) by 40% since 2010.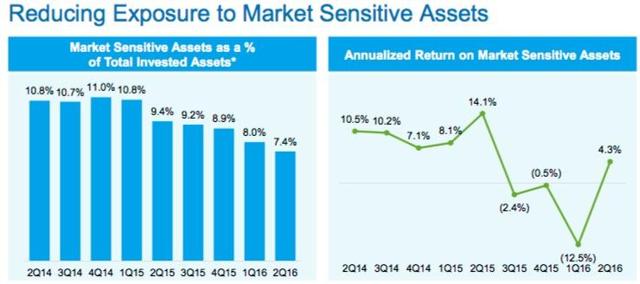 Click to enlarge
(Source: Q2 2016 Earnings Presentation)
Overall, AIG's Q2 2016 earnings were impressive from a long-term investor's perspective, but below are two areas of concern that investors should closely monitor over the next few quarters.
The Areas Of Concern
The impacts being felt from the low interest rate environment is not something that causes me to lose sleep, but the insurer continually taking "one-time" charges is an area of concern.
AIG reported a $300m charge from a worker's comp discount rate adjustment in the quarter, and this same type of adjustment occurred in Q2 2015 but it was a $400m benefit to earnings. At the end of the day, AIG reported an overall unfavorable $29m prior year reserve adjustment during the quarter, which included several favorable and unfavorable adjustments. The dollar amounts here are immaterial, but these type of reserve adjustments are starting to occur on almost a quarterly basis. Similar to what I described in previous articles, investors should continue to monitor these type of adjustments because at some point the street may start questioning the adequacy of the insurer's reserving process.
The next area of concern is the insurer's poor P&C results for the quarter, which is also starting to become a common theme for AIG's quarterly earnings releases.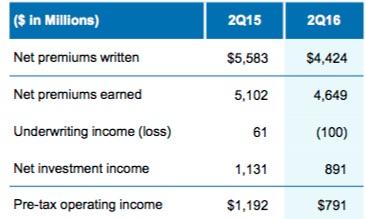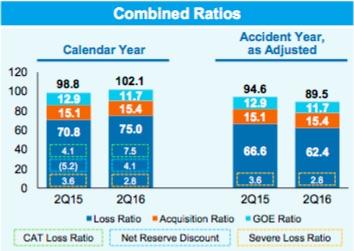 (Source: Q2 2016 Earnings Presentation)
AIG reported a P&C underwriting loss for the quarter and the combined ratio ticked up to 102.1 (from 98.8). I do not want to spend too much time on this widely discussed topic, but management needs to show some significant improvements in the P&C business over the next few quarters if they want AIG to be valued in line with other insurers.
Bottom Line
AIG's Q2 2016 earnings were nothing to write home about, but, on the other hand, the results were better than the consensus estimates. In addition, management made some significant progress in de-risking AIG's balance sheet and putting AIG in a position to prosper once interest rates do begin to rise.
Management was also able to increase AIG's book value (up 11%) and adjusted book value [book value, excluding AOCI & DTA] (up 4%) in this challenging environment, which was helped by the strong buyback program that has been in place for the last few years. As of August 2, 2016, management has repurchased ~$6.9b of the insurer's shares, which is very impressive when considering the fact that AIG's total market cap is only ~$66b. Moreover, the board authorized another $3b to be added to the buyback program.
Investors should not run out tomorrow to purchase AIG shares, but, as I describe in this article, any significant pullback should be considered a buying opportunity because shares are attractively valued and should be trading in the mid-$60's over the next 12-18 months.
Full Disclosure: I own AIG shares and warrants in my R.I.P. Portfolio, and I have no plans to add to or reduce my positions.
If you found this article to be informative and would like to hear more about this company, or any other company that I analyze, please consider hitting the "Follow" button above.
Disclaimer: This article is not a recommendation to buy or sell any stock mentioned. These are only my personal opinions. Every investor must do his/her own due diligence before making any investment decision.
Disclosure: I am/we are long AIG.
I wrote this article myself, and it expresses my own opinions. I am not receiving compensation for it (other than from Seeking Alpha). I have no business relationship with any company whose stock is mentioned in this article.