Data center REIT CyrusOne (NASDAQ: CONE) recently reported another record leasing quarter. In fact, it was yuuuge.
However, after a huge run-up in data center sector shares during the first half of the year, Mr. Market was not impressed.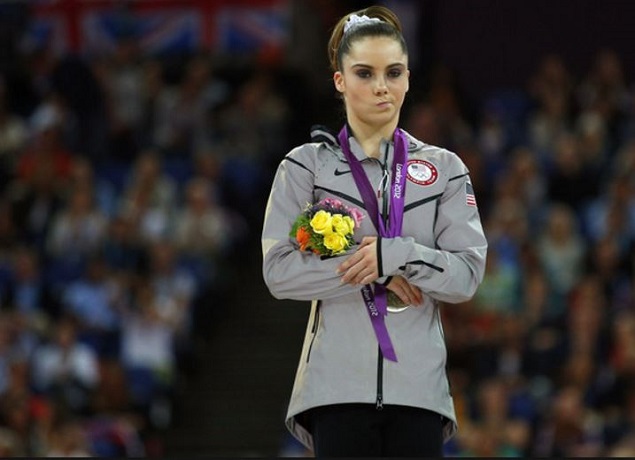 Source: blogs.wsj.com
In fairness to CyrusOne, the entire data center REIT sector was priced for perfection, and it looks like the judging just got tougher.
During the past few weeks, the entire data center REIT sector has been pulling back after racking up huge 1H2016 total returns, shown below.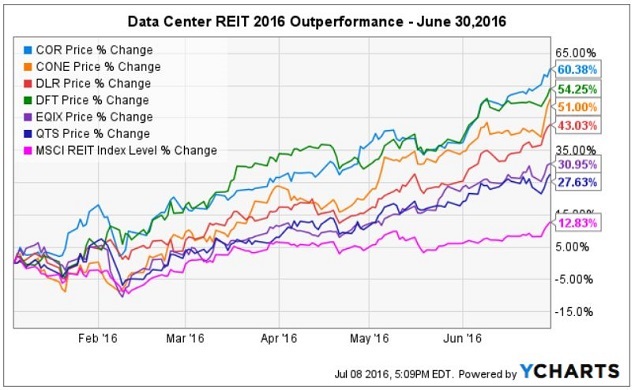 In January, I suggested to SA readers that a DIY Smart Beta, or equal-weight portfolio of the six data center REITs would outperform both the broader REIT sector and S&P 500 Index.
The rationale behind that bullish sector thesis can be found here, with updates here and here.
I'm not concerned about how much of CyrusOne's massive $96 million booked-not-billed backlog falls into next year's earnings pie. But some analysts were clearly disappointed that CONE's high end of guidance for FY 2016 did not get elevated.
Frankly, I am more focused on the leasing success that CyrusOne has been able to achieve. CyrusOne's recently announced 12 MW win in the highly competitive market of Northern Virginia is a prime example.
Tale Of The Tape - Sector Pullback
During the past 52 weeks, CyrusOne has traded in a range of $28.87-$57.00 per share.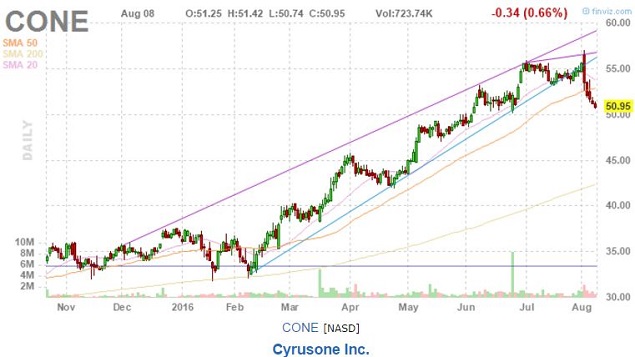 However, the entire sector had gotten a bit frothy. On the CyrusOne Q2'16 earnings call, analysts were clearly disappointed management did not guide higher for FY 2016 FFO per share.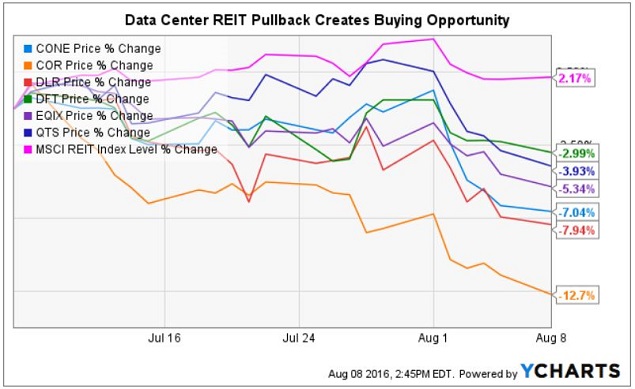 In this article, I will spell out why I remain constructive on the sector and particularly bullish on CONE shares.
In a nutshell, CyrusOne is executing on its business model, and the recent sector pullback offers a buying opportunity for investors who are looking to initiate a position.
CyrusOne & Sector Overview
Here are links to SA articles from earlier this summer which shed light on the ability of data center REITs to continue to grow earnings (FFO/AFFO per share), to support price multiples:
If you have not been following CyrusOne closely, this March article covers the CME Group (NYSE: CME) $130 million sale leaseback of its CME Globex data center, outside of Chicago.
It also contains some of the highlights from the March 22, CyrusOne Investor Day presentation, when CEO Gary Wojtaszek spelled out the five-year plan to double the company.
CONE Bullish Thesis
CyrusOne has demonstrated that it can cost effectively deliver large data halls and new ground-up construction in record time. According to company presentations, CyrusOne can construct new space at sub-$7 million per megawatt in markets where land is readily available.
Due to a prevalence of non-disclosure agreements in the data center industry, it often takes a bit of sleuthing and sometimes "connecting the dots," to identify the customers involved in deals.
However, it has become crystal clear that Microsoft Azure expansions have been a large part of the year-over-year leasing bounce for CyrusOne.
During Q1 2016, North American Data Centers reported CyrusOne landed these Microsoft (NASDAQ: MSFT) deals:
22 MW in Ashburn, Virginia
9 MW in San Antonio, Texas
The six-month build-out of 30 MW and 12 MW facilities, in the slide below, illustrates the CyrusOne speed to market capability.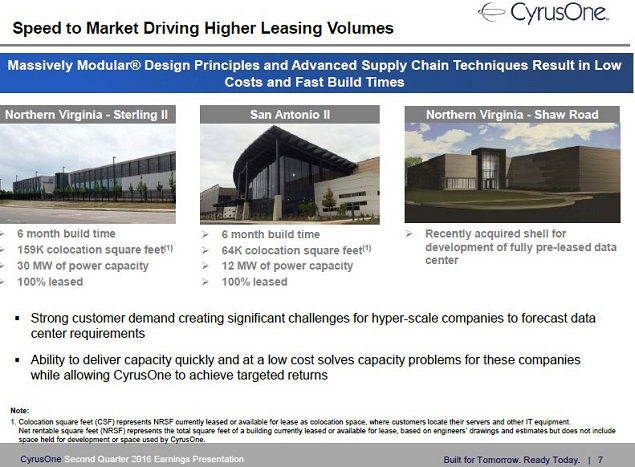 Source: CONE - Q2 2016 presentation (all non-attributed slides)
CyrusOne has labeled its speed to market/low-cost building program "Massively Modular," and it appears to be one of the reasons why CONE has been landing more than its fair share of large megawatt deals.
Notably, CONE is generating mid-to-high teen ROIC on new capital deployments. This is not a one-off for Q2 2016. In fact, it has been consistently achieved, as shown in the slide below.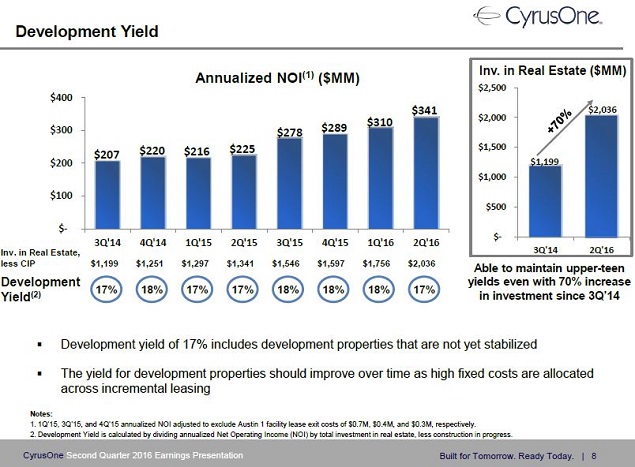 CyrusOne has always targeted the Fortune 1000 enterprise vertical market. The enterprise paradigm shift to off-premises IT solutions, including: public cloud, colocation and hybrid cloud architecture, has begun to accelerate.
Industry experts like Gartner and IDC believe that this enterprise shift to distributed third-party and outsourced IT solutions is still in the very early innings.
CONE - 'Ginormous' Leasing Q2'16
I recently wrote up CyrusOne results for Data Center Knowledge, and here are a few factoids that stood out:
CyrusOne leased 282,000 colocation square feet (NASDAQ:CSF) and 40 MW of power in the second quarter, representing approximately $58 million in annualized contracted GAAP revenue.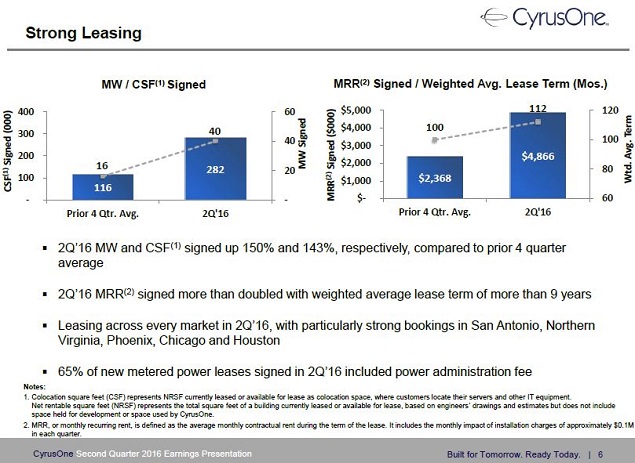 Subsequent to the end of Q2 2016, CyrusOne purchased a ~130,000 SF building shell located in Sterling, Virginia nearby its existing campus. The building supports 12 MW of critical load, and some data halls are scheduled to be completed prior to year end.
CyrusOne added another $14 million in annualized GAAP leasing revenue during the month of July, boosting its booked-not-billed backlog to a record $96 million.
CyrusOne is poised to have a huge 2017, as the Massively Modular building program will help accelerate lease commencements for the majority of the backlog.
CONE - Q2 Earnings Highlights
Normalized FFO per share was $0.67 in the second quarter of 2016, an increase of 34% year over year.
Revenue was $130.1 million for Q2'16 compared to $89.1 million for the same period in 2015, an increase of 46%.
The increase in revenue was driven by a 44% increase in leased colocation square feet, additional interconnection services, and lease termination fees (~$5.0 million of the increase).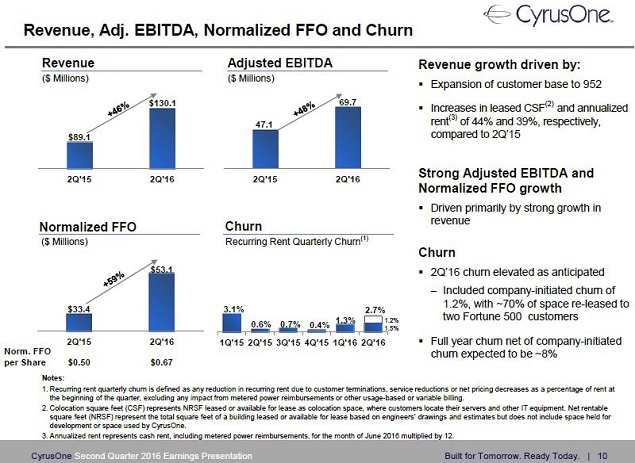 The weighted average lease term (WALT) of the new leases based on square footage is 112 months (9.3 years), increasing CyrusOne's portfolio WALT to 53 months.
CyrusOne also pre-leased 2 MW, or over 75% of space under construction, at the Chicago Aurora I data center, recently acquired from CME Group.
CONE - Portfolio Update
During the second quarter, CyrusOne completed construction on approximately 395,000 SF and 61 MW of power capacity in Northern Virginia, San Antonio, Phoenix, Dallas, and Houston.
This increased total computer room space across 35 data centers to approximately 2,000,000 SF, which represents an increase of 652,000 SF, or 48% Y/Y.
Data center utilization at the end of the second quarter was 92% for stabilized properties, and 84% overall.
CyrusOne has development projects underway in Northern Virginia, San Antonio, Phoenix and Chicago that will add approximately 259,000 SF and 50 MW of critical power capacity.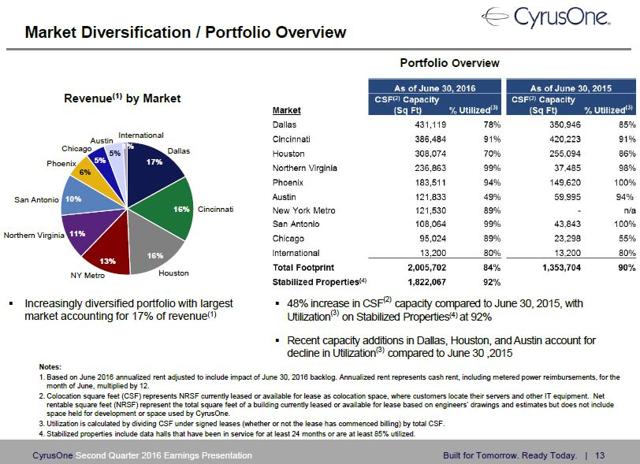 Click to enlarge
CyrusOne has an additional 851,000 square feet of powered shell available for development as well as 230 acres of land across its markets.
Balance Sheet
CyrusOne is operating with a balance sheet that has very little debt, and therefore can support a high-growth program.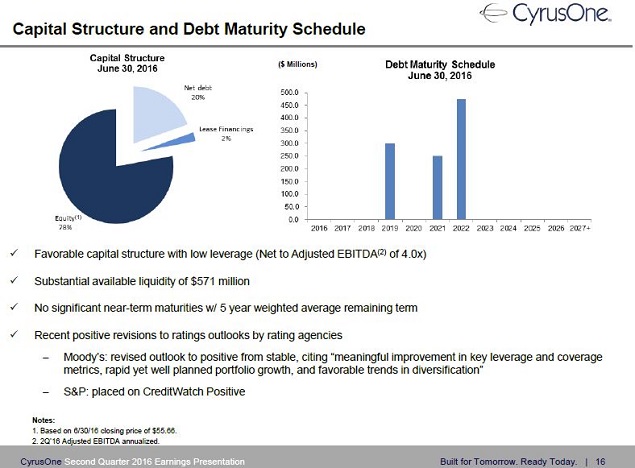 Given the rapid growth of CyrusOne, achieving an investment grade rated balance sheet would reduce overall cost of capital and help to widen EBITDA margins.
Investor Takeaway
It was a bit surprising how CyrusOne's 34% earnings growth during Q2 2016 could be a disappointment to investors. Clearly, even better news was baked into the DCF models, and CONE shares were priced for perfection.
While analysts were disappointed, I am not concerned that management did not raise the high end of guidance for 2H2016 normalized FFO per share.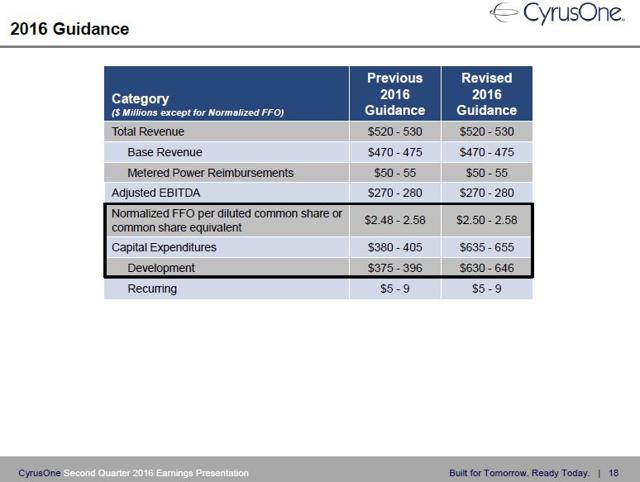 Click to enlarge
In fact, I am pleased that CyrusOne is investing in its platform (including higher SG&A year over year), in order to continue to operate successfully in a dynamic leasing environment.
Notably, CyrusOne has a clear runway for growth in its key markets, given its inventory of powered shell space and available land. This is in contrast to some of its REIT peers, who are running out of available land in key markets.
The hyperscale cloud providers are entering into long-term commitments for the large data halls and entire buildings which are being leased. This helps to de-risk the tenant concentration.
The new wholesale leases being signed are just a few months shy of 10 years. This helps to balance out and extend the overall portfolio lease terms to a 4.5 year average. (Notably, smaller colocation leases are typically signed for two to three year terms).
I feel that CyrusOne can be bought at $51 per share, given the double-digit growth for both FFO per share and the quarterly dividend.
CONE shares trade at a 20x multiple based upon 2016e FFO per share of $2.54 per share, and yield ~3%. However, the visibility for FFO growth in 2017 should easily support the consensus target price of $58.87 per share, which represents a total return of over 18% from current levels.
I relentlessly hunt for diamonds in the rough and rising stars, in addition to closely following data centers, covering REIT blue chips and breaking news. Please consider following me as a Seeking Alpha author if you would like to be notified when my future articles are published.
Disclosure: I/we have no positions in any stocks mentioned, but may initiate a long position in CONE over the next 72 hours.
I wrote this article myself, and it expresses my own opinions. I am not receiving compensation for it (other than from Seeking Alpha). I have no business relationship with any company whose stock is mentioned in this article.