Oil closed at its lowest price since April on Tuesday August 2nd, with WTI crude ending the trading day at $39.51 a barrel and Brent at $41.50. WTI fell even a few cents lower intraday on the August 3rd, but then rallied and even traded above the previous day's high. Thursday, was another rally day. Friday, the day of the U.S. Jobs Report. WTI traded slightly lower on the day, but many media reports afterwards ascribed the week's rally to the strong jobs numbers (which should be bullish for oil, but weren't on the day the news was released). WTI rallied again on Monday, but was heading toward major resistance, likely to be reached later in the week. After that, oil would decide its future direction.
Unlike gold and the other precious metals, which have technically entered a long-term bullish trading pattern, oil has yet to do so (the other energy commodities are even weaker). Until this occurs, it is either stuck in a trading range or will fall back into a bear market pattern. For the moment, WTI crude oil should be considered to be in a trading range between $39 to $52. The $39 level is a 50% Fibonacci retracement of the February to June rally from the bottom of approximately $26 and the top of $52. There is an even lower Fibonacci retracement around $36 a barrel and if the price falls below this, oil has to be considered to have become bearish again. So, there is still some leeway on the downside. In the short-term, WTI needs to get and stay above its 200-day moving average around $44. It if can do this, it will confirm it is in a trading range.
In the chart below, the gold line is the 200-day moving average (note that it is heading down, which is bearish) and the top red line is the 50% Fibonacci retracement and the bottom red line is the 61.8% Fibonacci retracement.
September WTI Oil Futures with 200-Day Moving Average and Fibonacci Lines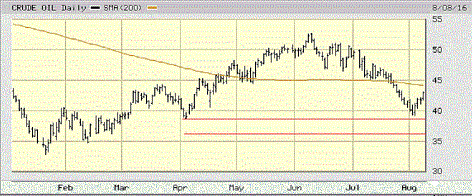 Fundamentally, from a supply perspective, the future is favorable for oil because there are no significant increases in production on the horizon around current price levels. The U.S. fracking boom is temporarily over because it was made possible by easy and abundant credit. Now that some of these loans have gone bad and more are likely to default, the banks are reluctant to extend additional funds (generally when the banks get burned in loans to an industry, they tighten credit to that industry for years thereafter). Oil prices need to go back above $60 for fracking production to start another climb, but the increase this time around will be much slower than it was previously because the same level of funding won't be there.
Many commentators have focused on a recent rise in rigs as being bearish. This is absurd. The rig count fell over 75% from late 2014 until the spring of 2016. A few extra rigs added to the current very low level won't make any noticeable dent in oil production.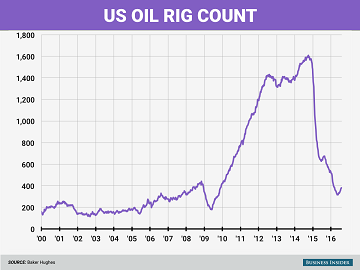 The Middle East isn't going to be adding to supply either. Production from Iran, after sanctions were lifted, came to market must faster than most analysts predicted. The rest of the Middle East had already increased production by around four million barrels per day (bpd) since 2009 and this required bringing some very marginal fields online. For more about this see here and here.
Despite many articles claiming otherwise, global demand for oil is robust and has not been declining. It has actually increased on the average by 1.6 million bpd every year since 2009. Oil demand has only declined three times since 1859 and that was during severe recessionary conditions or when it had reached an extremely high price, neither of which exists today. For more about this, see here.
Investors should take a watch and wait attitude toward oil at the moment. It needs to reestablish its bullishness before it should be purchased or firmly establish it bearishness before it would be advisable to short it. To invest in the commodity itself, investors can use ETFs such as: USO, OIL, DBO, and USL.
Disclosure: I/we have no positions in any stocks mentioned, and no plans to initiate any positions within the next 72 hours.
I wrote this article myself, and it expresses my own opinions. I am not receiving compensation for it (other than from Seeking Alpha). I have no business relationship with any company whose stock is mentioned in this article.