This article was originally published on August 8, 2016 at miningWEALTH.com.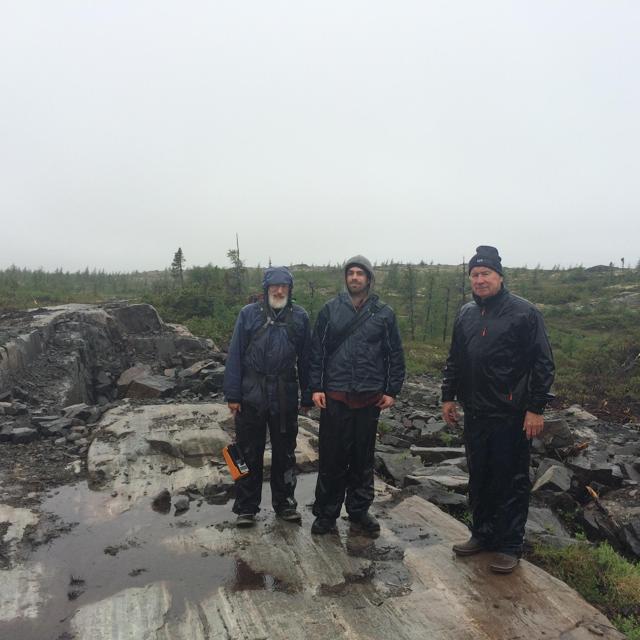 Click to enlarge
(Randy Miller, Ben Kramer-Miller, Ray Saunders at Search Minerals' Foxtrot Project)
Overview
Search Minerals (OTC:SHCMF) is developing the Foxtrot REE Project. It is located in eastern Labrador, along the Fox Harbour Volcanic Belt-a 64 km-long trend along which lies the Foxtrot deposit, as well as numerous other targets-particularly Deep Water Fox-that Search's head geologist Randy Miller believes could host attractive pockets of REE mineralization. REE-mineralization consists of allanite, fergusonite, and to a lesser extent monazite, bastnaesite, chevkinite and zircon. The most advanced target-Foxtrot-contains an indicated and inferred resource sufficiently large to support production for 14 years.
As with all REE companies Search faces challenges that go above and beyond what one typically finds in resource investing, and its Foxtrot Project is currently uneconomic at market prices and given cost assumptions made in the recent PEA. We note the following hurdles that are specific to Search:
Foxtrot geometry is unattractive. Essentially the deposit is the shape of a thick shoe insole or a banana peel positioned subvertically into the side of a rugged hill. While it is exposed at surface much of the known deposit will be mined using underground methods, which is unparalleled in the REE space. The strip ratio will be very high in most years of the mine's life and average 8.5 throughout. Furthermore, underground resources are extremely costly to expand relative to open-pitable resources, meaning the cost/benefit of additional resource delineation is likely not favorable at current prices.
The ore grade is relatively low at ~1.1% TREO. We note that Lynas cannot generate cash-flow with an ore grade ~10X higher than this. We will see that the "apples-to-apples" comparison here isn't appropriate, but note that it is generally the case that low ore grade plus poor deposit geometry often lead to uneconomic projects. Whether Foxtrot is an exception depends on the success of a commercially untested REE-extraction procedure.
REE-mineralogy is complex as it consists of several minerals that have not been commercially processed for their REE material. Generally it will be more difficult to optimize recovery rates when one looks to extract a product from multiple mineral sources.
The company is using an unproven hydrometallurgical recovery process that could take time to develop and optimize, while expected operating costs are subject to greater variation than they would be otherwise.
These concerns are offset by the following:
The project is small: the company is only planning to process 1,000 tonnes of ore per day. Furthermore, as an open-pit/underground operation some of the capex is delayed until underground development commences, so that initial capex, with a 25% contingency, comes in at ~$152 million.
Labrador is a friendly mining jurisdiction looking to develop its fledgling mining industry. Search will, of course, have to comply with wishes of the locals and with normal environmental standards, but the concerns that have hindered Rare Element Resources (Bear Lodge is located on U.S. Forest Service Land) or Lynas (it has to ship its mineral concentrate outside of Australia for chemical processing) will not impact Search.
Nearby Deep Water Fox appears to be similar in terms of geology and mineralogy to Foxtrot, except that it is more than twice as wide and ore grades appear to be ~15% higher than they are at Foxtrot based on a preliminary analysis of surface material. Pilot plant work, which is about to commence at SGS's laboratory in Lakefield, ON, should be applicable to Deep Water Fox ore. We wouldn't be surprised to see the company drill out this deposit over the next couple of years and making it the first target for exploitation. More generally it is feasible that the Fox Harbour Volcanic Belt could host other similar deposits, making this a potential mining district. Therefore, we view Search as an exploration story as well and note that while there may be better REE deposits out there than Foxtrot that most REE projects under consideration are found in regions that have been explored extensively and whose resources are well-known (e.g. Bayan Obo, Mountain Pass, Mt. Weld, Strange Lake, Bear Lodge, Steemkampskraal, Norra Karr, Round Top…etc.).
The metallurgical flow-sheet can be optimized, and there is a lot of room for improvement to recoveries (particularly for HREEs), estimated at 76.8%.
This is a difficult project, but it is being developed by a strong team that appears to recognize the hurdles ahead of it while playing it straight with investors. Management has kept promotion to the minimum and appears to be one of the most efficient REE juniors out there with a Q1 burn rate of a merely C$170,000 in Q2, 2016.
Ultimately we are not buyers yet-there are opportunities in the space that we like better given their development of by-product solutions to REE production that appear to give them viable projects in today's market environment-but we will continue to keep an eye on the company and believe that it could be an attractive investment in the future in the event that REE prices rise, a higher grade deposit with better geometry is discovered nearby, or should hydrometallurgical flow-sheet developments improve project economics.
Management & Insider Ownership
Search's management team has no delusions regarding the uphill battle the company faces, and the team has been developed to address company specific issues. For instance, the unique REE mineralization presents a never-before encountered metallurgical puzzle that inevitably adds processing risk. If we consider the difficulties that Lynas is facing in processing a "known" REE mineral-namely monazite-we must inevitably conclude that Search (or any REE company for that matter) faces an uphill battle in developing an economical hydrometallurgical process. In response the company has brought on board expert metallurgist David Dreisinger, who is the Industrial Research Chair of Hydrometallurgy at the University of British Columbia and who holds several positions with mining companies throughout the world, with Polymet Mining (NYSEMKT:PLM) (TSE: POM) likely being the most familiar to readers. As we will see he is developing a bulk leach solution in the hope of eliminating physical beneficiation from Search's flow-sheet: this process will be piloted later this summer.
Geologist Randy Miller has extensive REE experience, having done work on the Strange Lake deposit prior to Quests' involvement today. He also worked for the Newfoundland and Labrador geological survey as their REE-specialist, making him the natural choice as Search's VP of Exploration.
Insiders own a sizable portion of the outstanding common shares, as well as warrants and options, which means that senior management's and directors' interests are aligned closely with those of shareholders. The following table was compiled from data available at SEDI.ca.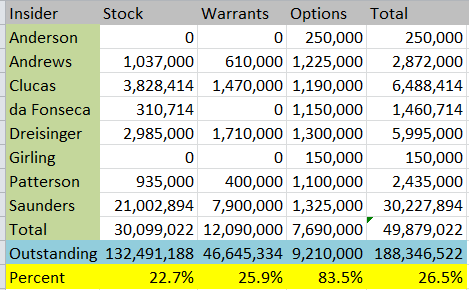 Sercor is a major shareholder in the company as well, and like with many junior resource companies "friends and family" own a large number of shares as well, leaving a limited number of shares available to the public.
Since REE investing is so complex and risky the alignment of interests between management and shareholders is particularly encouraging.
Foxtrot Project Overview
Our assessment of the Foxtrot Project is based, in addition to the PEA-found here-on a recent site visit on June 30th, 2016.
The Foxtrot deposit is located in the Fox Harbour volcanic belt, which runs for ~64 kilometers in eastern Labrador.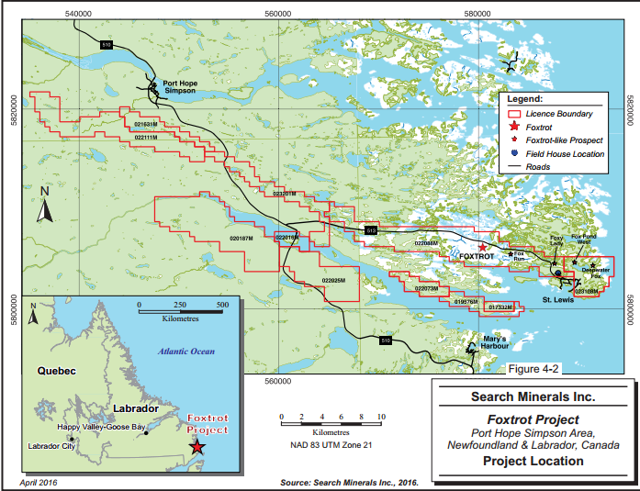 Click to enlarge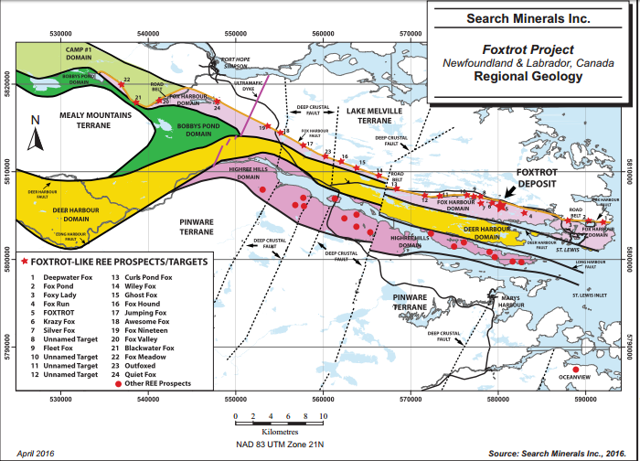 Click to enlarge
There is a local airstrip that cannot be accessed by commercial aircraft, and while there is an airport located ~3 hrs. away by car it is often too foggy for planes to land there. Conveniently, the project is located near Port Hope Simpson, meaning that Search can receive materials and ship products by boat relatively easily.
While the project is remote, it is located near a sparsely populated Saint Lewis, meaning that some of the necessary infrastructure is either already in place, or will potentially be put in place. Power, water, roads, and some labor should be readily accessible. However, additional roads will need to be built, and skilled labor (e.g. chemical engineers) will need to relocate or be flown in. The Newfoundland and Labrador government is supportive of its mining industry, and we suspect that it will be involved to some extent in developing some local infrastructure. The extent of this is unknown at this point in time, although we can at least be fairly sure that it will be paving gravel roads that lead to the mine site, making it more easily accessible.
The Foxtrot deposit itself is walking distance from Highway 513.
The deposit is a large sub-vertical vein that extends several hundred meters at depth (and remains open at depth) and along strike (although it is not open), but which is relatively narrow across.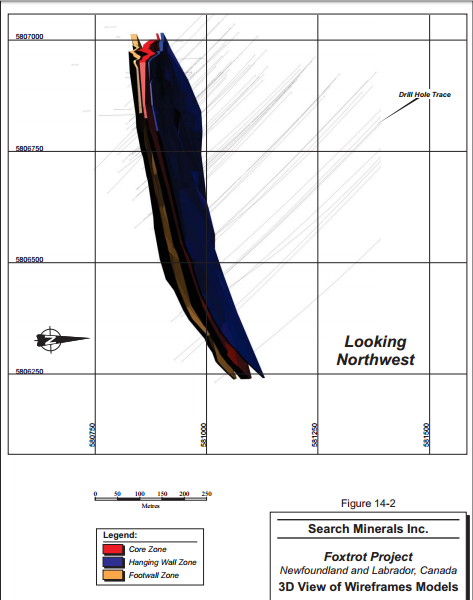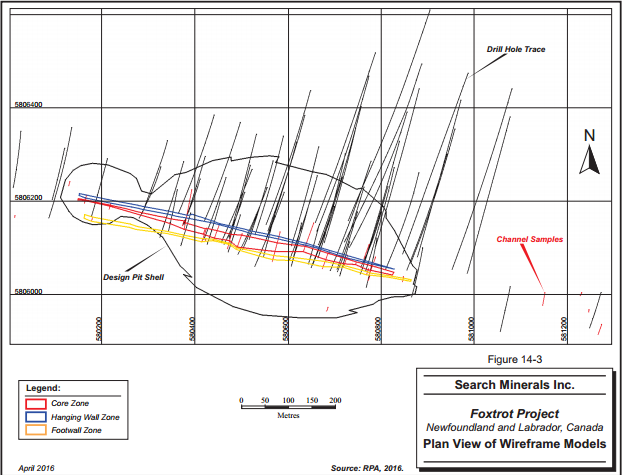 The deposit will be mined using open pit methods until the strip ratio rises to the point at which this becomes unattractive, at which point underground mining techniques will be used. While the deposit is exposed at the surface the strip ratio should be quite high throughout the mine's proposed life at 8.52. This is an average of a highly volatile metric, which varies from less than 1 to in excess of 20. However, as a large mineralized vein dilution should be kept at a minimum.
The resource is mostly in the indicated category, with 7.4 million tonnes of indicated resources at 1.1% TREO and 2 million tonnes of inferred resources at 1.2% TREO.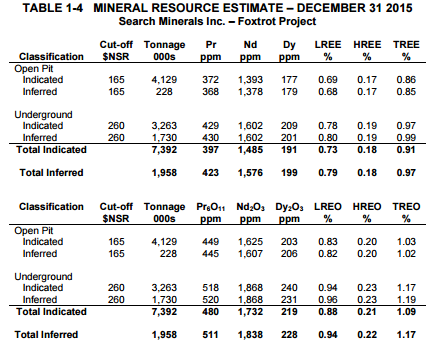 Foxtrot has a mostly LREE basket with greater than usual (i.e. from bastnaesite or monazite) HREE enrichment. This cuts into the Nd/Pr distribution, which is at 20% (the low-end for a typical monazite-derived basket), but Foxtrot will produce a greater amount of dysprosium than a typical LREE deposit, which in the current market means there is a net benefit to Search. Based on Search's data we've estimated the following basket distribution, and corrected it for estimated recovery rates, which differs for each individual element.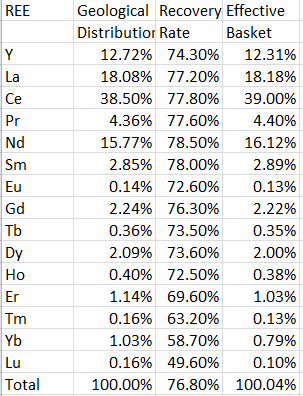 REE Recoveries
Typically REE juniors are proposing to crush ore and then physically beneficiate it using flotation and magnetic separation in order to isolate the REE-bearing minerals. This is followed by an acid leach and some combination of selective precipitation, ion exchange, and/or solvent extraction. Search is proposing a bulk leach of its ore in order to bypass the physical mineral separation steps that it considered in its 2013 PEA. It is possible to follow the conventional route, however Search ore would have to be ground finely-to 0.105 millimeters-and physical beneficiation would not be very efficient. Meanwhile the waste materials don't leach as easily as the REEs, meaning that the added cost of acid consumption resulting from the bulk leach is mitigated.
The trade-off work that Search has done demonstrates that bulk leaching is the better choice. However there are disadvantages and risks:
Inadvertent leaching of unwanted impurities. This can complicate the process and add to costs, since specific reagents might be needed.
Higher reagent costs as a result of the former point and as a result of more material in general being leached. Reagent recycling might be an option, thereby offsetting these costs.
Higher equipment costs needed to contain more material.
Higher electricity costs for heat generation as the leach will be done at an elevated temperature and/more elevated pressure, the cost of which will be correlated to the size of the ore being leached.
The proposed flow-sheet can be found in the PEA: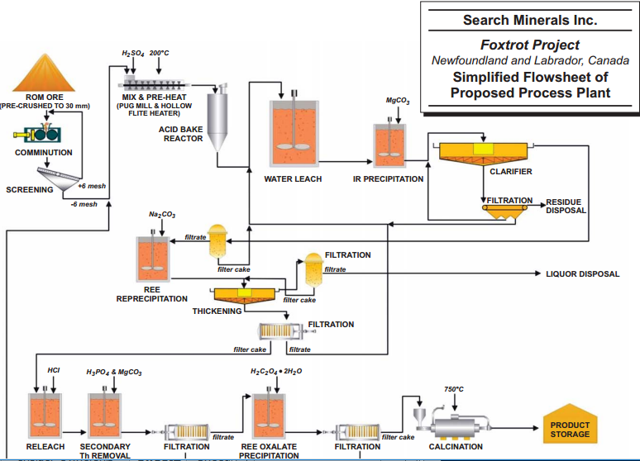 Click to enlarge
This process is similar in principle to the approach proposed by Rare Element Resources in manufacturing a REE concentrate, with the initial step designed to remove the bulk of the impurities and with subsequent steps designed to remove thorium. A preliminary bench scale test was carried out by Search Minerals that shows promise, however we note the following risk, as stated in the PEA:
The SGS work is at a preliminary stage with just one sample subjected to testing and a limited number of leach, impurity removal, and product precipitation tests completed. The leach tests were performed on conventionally crushed material. RPA expects that better leach results can be obtained using high pressure grinding rolls (HPGR) on the crushed material. RPA notes that the REE products created in the test work have achieved low levels of Th but have yet to meet the low levels of U and possibly other radionuclide levels (no measurements yet on other radionuclides) required by commercial toll separation plants, and further tests are needed in this area. The proposed process has yet to be demonstrated on a pilot scale. Additionally, RPA notes that there has been no environment-related tests.
New approaches to REE-concentrate recoveries face serious risks. Currently the company is working on pilot-scale work with SGS in order to provide initial demonstration that its process will work on a small scale. But we note the tremendous delays and cost overruns that we've seen bankrupt Molycorp and bring Lynas Corporation to its knees, despite decades of chemical analysis of these ore bodies (going back to the 1950's in the case of Mountain Pass). Thus even extremely favorable pilot plant results can at best tell us that the company is moving in the right direction.
There are a couple of mitigating factors, namely the small scale of the project, and the fact that there is nothing fundamentally different from the more typically proposed REE-concentrate extraction processes (unlike, say, in the cases of MRT or electrophoresis). This leaves us more confident in management's predictions with respect to various metrics than we would be otherwise.
Project Economics
The following table breaks down the company's REE basket. REE prices have been corrected for presumed separation expenses ($3/kg. for LREEs and $9/kg. for HREE) as management intends to sell a mixed REO-concentrate to a separation company.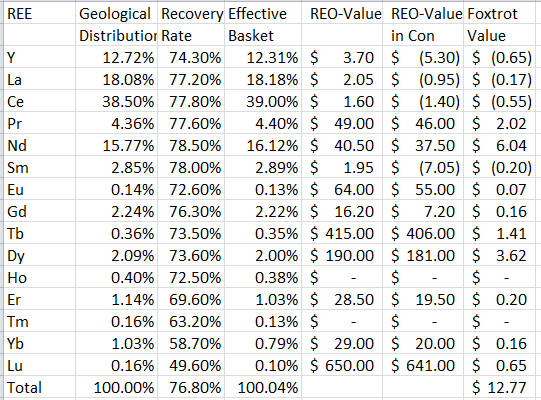 Note that this is generous relative to the company's assumptions, which estimates $10/kg. for LREE separation and $20/kg. for HREE separation, while ascribing $0 for uneconomic REEs such as Ce/La. The company has not yet made arrangements with a REE separation company and we won't know the actual figures until they do so. Even when they do this expense may be correlated to REE prices. We will assume that the company sells its REO concentrate for $12.77/kg.
As a small project Foxtrot's initial capex expense is expected to be among the lowest in the industry, at ~$120 million, including a $25 million contingency. It will have additional expenses as it makes the switch from open pit to underground mining.
Operating expense are expected to come in at $170/tonne for open pit mining and at $200/tonne for underground mining. These figures assume the separation costs as outlined above so we will have to correct them to fit our assumptions.
For open pit mining at 1% TREO Eq and a 77% recovery rate the company will be producing 7.7 kg. of TREO Eq. per tonne. This means that it will cost Search $22/kg. to get to separated oxides from open pit mining. At a 78%/22% LREE/HREE split this assumes ~$12/kg. for separation, meaning the company gets to a concentrate for $10/kg., leaving $2.77/kg. as operating cash-flow.
For underground mining at 1.2% TREO Eq. and a 77% recovery rate the company will produce 9.25 kg. of TREO Eq. per tonne. This means that it will cost Search $21.60/kg. to get to separated oxides from underground mining. At a 78%/22% LREE/HREE split this assumes $12/kg. for separation, meaning the company gets to a concentrate for $9.60/kg., leaving $3.17/kg. as operating cash-flow.
We must stress that these figures are based on an unproven hydrometallurgical processing strategy, and that risk remains that these costs will be higher than expected.
The following table estimates Search's pre-tax economics at current REE prices. The subsequent table assumes the same except it assumes that REE prices are a third higher than today's prices, putting Search's basket value at $16.98/kg.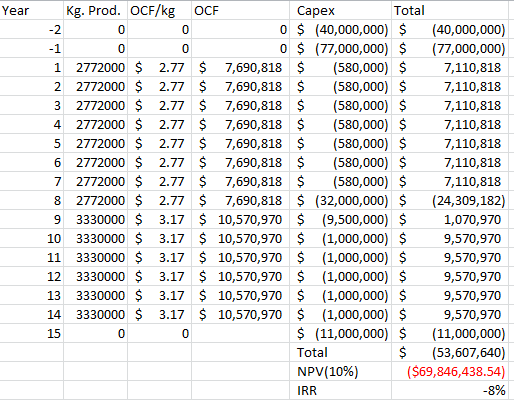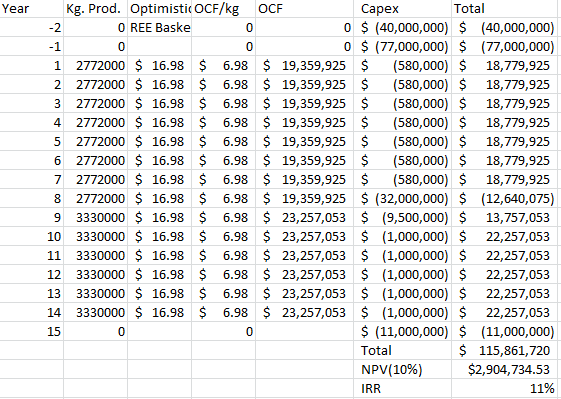 Like with most companies Search needs higher REE prices in order to have an economic project. However, given its burn rate and its lack of debt the company can wait for prices to rise.
Exploration Potential
While there are mitigating factors, it is hard to argue that a deposit such as Foxtrot is "world class" or even that it is among the better REE deposits under consideration today. It is lower than average grade, has unusual mineralogy, it isn't that big, and the geometry is mediocre. Nevertheless Search has several exploration targets, and its main target is showing initial signs that it can overcome all of these difficulties except for mineralogy, which has not yet shown to pose any specific difficulties. Deep Water Fox is just a few kilometers east of Foxtrot, and it is readily accessible. Work to date has only included surface assays, although from this it appears that the Deep Water Fox target is twice as wide as Foxtrot, which means that the strip ratio should be considerably lower while open-pit mining can be used to extract more ore than at Foxtrot. The ore grades are also roughly 15% higher. Higher grade typically means a higher recovery rate as well. Based on discussions with management exploring this target is a top priority after pilot plant work on Foxtrot ore is completed, and we note that the two targets share similar mineralogy, meaning that pilot plant work carried out on Foxtrot ore will be useful for assessing Deep Water Fox.
We note that there are several other targets and that it is quite possible that the best one to start mining has yet to be discovered.
Other Opportunities?
Search's team is focused on developing a REE project, but there are opportunities to extract other materials from Foxtrot that have yet to be explored, such as scandium recovery, niobium recovery, and k-spar recovery. As we've stated elsewhere no REE project makes sense in today's market without a byproduct solution. Foxtrot is no exception. However, if Search can recover some or all of these materials it could improve its project's economics.
For now the company is focused on other things, although we note that management is well aware of these opportunities and that it will explore them further after more pressing issues are addressed (e.g. pilot plant and Deep Water Fox exploration).
Other Risks
There are some additional risks that investors must consider:
Climate: It will get so cold in the winters that management has decided to over-mine the ore body during the warmer months in order to stockpile ore to be sent to the hydromet plant in the winter. The company will have to insure that the plant is capable of operating in the winter, and that it can secure the talent needed to operate it.
Permitting: Labrador is intent on promoting its mining industry, but permitting is always a risk that, in large part, remains out of the company's control. Regulators will want to make sure that the company has a plan in place to dispose of its radioactive material in an environmentally friendly fashion. Mining companies in the uranium and REE spaces always face added scrutiny because of this, and it is worth mentioning here.
Valuation
Search Minerals has a ~C$11 million market capitalization. Normally we compare a company's valuation with the projected NPV of its project(s), but we cannot do this with Search given that Foxtrot is not economic at current REE prices. Another issue specific to Search is that its unproven hydrometallurgical process indicates that we should prepare for more deviation in actual operating costs relative to those proposed in the PEA, although note that this deviation could wind up being in the company's favor. We can, however, look at relative valuations. With respect to other REE companies Search Minerals is much cheaper than market favorites such as Ucore (OTCQX:UURAF), Northern Minerals (OTC:NOURF) (Some platforms show the company name as "Northern Uranium," although this is outdated) or Hastings Technology Metals (ASX: HAS) (no US ticker), although note that Northern Minerals is more advanced than any of these companies, Search included. However it is much more expensive than our favorite REE stock: Medallion Resources (OTCPK:MLLOF), which, as we've argued, investors overlook since the company is not developing a deposit. Overall, however, the list of REE companies cheaper than Search is small, and many of these have little-to-no chance of getting into production (e.g. Rare Element Resources (OTCQB:REEMF), Matamec (OTCQX:MHREF)).
The Bottom Line
Search Minerals faces an uphill battle in that it is attempting to bring a (currently) uneconomic REE project into production. The fact that the project is not economic precludes us from recommending shares to investors. However we believe that Search's management is being proactive with respect to the other hurdles it faces given the people it has brought in, the strategies it is pursuing in developing a deposit-specific hydrometallurgical process and in exploring Deep Water Fox, and in its corporate governance characterized by an exemplary burn rate and insider ownership. With that in mind Search is a company that REE investors should keep a close eye on, especially as it gets ready to run its pilot plant this summer.
Disclosure: I am/we are long MLLOF.
I wrote this article myself, and it expresses my own opinions. I am not receiving compensation for it. I have no business relationship with any company whose stock is mentioned in this article.
Editor's Note: This article covers one or more stocks trading at less than $1 per share and/or with less than a $100 million market cap. Please be aware of the risks associated with these stocks.