By Gary Alexander
The first Olympic gold medal went to a young female shooter, Ginny Thrasher, who won the 10-meter air rifle contest on Saturday morning. The U.S. is a prohibitive favorite to win the most gold (and most total) medals - China will likely be #2. The U.S. sent the most athletes of any country, 554, and well over half of them (292) are women. It's likely that more U.S. women will win gold than men, partly because there are 30 women on our favored soccer and basketball squads vs. only 12 men on our great basketball team.
Despite anemic GDP growth in 2012, it's likely that the U.S. economy will remain "best in show" for 2016, despite sub-par corporate earnings, some chronic unemployment, a slowdown in manufacturing exports, a slowdown in business spending, random terror attacks, and a dismal Presidential election race.
When it comes to the three largest global economic zones, there is a clear hierarchy on the medal stand:

The U.S. is the economic elephant in the global room, but our growth rate is smaller than some emerging Asian economies, led by India and China. Economist Robert Gordon's 2016 book, "The Rise and Fall of American Growth," argues that
Economic growth is not a steady process that creates economic advance at a regular pace, century after century. Instead progress occurs much more rapidly in some times than in others.
Gordon claims we are entering an extended period of slower growth, due to a slowdown in the incredible technological advances that fueled our phenomenal 150 years of economic growth after 1865.
I critiqued Gordon's thesis in my Groundhog Day Growth Mail (A Dormant Winter Often Precedes a Spring Rally, February 2, 2016), saying he fails to see (1) that which is invisible - future technological changes - and (2) the Law of Large Numbers, which tends to lower our annual percentage GDP gains. Younger, smaller, hungrier economies - like those in Asia - can post much higher GDP percentage gains:

Turning to trade advantages, the leaders in current-account surpluses over the last 12 months would be:

According to The Economist, the gold medal for the strongest currency to the U.S. dollar over the last 12 months is the Japanese yen, up 14%. A few others gained 2% or so against the U.S. dollar, including the Olympic host (the Brazilian real) and the Australian dollar, but the U.S. dollar rose against nearly every other major currency in the last 12 months, thereby hurting the earnings of many major U.S. exporters.
When it comes to stock markets, a rogues' gallery of recent basket cases led the parade in 2016 so far:
Turning to the richer, developed, high-capitalization stock markets, the total gains are smaller but they are presumably a tad more secure than gains in the developing markets' crap-shoot. The big-cap winners are resource-rich Canada and Australia, which have profited from the first-half recovery in commodity prices.

When it comes to the four biggest stock markets, the leadership is ultra-clear: The U.S. wins Gold with a positive 5.3% (in the DJIA, through August 3), with no real competition: The Eurozone wins a tainted Silver medal at -10.9% (Euro Stoxx 50), while the Japanese market (Nikkei 225) wins a rusty Bronze medal with a -15.5% YTD decline, edging out the Shanghai market (SSEA index), down 15.8%, YTD.
U.S. Remains a Relative "Oasis of Safety"
The U.S. is a Goldilocks economy in more ways than one. In the classic sense, our economic porridge is neither too hot nor too cold. We also strike a balance in not being overly reliant on commodity prices (as in Canada, South Africa, or Australia) or relying too much on exports or heavy manufacturing (like China, Japan, Germany, and South Korea) or relying on a shaky, artificial trading alliance (the European Union).
America has suffered two major crashes in the new century (2000-02 and 2007-09), but we quickly recovered from both reversals. Not so in Japan and Europe. The Tokyo market has not seen a new high since the last trading day of 1989. The Euro Stoxx 50 index is also down sharply over the last 15 years. Its all-time high was set in April, 2000. Most of the big euro-zone stock markets are down in 2016, too: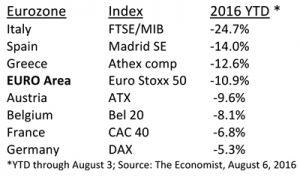 Europe has also witnessed a series of existential crises, threatening the survival of the Euro-zone as a unit. There have been at least three major Grexit threats since 2010, huge unemployment rates (20% or more) in Spain, bad banks in Italy, a Scottish and British vote for separation, and an ongoing refugee crisis.
America survived similar scares - including the S&P downgrade of our debt in 2011, the "fiscal cliff" and fear of budget cuts (sequestration) in 2013, but the U.S. market is up strongly since 2009 - and in 2016.
Can this continue? In his August 1, 2016 briefing ("Could the S&P 500 Double from Here?"), economist Ed Yardeni gives a 30% subjective probability to "a melt-up led by dividend-yielding stocks." He gives a 60% chance for "a long and leisurely secular bull market" and only a 10% chance of a market meltdown. His admittedly subjective reasoning is that "the U.S. economy deserves an A-plus for resilience."
America remains an oasis of safety, but it would be a mistake to give up on the rest of the world. Ed Yardeni reported on July 26 that industrial production in the emerging market economies (EMEs) was up 4.2% in the 12 months through May, vs. a recent low of 2.2% growth as of the end of 2015. "Leading the way with solid gains at or near record highs were Indonesia (up 7.1% y/y through May), China (6.1% through June), Poland (6.0% through June), and Malaysia (2.6% through May)…. Singapore's production is up 12.1% YTD through May; and Taiwan's output is up 3.2% over the past four months through June."
Billions of eager young people are fighting for a better life for themselves and their families. Decades of repressive communism did not kill China or Eastern Europe. Some of the top growth rates in Europe are among the former Soviet satellites, like Poland (+3.3%) and the Czech Republic (+2.3%). Relative peace and a desire for prosperity virtually guarantee that the global economy will continue to reward investors.
Disclosure: *Navellier may hold securities in one or more investment strategies offered to its clients.
Disclaimer: Please click here for important disclosures located in the "About" section of the Navellier & Associates profile that accompany this article.