Wal-Mart (NYSE:WMT), the world's largest retailer, is going to acquire fledgling e-commerce company Jet.com, founded two years ago. Jet.com will be getting $3.3 billion through a cash and stock deal. The cash consideration is $3 billion and the e-commerce company will get $300 million worth of Wal-Mart shares.
A distant and struggling second
Clearly, Wal-Mart is looking to put up a fight against the leader in online sales - Amazon (NASDAQ:AMZN). Despite being the second largest grosser in online sales, Wal-Mart is still small when compared to Amazon in terms of digital sales. In the last fiscal year, Wal-Mart's online sales in the US were just shy of $14 billion compared to $63.7 billion generated by Amazon. Well, as size does not tell the whole story, we must look at growth - Wal-Mart's year-over-year digital sales growth in the latest quarter stood at 8% compared to Amazon's (US) 28%. Leave aside competing with Amazon, with that performance, Wal-Mart will find it hard to stay even at second place.
Although online sales contribute less than 5% to Wal-Mart's US revenues, the concern becomes evident when we look at the growth in absolute terms. Wal-Mart's overall US revenues grew by $9.3 billion last year compared to nearly $12 billion growth in Amazon's sales. Wal-Mart delivered that growth from a base of $288 billion in sales compared to Amazon's near $51 billion. Looking at these numbers, Wal-Mart is actually quite late in beefing up its digital operations. Better late than never.
Why Jet.com
With $7.6 billion in liquid assets and the capability to issue tens of billions in debt, Wal-Mart had many options when it decided to go shopping for an e-commerce platform. But Jet.com has exactly what Wal-Mart craves and has failed in achieving: rapid digital sales growth. Jet.com is one of the fastest growing e-commerce platforms in the country - it reached Gross Merchandise Value (GMV) of $1 billion within a year of operations. It brings 400,000 new buyers every month to its shopping platform, offering 12 million items for sale.
At the surface, it looks like a perfect marriage - Wal-Mart's sourcing capabilities matched with Jet's technology and customer experience; thus, finding as many eyeballs as possible to capitalize on its irrefutable buying power, the advantage it's lost slightly with the decision to raise wages at its bricks and mortar stores. But the challenge is bigger than that, a major contributor to Amazon's success is its supply chain innovation, resulting in quick and reliable delivery. We expect Wal-Mart to be highly competitive on that front, which indicates a good fight ahead. But, even for Wal-Mart, coming up with a shipping and logistics network as robust as Amazon's would be anything but easy.
Is Wal-Mart a buy?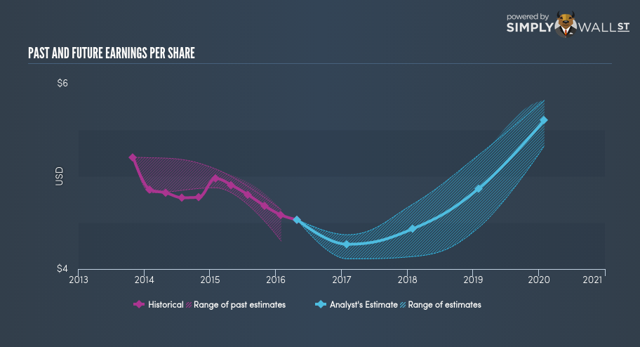 Currently, Wal-Mart's EPS is tracking downward due to multiple headwinds of late - its decision to raise wages of sales personnel at its stores, dismal online sales growth, and price-cuts to remain competitive from the tough online competition. Consensus sell-side analysts estimate for EPS-growth is a negative 4.9% over the next year. However, three-year growth is pegged at 11.4%, primarily based on expectations that its aggressive investments to get the online business up to speed will start showing results. Considering the EPS growth is getting a substantial help from Wal-Mart's aggressive share repurchase plans-during the 12 months ended 30 April 2016, Wal-Mart bought back $6.5 billion worth of common shares-those figures don't prompt a purchase decision. Our DCF model churns out an intrinsic value of $73.72, lacking a margin of safety. So, while there is no reason to sell, there is no reason to buy either - it's a hold.
Source: S&P Capital IQ, Simplywall.st
Disclosure: I/we have no positions in any stocks mentioned, and no plans to initiate any positions within the next 72 hours.
I wrote this article myself, and it expresses my own opinions. I am not receiving compensation for it. I have no business relationship with any company whose stock is mentioned in this article.