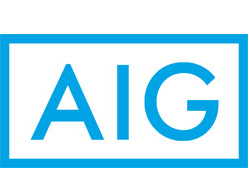 Insurance company American International Group, Inc. (NYSE:AIG) lately surprised investors with 2nd quarter earnings that beat analysts' best estimates. If you haven't followed American International Group closely, I recommend you head over to my article covering the insurance company's earnings release, 'AIG: That Was A Big Victory, Was It Not?'.
American International Group's earnings were defined by a big jump in the company's accounting book value, improving underwriting results, and normalizing capital returns. On the back of the earnings release, American International Group's shares surged more than seven percent, a sure sign that investors are warming up the company as a capital return play. Importantly, AIG has so far not only managed to defend those price gains, but extended them as well.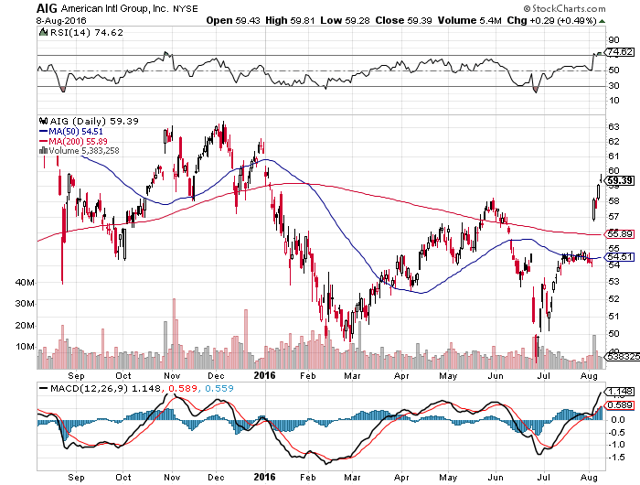 Click to enlarge
Source: StockCharts.com
Since American International Group released earnings a week ago, the shares are up ~10 percent. The strong performance of AIG's shares after the earnings release is remarkable because investors have so far not taken advantage of the surge in share price to take profits and dump shares, which is something you would normally expect from a short-term earnings trade. In fact, quite the opposite is true.
Investor interest in American International Group is growing for two reasons:
1. AIG announced another share buyback authorization of $3.0 billion when it released 2nd quarter earnings, which will likely be exhausted in the next few months if the insurance company continues to buy back shares at the same clip we have seen in the first six months of the year. YTD, AIG has repurchased $6.9 billion of its shares, and the company may buy back double that amount in 2016.
The kicker here is that AIG is buying back shares well below accounting book value...so the combination of improving operational results as measured by expanding returns on equity AND buybacks below accounting book value work together to fuel the insurance company's book value growth. AIG has said that it targets a 14-16 percent (!!) increase in book value in 2016, which would be phenomenal.
2. Just as important as share buybacks are improvements in American International Group's capital efficiency, which is largely determined by its underwriting performance. The 2nd quarter was a great step forward for the insurance company in this regard, but more efforts need to be undertaken to get the company on a sustainable underwriting path.
In any case, improving normalized returns on equity are an indication that American International Group is moving in the right direction.
See for yourself.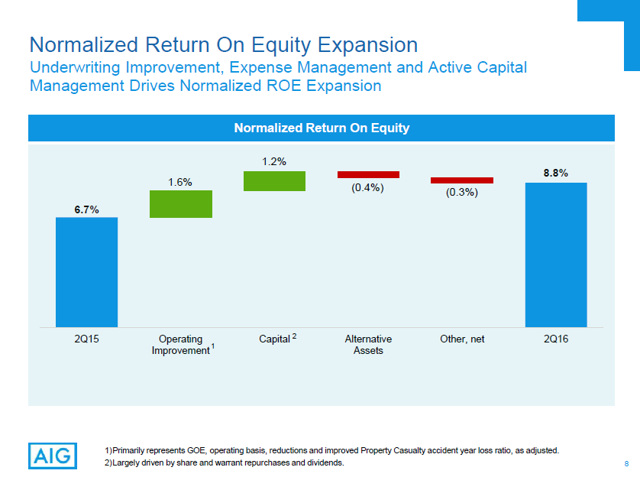 Click to enlarge
Your Takeaway
American International Group is in a much better position than it was just six months ago. Investors are warming up to the insurance company, too, now that they are seeing how much money it is throwing at shareholders, and what bargain the shares obviously are. Improving capital efficiency is another reason why investors should want to stay on board here until the thesis fully plays out. As far as I am concerned, AIG has a good shot of running up to new highs in the short haul on the back of a shift in investor sentiment, and strong prospects for above-average accounting book value growth. Buy for capital appreciation.
If you like to read more of my articles, and like to be kept up to date with the companies I cover, I kindly ask you that you scroll to the top of this page and click 'follow'. I am largely investing in dividend paying stocks, but also venture out occasionally and cover special situations that offer appealing reward-to-risk ratios and have potential for significant capital appreciation. Above all, my immediate investment goal is to achieve financial independence.
Disclosure: I am/we are long AIG.
I wrote this article myself, and it expresses my own opinions. I am not receiving compensation for it (other than from Seeking Alpha). I have no business relationship with any company whose stock is mentioned in this article.