Ok, it's time for a Heisenberg common sense check.
Common sense should be your best friend in all things. Common sense is a lot like a good dog. All it knows how to do and all it will ever care to know how to do is protect you and look out for you. That's its whole reason for existing. Like a dog, it might occasionally lead you astray, but rest assured it didn't mean to. It thought it was doing something to either please you or help you, it just turned out to be wrong. It is always pure of intention.
Everyone knows this but while we always listen to Lassie when Timmy has fallen down a well, we sometimes brush off common sense like it's barking for no reason.
Donald Trump is a good example. We can argue all day about the extent to which he's "tapped into something important" in American society, but common sense is telling you that making this megalomaniac President is probably a bad idea. It's not about Republicans or Democrats, it's about common sense. Lassie is barking at the American electorate and only about 55% of voters are listening. If that number falls too much further, little Timmy is going to drown. If that happens on November 8, don't blame Lassie.
So let's look at two of my favorite examples of common sense getting tossed aside in financial markets. Have a look at this chart:

Click to enlarge
So basically what you're seeing there is something that shouldn't happen. You've got the spread between HY energy and crude blowing out, while spreads between HY energy and HY ex-energy (NYSEARCA:HYG) are collapsing. Why is that weird? Well because of this:

Click to enlarge
The market isn't pricing in the dramatic move lower in crude. Common sense tells you that the most dangerous sector in the market (HY energy) should be tanking along with oil prices, but that's not what you're seeing in credit. Lassie is barking, and no one is listening. Here's another look at the same phenomenon from Goldman: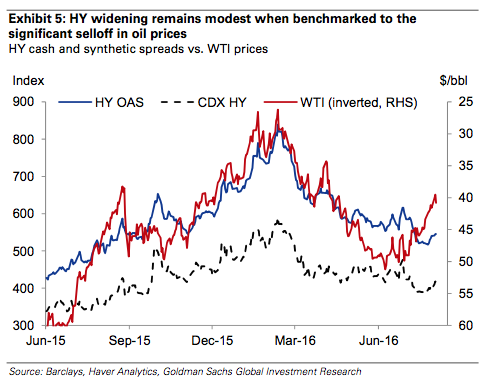 (Chart: Goldman)
Now have a look at this: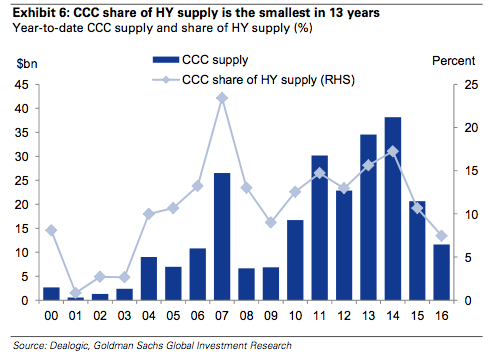 (Chart: Goldman)
Here's some color from the Squid:
While WTI has lost 19% since the start of July, HY bonds have returned +2.1% and spreads have compressed by 40bp over the same period. Recent weakness notwithstanding, the relative resilience of the HY market primarily reflects the robust demand for carry, favoring longer duration and higher carry assets like HY energy credits.

While HY issuance continues to close its gap vs. last year's pace (now down 20% on a year-over-year basis), CCC-rated issuers continue to lag. As shown by Exhibit 6, with a total supply of $12.2 billion year to date, the share of CCC issuance in the broader market is the lowest since 2003 (including 2008), at 7.5%. Unsurprisingly, the 35 sharpest drop-off in CCC supply has been visible in the Oil and Gas sector where last year's pace was running at 3x this year's run-rate.
I mean, does it get any clearer than that?
Meanwhile, you might want to note that if you're in the ETFs that buy this crap, you're a futures trader - and you didn't even know it. Consider this, from Deutsche Bank:
Most people draw wrong conclusions from the ETF market because they forget that there are two parts to the usage equation, or ETF activity. As we have previously mentioned in this report,ETFs can be used as investment tools for asset allocation, or liquidity tools for trading. Most people get the first part of the equation(i.e. the investment) right, but they usually are less precise in their understanding of the second part: the trading aspect of it. Investors that buy ETFs do so mostly for the exposure, and efficient access; however traders that buy ETFs do so for their liquidity. Yes! traders are buying the ETF liquidity, not so much the exposure. Now don't get us wrong, exposure still matters to traders, but it becomes a secondary decision factor within a group of ETF peers.

Based on our methodology, we estimated that 86% of all ETF value traded during 2015 was driven by non-asset allocation purposes. In other words, traders using ETFs as liquidity tools for short term objectives accounted for 86% of ETF trading activity,despite only representing 15% of ETF ownership.

We found that average holding period for ETFs is a fluid metric which can help understand ETF product evolution. In addition, we noticed that ETF flow volatility patterns can also help understand product evolution. As a matter of fact, as we examine product evolution histories for pseudo futures ETFs we notice two distinct patterns, which at this point we will call the earlier and the latter patterns, respectively.

During the earlier pattern, the products are relatively new and usually have higher average holding periods, which may present significant oscillations in the first years as the trading activity accommodates to new asset levels. On the flows side, these products tend to present flat or steady inflow trends as a result of product adoption or investment usage. This is what we call a product evolution seasoning period (most ETFs never pass beyond this period).

In the latter pattern, we notice a sustained and consistent decrease in the average holding period until the average holding period settles usually below trading tool levels (i.e. AHP<30 days). On the flows side, we notice that flow volatility increases as a result of increased ETF usage for short term non-asset allocation activities. This is the final evolution state for an ETF, and so far this seems to be a permanent state once reached.

SPY and IWM, two of the most prominent Pseudo Futures ETFs, clearly exhibit these patterns.

Click to enlarge
Interesting right? So what about HY? Here's Deutsche again:
Within HY Corporate debt ETFs, the space activity in assets as well as in trading is clearly dominated by two ETFs: HYG and JNK. However, as we have stated before, there is usually room only for one Pseudo Futures ETF per asset class. Then, which of these two ETFs is the Pseudo Futures for the asset class. We usually deem HYG as the Pseudo Futures one.
So you know, if you own these things as part of some ostensibly conservative portfolio, just be aware that nearly 90% of the price action has nothing to do with asset allocation and everything to do with the big boys looking for liquidity.
Now let's tie the whole enchilada together. Here's Deutsche one more time (emphasis mine):
Based on our methodology, we estimated that 86% of all ETF value traded during 2015 was driven by non-asset allocation purposes. In other words, traders using ETFs as liquidity tools for short term objectives accounted for 86% of ETF trading activity,despite only representing 15% of ETF ownership.

A more reduced number of ETFs takes evolution one step further to reach a third level in which the ETF enjoys extremely abundant liquidity levels, but not only limited to the ETF itself, but also manifested in ETF options and ETF short interest. In fact, it is this combination of liquidity interactions which turns these ETFs into what we call a Pseudo Futures ETF. A Pseudo Futures ETF is an ETF that is able to handle not only asset allocation, or cash management requirements, but also risk management demands. These ETFs develop liquidity of its own, becoming practically independent of their primary market liquidity. In general, this third stage of evolution is limited to only one ETF per asset class or benchmark.
That's nonsense.
Nothing can be more liquid than the underlying in the final analysis. I don't care how many ways someone tries to explain it to you.
Refer to common sense. Ask Lassie for God's sake. A piece of paper whose value is based on other pieces of paper can't possibly be more liquid than the underlying paper in the final analysis. It just can't. It's impossible. It's illogical. If the underlying is worthless or otherwise not tradable, how in the hell can a derivative of the underlying be worth anything?
What say you Lassie?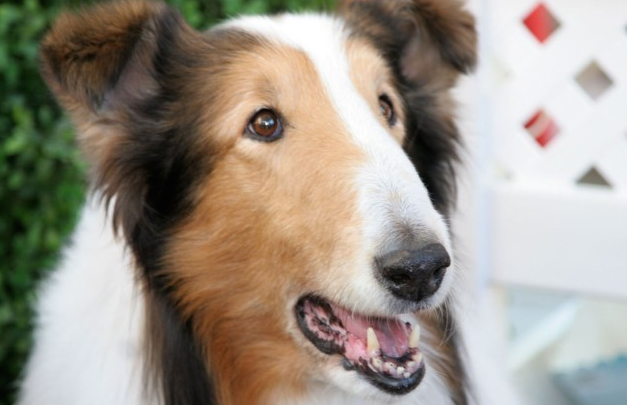 Yeah, I agree.
Disclosure: I/we have no positions in any stocks mentioned, and no plans to initiate any positions within the next 72 hours.
I wrote this article myself, and it expresses my own opinions. I am not receiving compensation for it (other than from Seeking Alpha). I have no business relationship with any company whose stock is mentioned in this article.