"Never give up just because of your situation or what anybody else says."
World Cup Diver Laura Ryan
"Bull markets are born on pessimism, grow on skepticism, mature on optimism, and die on euphoria"
Sir John Templeton
Life and investing are long ballgames."
Julian Robertson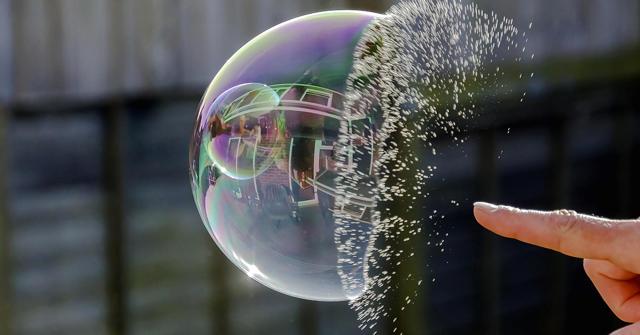 Click to enlarge
Introduction
The second biggest bubble in the global financial markets is the bond bubble, in my opinion, and it is on the verge of bursting.
The ramifications of a burst in the bond bubble will be widespread. Sectors that have benefited from consistently falling interest, including dividend growth stocks, REITs, and utilities, will now face a formidable headwind.
In contrast, inflationary assets will have a tailwind, and sectors that benefit from rising rates, including banks and insurers, could regain their favor with investors and speculators.
Bond investors, who have grown accustomed to capital gains year after year, no matter the absolute level of yields, could see negative nominal returns, and even worse real returns.
In summary, the Federal Reserve, and central bankers of the world, have shepherded investors into yield-oriented assets, with sovereign bonds being the fulcrum security, since they are viewed as the safest bonds. However, the dam is set to potentially break, as a rise in interest rates will send a flood of investors rushing out of interest rate sensitive securities. With nearly everyone positioned for deflation, a sustained reversal in yields has the potential to impair more capital than anyone imagines right now.
Thesis
Bonds prices are set to fall as inflation and economic growth outpace expectations.
Treasury Bonds Surge Higher
Even though the Vanguard Total World Stock ETF (NYSEARCA:VT) is up 6.5% year-to-date, and the S&P 500 Index, as measured by the SPDR S&P 500 Trust ETF (NYSEARCA:SPY), is up 8.0% in 2016, the safest bond prices have persistently, and somewhat puzzlingly, moved higher (bond yields have moved lower). In fact, the iShares 20+ Year Treasury Bond ETF (NYSEARCA:TLT) has risen 16.2% this year, outpacing both VT and SPY.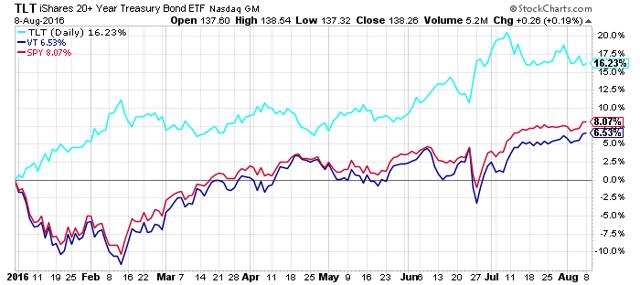 Click to enlarge
Why are U.S. Treasury Bonds rising in the midst of a jubilant global equity market? There are several reasons that we will explore further below.
Relative Yields Are Higher
Compared to their global counterparts, U.S. Treasury yields remain attractive. The following charts show in order, from highest to lowest, the comparative 10-Year Treasury yields of the United States, the United Kingdom, Germany, and Japan.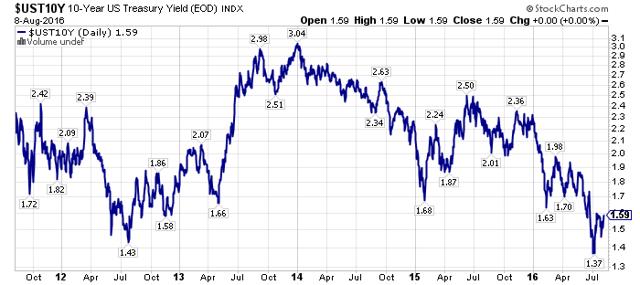 Click to enlarge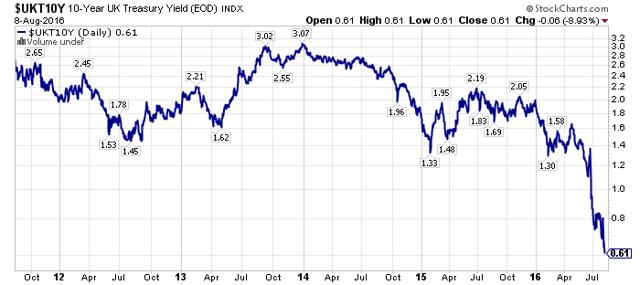 Click to enlarge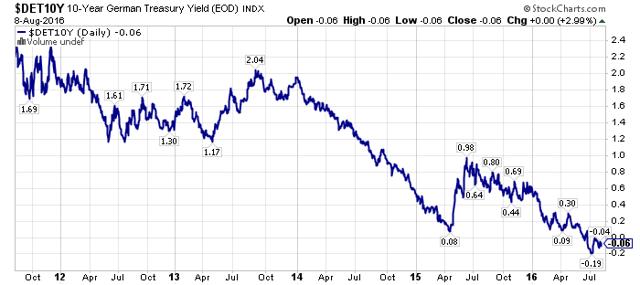 Click to enlarge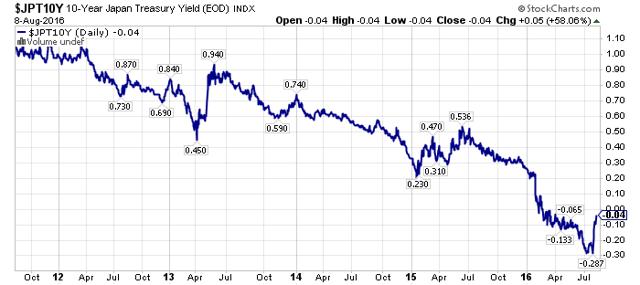 Click to enlarge
Looking at the charts above, I have a couple observations. First, U.S. Treasuries do have relatively attractive yields, thought their absolute yield level remains disturbingly low. Second, the United Kingdom has seen a historic fall in its sovereign bond yield in the aftermath of "Brexit." Third, the U.S., Germany, and Japan have all seen an uptick in their 10-Year Treasury yields. Building on this, Japan, which had the lowest interest rates, or said another way, the most negative interest rates, has seen the biggest surge in their Treasury yields, especially on a percentage basis. Is this the beginning of the end of one of the most crowded trades on the planet?
Lower Bond Yields Have Created A Positive Feedback Loop in Dividend Oriented Equities
As Treasury bond yields have moved lower, the price of yield-oriented alternatives in the U.S., including dividend growth stocks, REITs, and Utilities, have moved higher, at a pace faster than the broader equity market.
The SPDR Dividend ETF (NYSEARCA:SDY), which tracks the S&P Dividend Aristocrats Index, is up 18.3% in 2016. For reference, this is more than double the return of the S&P 500 Index. Building on the narrative of dividend focused securities outperforming, the Utilities Select Sector SPDR ETF (NYSEARCA:XLU) is up 19.0% this year, the Vanguard REIT ETF (NYSEARCA:VNQ) is up 15.8%, and the iShares U.S. Real Estate ETF (NYSEARCA:IYR) is up 14.3%.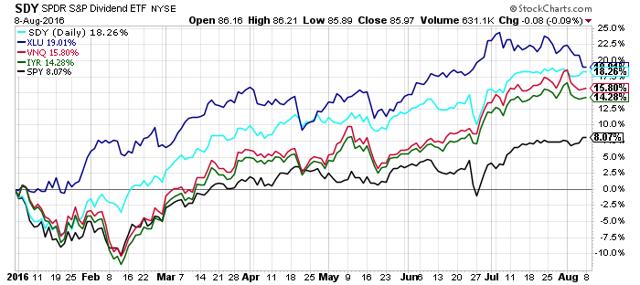 Click to enlarge
Over five years, the trends are similar, though not as ubiquitous, as 2016's performance results.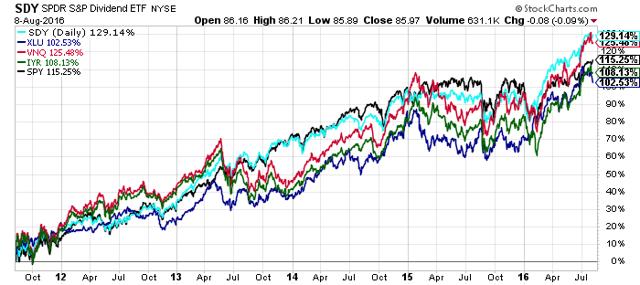 Click to enlarge
Clearly, investors have preferred dividend growth securities, and this preference has reinforced the positive feedback loop. As the prices of these securities move higher, and their yields decline, Treasury yields look more appealing. However, if rates were to ever rise, Treasury Bonds and dividend stocks would be racing off a cliff, instead of their current race to the bottom (in yields).
What Would Cause A Sustained Reversal In Yields?
Two things will ultimately change the global flow of capital into yield-oriented securities. First, a modest rise in inflation, since yields are so low, would cause many investors in bonds and dividend stocks to suffer nominal, and more severe real, negative returns as interest rates rise to reflect the higher level of inflation. Second, a pick-up in economic growth would cause interest rates to rise, causing the prices of bonds to decline.
Amazingly, inflationary pressures are already percolating under the surface in the U.S., yet most investors are overlooking these increasingly frequent signals of rising inflation. In fact, core CPI inflation in the U.S. has increased to seven-year highs. Additionally, wages are rising at their fastest pace since the current bull market began, according to the Atlanta Fed's Wage Growth Tracker, providing further evidence that inflationary pressures are building in the U.S. economy.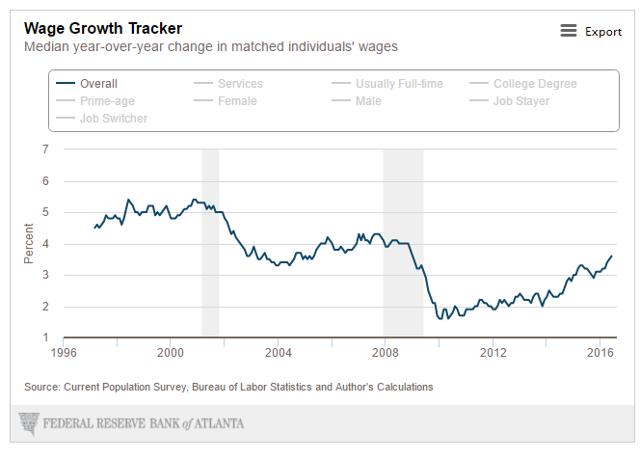 Click to enlarge
Alongside the rise in inflationary pressures, economic growth is set to surge higher in the United States. Third quarter 2016 GDP growth is tracking above almost all current forecasts, at 3.8%, as shown by the Atlanta Fed's GDPNow research and GDP forecast.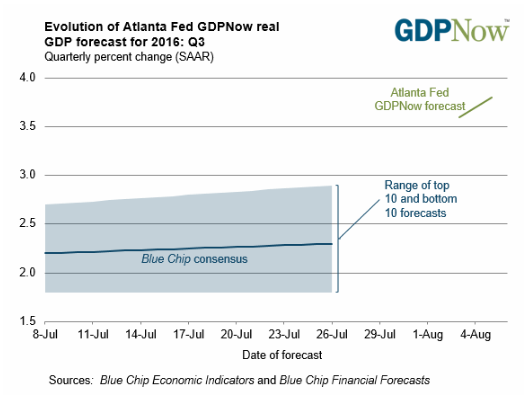 If the Atlanta Fed's GDPNow forecast is correct, economic growth is accelerating right now in the United States, which goes against the consensus expectation.
Based on these two readings of inflation and economic growth, which are corroborated by other economic data, including the increase in wages in last week's employment report, U.S. interest rates should undoubtedly move higher.
Now throw in the fact that China's cyclical recovery is gaining momentum, like a hurricane building offshore, and you have the recipe for a global move higher in interest rates that could be explosive, as almost all investors, speculators, and traders are crowded on one side of the boat, positioned for lower rates.
How Should Investors Position Their Portfolios For A Rise In Interest Rates
In "The Contrarian," my premium research service on Seeking Alpha, we are implementing a number of trades and investment strategies that will benefit from a rise in interest rates, including a focus on stocks and sectors that will outperform in a rising rate environment.
From my perspective, investors and traders should reassess their own portfolios to see if they have become overweight in bonds, or other interest rate sensitive sectors, including dividend growth stocks, REITs, and utilities that could be vulnerable to an abrupt, unexpected rise in interest rates.
One direct way to profit from a rise in interest rates is through a short position, expressed via put options, in the iShares 20+ Year Treasury Bond ETF. Puts on TLT are a current position in the "Bet The Farm" Portfolio, which has returned 395.5% YTD through August 5th, 2016, and I have a high degree of conviction in this idea at the current juncture.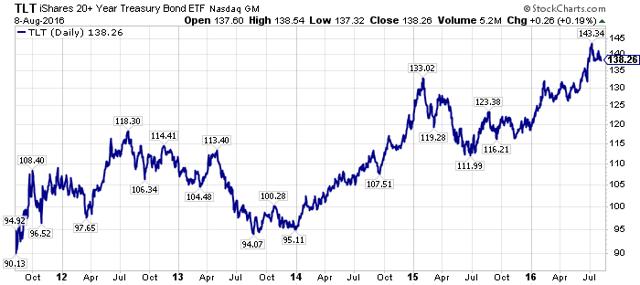 Click to enlarge
In The Contrarian's "Best Ideas" Portfolio, which is a concentrated equity portfolio that has returned 63.5% in 2016 through August 5th, 2016, we are focusing on a number of downtrodden equities in the financial sector, which we think could benefit from a rise in interest rates.
What Equities Should Be Avoided?
If you subscribe to the logic I have articulated in this article about the potential for rising rates, then the following list of securities should be viewed with a cautious lens, in my opinion.
HCP, Inc. (NYSE:HCP), AT&T (NYSE:T) Realty Income (NYSE:O), National Retail Properties (NYSE:NNN), Chevron (NYSE:CVX), Old Republic International (NYSE:ORI), AbbVie (NYSE:ABBV) Caterpillar, (NYSE:CAT), Cullen/Frost Bankers, (NYSE:CFR), People's United Financial (NASDAQ:PBCT), Simon Property Group (NYSE:SPG), Public Storage (NYSE:PSA), Welltower (NYSE:HCN), Equinix (NASDAQ:EQIX), ProLogis, (NYSE:PLD), Equity Residential (NYSE:EQR), AvalonBay Communities (NYSE:AVB), Ventas (NYSE:VTR), Boston Properties (NYSE:BXP), NextEra Energy (NYSE:NEE), Duke Energy Corporation (NYSE:DUK),Southern Company (NYSE:SO), Dominion Resources (NYSE:D), Exelon (NYSE:EXC), American Electric (NYSE:AEP), Pacific Gas & Electric (NYSE:PCG), Sempra Energy (NYSE:SRE), PPL Corporation (NYSE:PPL), Edison International (NYSE:EIX).
Why was this list of companies chosen? Simple, these are the top ten holdings, with one duplicate (Realty Income), of the previously profiled, SPDR S&P Dividend ETF, the Utilities Select Sector SPDR Fund ETF, and the Vanguard REIT ETF.
A sampling of the performance of these companies, including Realty Income, AT&T, Simon Property Group, Welltower, and NextEra Energy, shows how much these firms have outperformed the broader market in 2016 (remember the S&P 500 is up roughly 8% YTD).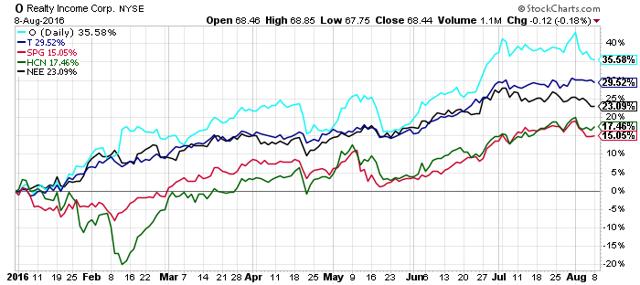 Click to enlarge
The five-year performance for these stocks is even more impressive.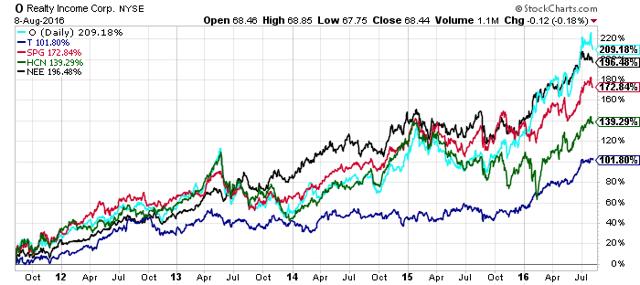 Click to enlarge
Once sentiment shifts to expecting higher interest rates, interest rate sensitive sectors like REITs and utilities are likely to sell-off sharply. That is one reason I am bearish on some of the most hallowed and revered dividend payers in these sectors.
While these are generally sound companies, they have become historically overpriced as investors focus on dividend growth and ignore all relative valuations. In contrast, inflationary equities, including commodity stocks, and emerging market equities should continue to appreciate, as they remain relatively and historically undervalued.
Closing Thoughts
The bond market is setting up for another potential historic reversal trade in 2016, as nosebleed valuations, excessively positive sentiment, and a run-up in the price of almost all yield-oriented securities, are set to run head-on into an environment of increasing inflationary pressures and accelerating economic growth.
Inflationary assets, including commodity stocks and emerging market equities, which have seized the baton of market leadership in 2016, after being out-of-favor from 2011-2015, are positioned to remain the primary beneficiaries of a cyclical upturn in global growth and global inflation.
Financial stocks should also outperform as rates rise. On the other side of the ledger, REITs, utilities, and dividend growth stocks will suffer as rates increase, and the crowded trades in these sectors are unwound.
In summary, investors and speculators should be prepared to change their views on bonds as defensive investments, and consider rotating out of their traditional yield-oriented equity investments into alternative investment strategies. Once rates rise enough, and this cyclical upturn plays out, the downside potential in stocks and bonds, which are both trading at historically high valuations, should have a majority of investors holding a higher cash position than they would normally consider, in my opinion.
In closing, if you are interested in joining a unique, growing community of contrarian, value investors, and would like to see all of the historical trades and current positioning of the "Bet The Farm," and the "Best Ideas" Portfolios, please consider signing up for my premium research service, "The Contrarian," on Seeking Alpha. To receive my future public articles please click the "Follow" button above. Thank you for your readership. Short TLT via TLT put options.
Disclosure: I am/we are long SHORT TLT VIA PUT OPTIONS AND SHORT O VIA PUT OPTIONS.
I wrote this article myself, and it expresses my own opinions. I am not receiving compensation for it (other than from Seeking Alpha). I have no business relationship with any company whose stock is mentioned in this article.
Additional disclosure: Every investor's situation is different. Positions can change at any time without warning. Please do your own due diligence and consult with your financial advisor, if you have one, before making any investment decisions. The author is not acting in an investment adviser capacity. The author's opinions expressed herein address only select aspects of potential investment in securities of the companies mentioned and cannot be a substitute for comprehensive investment analysis. The author recommends that potential and existing investors conduct thorough investment research of their own, including detailed review of the companies' SEC filings. Any opinions or estimates constitute the author's best judgment as of the date of publication, and are subject to change without notice.