I've long questioned the value of Kinder Morgan (NYSE:KMI) common stock (read "Kinder Morgan Is Misunderstood"). What about the preferred stock (KMI.PRA)? In my guide to high yield investments, I mentioned that with enough equity cushion, a company's preferred stock could be a good buy even though the common stock is not. This is not the case with Kinder Morgan.
Kinder Morgan did a preferred equity raise in 2015. You can find the details here. The following are the key points.
KMI.PRA represent depositary shares that represent 1/20th of a preferred share. KMI.PRA will convert to common shares based on a sliding scale between 1.5440 common shares and 1.8142 common shares, depending on the price of the common shares. 1.5440 corresponds to a common share price that is greater than $32.38. 1.8142 corresponds to a common share price that is lower than $27.56. Depositary shares will convert on October 26th, 2018.
The current yield of KMI.PRA is listed as 9.77%.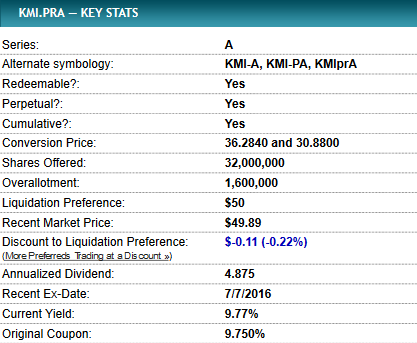 (Source: PreferredStockChannel.com)
The yield is not technically wrong. That's the number you would get when you divide the expected annual dividend payments by the current price of $49.89, which is around the issuance price of $50. However, I believe this number hides what's to come.
Typically, the simple calculation above would be sufficient to determine the attractiveness of preferred stocks (i.e., higher is better, all else equal), but in this case it will lead investors astray. Since KMI.PRA must be converted in 2018, the principal of the depositary shares depend on the price of the common stock. If you are certain that the common stock will rise to around $32.38, then there is no need for you to be worried, as you would receive the principal ($50) back in common shares. But for those of us without a crystal ball, the current stock price of $20.78 represents a potential downside of 24.4%, since each depositary share will only convert to 1.8142 common shares, or $37.70.
Even though the preferred shareholders (i.e., those invested in depositary shares) are set to receive nine more payments totaling $10.97, the undiscounted total return at conversion, assuming that the common stock stays at the current price, is negative ($10.97+$37.7 < $49.89). This obviously makes no sense. The current price of the depositary shares implies that investors are virtually certain the common stock will rise significantly, or that they are willing to invest in negative-yielding assets, much like what's happening with Japanese government bonds. Since no one has a crystal ball, and the preferred shares are not safer than Japanese government bonds, I believe the current price of the depositary shares does not adequately account for the aforementioned risks.
As it stands, a significant portion of the preferred shares' value is linked to the potential future appreciation of the common stocks. While such a scenario is not completely out of the question, the current value of the depositary shares is pricing it in as if it is a certainty. As such, I believe current preferred investors are making a mistake.
If investors believe Kinder Morgan's preferred shares should yield 9.75%, then I'd say they should not invest in the depositary shares until Kinder Morgan's stock rises above $27.56; or wait until the depositary shares decline to $37.70 and buy them at an even higher yield. In both cases, there would be no guaranteed loss of principal at conversion, and investors would be able to earn a positive return.
If you are interested in what I perceive to be safer dividend stocks, check out the stocks in the Seven Percenter List.
| | | | | |
| --- | --- | --- | --- | --- |
| Ticker | Date Analyzed | Yield at Analysis | Opinion | Link to Analysis |
| AGNCP | Jun-12-2016 | 7.67% | Investable | |
| AGNCB | Jun-12-2016 | 7.60% | investable | |
| NLY.PRD | Jun-15-2016 | 7.41% | investable | |
| NLY.PRA | Jun-15-2016 | 7.61% | investable | |
| NLY.PRC | Jun-15-2016 | 7.50% | investable | |
Click the "Follow" button beside my name on the top of the page to be updated with my latest insights. To learn more about the V20 Portfolio, whose goal is to compound capital at 20% over the long term, I encourage you to read the introduction to my investment process. Premium subscribers get full access to the V20 Portfolio.
Disclosure: I/we have no positions in any stocks mentioned, and no plans to initiate any positions within the next 72 hours.
I wrote this article myself, and it expresses my own opinions. I am not receiving compensation for it (other than from Seeking Alpha). I have no business relationship with any company whose stock is mentioned in this article.