Pfizer (NYSE:PFE) stock is now down over 5% since announcing its second quarter earnings last week. The company actually announced a top and bottom line beat but it wasn't enough to rally the stock as investors seem to turn cautious with respect to the steep decline in the company's Prevnar family of products. Prevnar is Pfizer's biggest earner and was touted to become a blockbuster vaccine in years to come. However sales came in at $1.26 billion in Q2 which was well over $300 million behind analysts expectations. A blip or a sign of things to come? Management has stated that pent up demand in the US has waned a tad but it expects stronger demand in the near term from Europe to increase sales once more.
Furthermore the FDA's decision to expand the label into a wider age range demonstrates that demand shouldn't fall off significantly from where it was in the past few quarters. However the fact of the matter is that Prevnar's $1.26 billion take in Q2 was the main reason the stock sold off and I believe Pfizer in the near term is going lower. In saying this, I like Pfizer's long term fundamentals for the following reasons and we will discuss these first before making my near term case.
Growth rates are what the street really tunes in to and Pfizer's Ibrance and Xeljanz products continued to rally strongly in the second quarter. Ibrance sales went from $140 million in Q2 of 2015 to $514 million in Q2 of this year. Xeljanz top line grew from $128 million to $217 million in the space of 12 months which was a 70% growth rate. Lyrica sales jumped up to $1.26 billion which was a solid showing and with this drug coming off patent in 2019, it still has plenty of quarters to grow meaningfully. Furthermore I was impressed with the company keeping its 2016 guidance for the year which means it realistically sees a bounce back in Prevnar plus continued growth in the likes of Xeljanz and Ibrance.
The crux of the issue is whether the growth of some of the company's blockbuster drugs in its innovative division can offset the decline in some of Pfizer's large legacy products. Revenue increases on a rolling 12 month basis in the past few quarters have been relatively easy due to the Hospira acquisition last September but we will get a better idea of where Pfizer stands in terms of revenue growth when it begins to report top line numbers in the next few quarters. Enbrel bounced back in Q2 to $766 million which was well above Q1. Furthermore can the likes of Lipitor and Celebrex steady their sales as higher generic competition and loss of exclusivity begin to affect their numbers? Again it is the rate of decline that is the issue here. If they can post flat sales in forthcoming quarters, it will be a real positive for Pfizer in that it will be in a better position to bring its pipeline onto the market.
Speaking of the company's pipeline, Pfizer has plenty of products that can drive the company forward in the next few years. Bococizumab and Ertugliflozin may have plenty of competition but demand for these types of drugs are strong and should remain so going forward. Bears have stated that the extensive cost cutting in R&D the company has undergone in recent years will affect the company's pipeline going forward but it will again be all about growth rates. Astute investors will be watching how data unfolds from these drugs in the next few quarters to see if they really can make an impact. Pfizer will be hoping the quality of their pipe line drugs will be sufficient to offset the quantity some analysts feel the company is lacking at present. We will know soon enough.
In relation to the S&P500 (NYSEARCA:SPY), the index is trading around the 2,180 mark but it is long overdue a move down into its daily cycle low. In fact, in the chart below I have marked where the last daily cycle low took place which was at the end of June. This means we are right in the timing band of moving down into a daily cycle low. The 5 day RSI indicator is at oversold levels so a move down could happen any day now. In the short term, this is unfortunate for Pfizer. The stock is already oversold but could easily go under $30 if we get a sharp daily cycle decline in the stock market. Any price below $30 in Pfizer would be a good long term play in my opinion. I like Pfizer as a trading vehicle because it pays out a nice yield and is extremely liquid. We will wait to see if we get our price.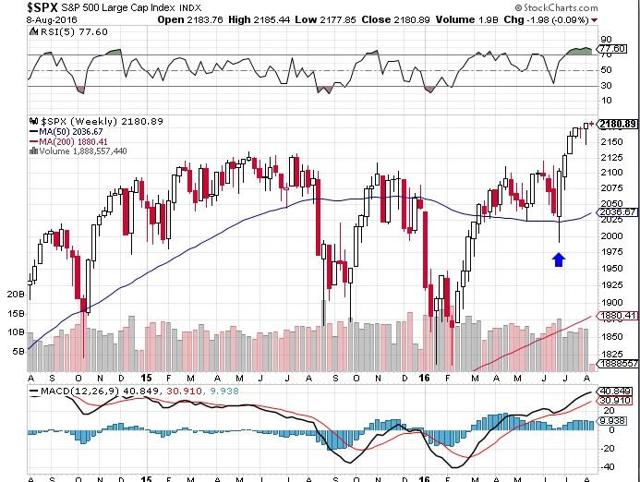 Click to enlarge
To sum up, I'm going to be adding a few good dividend and growth stocks to the Elevation Portfolio over the next several weeks when I see value. In order to ensure that income is brought in every month, it's imperative that they are not correlated and all don't have similar valuations. You can follow along by pressing the"Follow" button above.
Disclosure: I/we have no positions in any stocks mentioned, and no plans to initiate any positions within the next 72 hours.
I wrote this article myself, and it expresses my own opinions. I am not receiving compensation for it (other than from Seeking Alpha). I have no business relationship with any company whose stock is mentioned in this article.