Background:
NovaBay (NYSEMKT:NBY) is a turnaround story with rapidly growing revenues. After a change in management last year, NBY has been on a steady path towards cash flow break-even. The company is in a position to convert the eyelid hygene market from OTC to Rx, and potentially achieve $50m+ in peak sales.
NBY's sole product is Avenova, pure hypochlorus acid (the chemical white blood cells used to kill foreign bodies), for the "treatment of" blepheritis. Blepheritis is a very large market. It's the #1 reason for ophthalmologist visits in the US, but there aren't any medications approved for its treatment. A number of companies have tried, and keep trying, to get a blepheritis remedy to the market, but so far, everyone has failed.
Avenova:
Avenova is interesting, because it has received clearance from the FDA through the 510k pathway. Technically, it's a medical device. It's indicated for eradicating 99% of pathogens associated with blepheritis. As a medical product, it is not subject to the ANDA process. Therefore, when its patents expire, the product may not be subject to automatic substitution at the pharmacies, like regular pharmaceuticals.
Avenova is also interesting, because both ophthalmologists and optometrists like the product. It's the only eyelid cleaner that disinfects and does not contain bleach. Among the KOLs who are using the product, one can find the ubiquitous Dr. Eric Donnenfeld and Dr. Richard Lindstrom, two of the leading eye surgeons in the US, as well as Art Epstein, one of the most prominent optometrists. Even with only a handful of salespeople, the product has been adopted by hundreds of doctors and ODs.
The Turnaround:
When Avenova was launched by the prior management team, it was priced at $30/Rx, because management intended to sell it as a retail product. The product was very well received by professionals and patients, and volumes grew rapidly, but the company was not able to make money at such a low price point. NBY was running out of cash and the founder/CEO was ousted.
Interestingly, the company noticed that a large % of Avenova Rx's were in fact reimbursed by insurance companies. Therefore, the company embarked on a turnaround by trying to convert Avenova from a retail cash-paying product to a higher margin pharmacy product. NBY instituted a price increase and focused its marketing on doctors, who write prescription vs. optometrists who sell the product directly to patients. The weekly TRx chart below shows that in 2016, commercial Rx's replaced cash-paying customers.
Click to enlarge
The impact of the change in price and strategy have been noticeable on the company's Revenue line. The chart below shows Avenova weekly revenues (before discounts). They have clearly been trending in the right direction.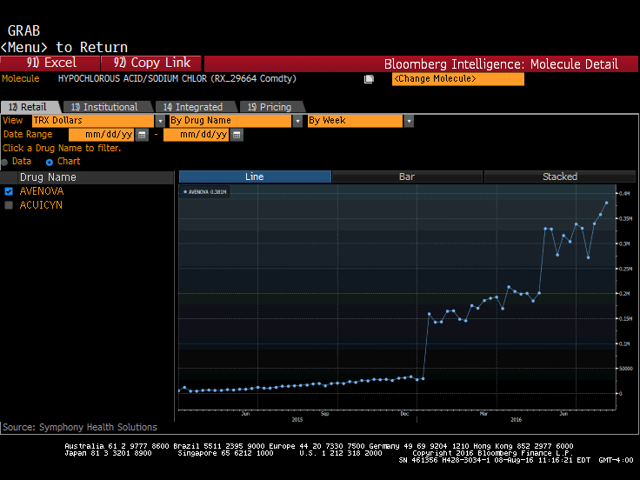 The Opportunity:
As long as NBY can keep executing on its strategy, the business should be at or near break-even by the end of this year. Unless something unforeseen happens, Avenova can keep marching to achieve peak sales of $50m+ in annual sales, because there are over ten million patients who suffer from blepheritis and other eyelid-associated conditions. The net price of the product is still rather low compared to most other branded pharmaceuticals; therefore, Avenova provides a lot of value to patients, doctors and insurance companies.
The Risk:
NBY may need an additional round of financing before the company breaks even. That's what the company's current valuation seems to imply, at least. Although investors would suffer some dilution, the risk of the company not being able to raise money has been removed.
A Chinese public company, together with high net worth investors from China, and NBY's new CEO invested $10m+ in a financing round earlier this year. In fact, when the company raised an amount equal to ~100% of its equity value, the stock didn't even go down. (Barely anyone besides insiders own NBY.) Given the progress on execution, they would most likely provide whatever additional investment is required to make sure the company reaches break-even.
Once NBY is making money, investor and strategic interest will return to NBY. Given the relatively low price point, good observed efficacy and large market, Avenova is a great product. In a year or two, NBY should be valued around 3-4x peak sales potential, so between $150m-200mm in EV, in my opinion.
Disclosure: I am/we are long NBY.
I wrote this article myself, and it expresses my own opinions. I am not receiving compensation for it. I have no business relationship with any company whose stock is mentioned in this article.
Editor's Note: This article covers one or more stocks trading at less than $1 per share and/or with less than a $100 million market cap. Please be aware of the risks associated with these stocks.