By Parke Shall
We wanted to offer up our short take on Valeant's (NYSE:VRX) earnings as we mull over the full results and prepare a longer analysis. This information is time sensitive, so we wanted to get it out in short order.
Valeant reported earnings this morning that missed on both lines, however the company is trading up 9% premarket on the news that they were maintaining full year guidance and on Joe Papa's statement in the press release,
"We continue to make progress towards stabilizing the organization," said Joseph C. Papa, chairman and chief executive officer. "We are also announcing a new strategic direction for Valeant today, which, at its heart has a mission to improve patients' lives, and will involve reorganizing our company and reporting segments. I am continuously encouraged by the commitment of our employees who work hard daily, rebuilding our relationships with prescribers, patients and payors, and regaining the trust of our debt holders and shareholders. Although it will take time to implement and execute our turnaround plan, I am confident that we will show progress in the coming quarters."
We have said for a long while that we think Valeant would be better served by breaking out Bausch & Lomb from its core business and making Bausch & Lomb more of a focus to the market.
The advantage to that would obviously be that Bausch & Lomb, on its own, may be able to get a better multiple than the market is currently giving Valeant. B&L is a staple business in and of itself.
We have stated being in favor of this move for months now. We expected the company will announce some type of strategic initiative that allows the multiple on Bausch & Lomb to potentially expand. With this, we expect the value of the stock to expand as well.
We said in our June 4th article on Valeant that an interesting idea would be to turn the company into a traditional drugmaker, and have half of the company used as a speculative biotech operation that helps bring drugs up through a conventional pipeline, like normal companies do. The other half could be a B&L spin off, perhaps with some additional cash generating assets.
This would give VRX an opportunity to shift some of the remaining debt any way they'd like, in accordance with what portions of the business are generating the cash capable to service it.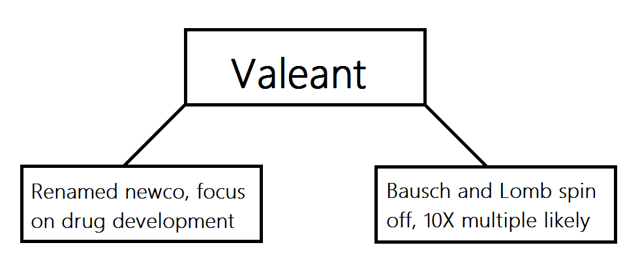 Click to enlarge
The conference call is at 8AM this morning, and we are buying stock here about 20 minutes prior to the call.
In addition, the company still generates significant cash from operations. Valeant was able to generate cash flow from operations of $440 million, which is annualized close to $1.7 billion in cash. The company currently trades with a market cap of about 7.6 billion, or only 5X this cash flow.
Cash flow from operations was $448 million in the second quarter of 2016 as compared to $411 million in the second quarter of 2015, an increase of 9% over the same period in 2015.
We continue to be long and are buyers this morning as we believe this reorganization will resemble separating B&L out, and we believe this will lead to multiple expansion.
Disclosure: I am/we are long VRX.
I wrote this article myself, and it expresses my own opinions. I am not receiving compensation for it (other than from Seeking Alpha). I have no business relationship with any company whose stock is mentioned in this article.