How useful are security analysts' long-term growth forecasts for stock investors? We recently completed a comprehensive statistical study of the link between sell-side analysts' forecasts, subsequent realized earnings and actual future stock returns. We concluded that analyst forecasts can in fact be quite useful for investors -- but not in the way you might expect.
Using consensus analyst long-term forecasts for annualized earnings growth taken from I/B/E/S, we decomposed the forecasts into two components, hard growth and soft growth. The hard-growth component captures accounting fundamentals, including growth in assets and sales, profitability and equity dilution. Soft growth is a residual (the difference between long-term growth forecasts and the hard-growth component) which reflects analysts' personal views of a stock that cannot be explained by observable accounting fundamentals.
A Pattern of Errors
What we find is a pattern of errors, or biases, built into analysts' long-term growth expectations in quite a systematic way. In particular, the forecasts suggest that analysts believe profits are mean-reverting, while in fact profitability tends to be fairly persistent. The forecasts also indicate that analysts believe high past company sales growth is a good predictor of future earnings growth, while the actual relationship is negative. Finally, analysts believe that two activities over which company managements exercise direct control -- a high rate of asset growth and the use of external financing -- augur well for earnings growth; in fact, our research shows that enterprise decisions such as asset expansion and raising more equity are actually negatively related to realized earnings growth. Meanwhile, our study concludes that the "soft growth" component is unrelated to stock returns.
Exhibit 1 depicts the large gap between consensus analyst long-term earnings forecasts (from 1982 to 2014) and the 5-year realized annualized growth rate (from 1982 to 2009). During this time frame, the mean estimated growth rate was remarkably stable, rising from 15.4% in 1982 to 19.7% in 2001 and declining to 14% in 2014. Meanwhile, the actual 5-year growth rate (e.g., 1982 reflects the five years from 1982 to 1987) fluctuated quite dramatically from slightly above 0% to 17.8%.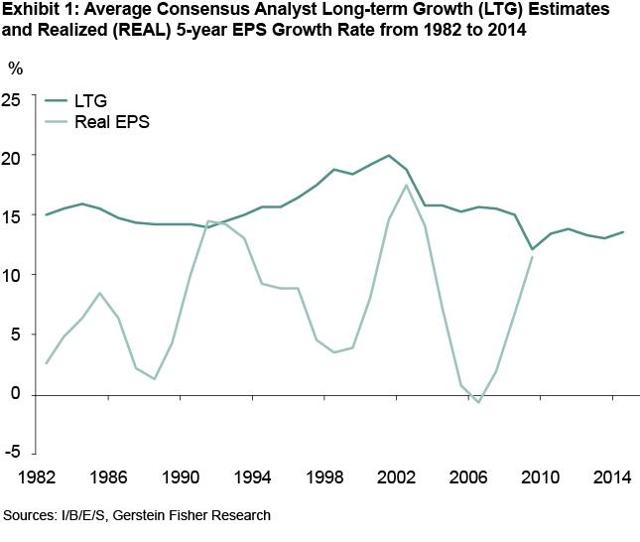 Click to enlarge
While a good brief summary, the chart and explanation above do not do justice to our full working draft research report, Analyst Long-term Growth Forecasts, Accounting Fundamentals, and Stock Returns.
One inevitable question from this analysis is, given a consistent pattern of bias and errors in how analysts perceive hard information (accounting fundamentals) and make earnings growth forecasts, can investors actually make use of this bias to construct investment strategies? We think the answer to this question is yes. Quantitative multi-factor investment strategies are essentially a method to buy stocks when the hard component of growth is unfavorable and to sell when the hard component is favorable. To view a brief article that discusses some of the investment factors that relate to systematic biases, see, A Third Way: Multi-Factor Investing Evolves.
Disclosure: I/we have no positions in any stocks mentioned, and no plans to initiate any positions within the next 72 hours.
I wrote this article myself, and it expresses my own opinions. I am not receiving compensation for it. I have no business relationship with any company whose stock is mentioned in this article.