This is the third part of our Need Income? series (Part I here; Part II is exclusive for subscribers) focusing on three safer closed-end funds with large yields and margins of safety. Interest rates have stayed lower for longer, which has shrunk discounts in the closed-end fund space, especially within bond funds.
Many of these funds have rallied hard in the last year, benefiting from rising NAVs in conjunction with falling discounts. Identifying undervalued funds can be difficult, as the traditional measures used by most investors (discounts and distribution yield) aren't favorable compared to last year. However, we look at three safe funds that risk-averse investors can add to their portfolio in order to get better yields, while mitigating some price risk.
The fear of higher rates has held back many investors from investing in closed-end funds. The leverage embedded into the funds, while advantageous today with low borrowing costs, can move against them should rates rise quickly. But many funds either have no leverage and still benefit from the advantages of the closed-end fund wrapper, or use derivatives in order to hedge the portfolio against a rise in rates.
We discuss a few of both kinds.
Morgan Stanley Income Securities (ICB) contains a relatively low yield for a closed-end fund, with a distribution rate of just 3.3%. NII yield, however, is closer to 3.7%. The fund employs no leverage and trades at a discount to NAV of 6.3%, a relatively wide figure given how tight spreads have become. The fund invests nearly all of its assets into general corporate bonds.
Discount: 6.3%
5-year average discount: 8.3%
Rel Z-stat: -1.3
Expense Ratio: 0.71%
This fund has been around a long time, incepting back in 1973, with a nominal amount of assets at just $176 million. The fund's portfolio manager has realized very strong performance, and it remains a safe choice for investors who have concerns about higher interest rates, poor-quality underlying assets, and general price volatility.
In terms of asset quality, just 10% is below investment grade and another 1.5% is not rated.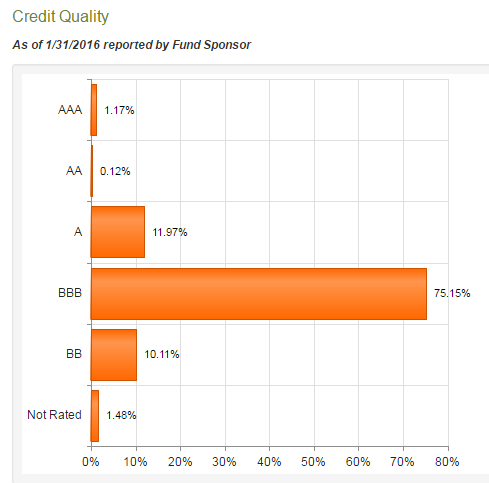 (Source: CEFConnect.com)
Even though the fund does not use leverage, it still hedges some of the interest rate risks through futures contracts. Primarily, the fund is -adjusting its yield curve bets by going long shorter-duration Treasuries while shorting long bonds, reducing portfolio duration.
Performance over the last ten years has been robust, returning 7.5% annually on price and 6.63% on NAV. Even in 2008, when many of its levered competitors lost 50% in value, this fund was up 1.1%. The standard deviation on NAV is just 4.4%, not much different from the broader market bond ETFs. Earnings coverage is over 113%.
The fund board recently increased the payout by 11.1%, and we think additional increases could be realized in the next year. The fund has a sizeable UNII reserve of 0.277 as of the end of March, which it should continue to add to given it is earning $0.0566.
Eaton Vance Limited Duration Income Fund (EVV) is a much larger portfolio at $2.88 billion. The fund does employ leverage of approximately 39%, but the portfolio is constructed with a low-duration strategy to limit interest rate risks. The goal is an average duration of zero to five years, including the effects of the leverage. The leverage is achieved mostly from bank borrowing, but EVV does have some auction preferred securities as well.
While the fund has the objective of low-duration, the investment strategy is very similar to a multi-sector fund. Its asset mix is diversified, with 36% of the portfolio in senior loans, another 29% in high yield bonds, 20% in mortgages, and the rest in CMBS, investment-grade bonds, and emerging market debt. Credit quality is fairly widespread, but it has minimal triple-C rated securities: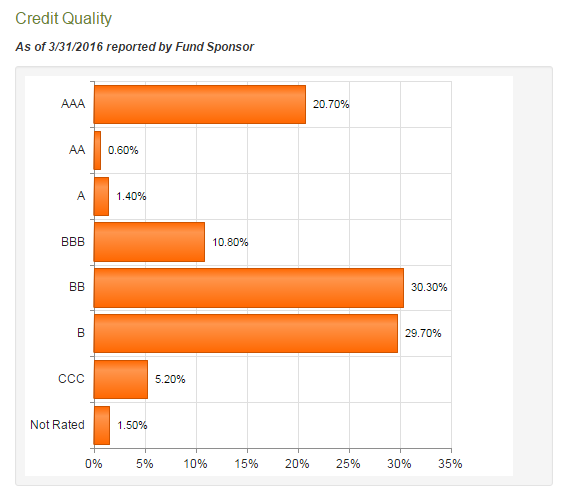 (Source: CEFConnect.com)
Discount: 8.7%
5-year average discount: 6.88%
Rel Z-stat: 0.1
Expense Ratio: 1.99% (0.63% interest expense)
The standard deviation of the NAV is just 3.7% for the last three years. The fund is a rare one in that the current discount is wider than the five-year average. It is distributing 8.9%, but an investor should really anticipate a 7.2% long-term yield (current NII yield). We believe the discount is due to the 10% of the distribution that is coming from destructive return of capital. While UNII is near breakeven, the under-earning is likely to cause a distribution cut, which we think is currently priced into the shares.
The third option is the BlackRock Credit Allocation Income Trust IV (BTZ), a $2.2 billion fund that is the legacy fund of three other cousins launched at differing times over the last decade. The fund employs leverage of 27% and has an NII yield of 6.76% with a slightly negative "excess" compared to the current distribution rate. The board recently cut the distribution by 5.6%, given how much it had been under-earning and the slightly negative (-$0.027) UNII bucket.
A large majority of the fund is invested within investment-grade corporate bonds, along with a small percentage in higher-quality high yield bonds (BB and B-rated).
(Source: CEFConnect.com)
The effective duration of the portfolio is 6.4 years. Overall, the portfolio has become more "safe" compared to the type of portfolio it held during the financial crisis - something that may be skewing investor demand. The standard deviation of the NAV, a key measure of the safety of the portfolio, is just 3.93% over the last three years and 4.91% over the last five years.
Discount: 9.99%
5-year average discount: 11.25%
Rel Z-stat: -0.4
Expense Ratio: 1.15% (0.18% interest expense)
The top holdings are all well-known, relatively safe issuers, with the largest holding US Treasuries.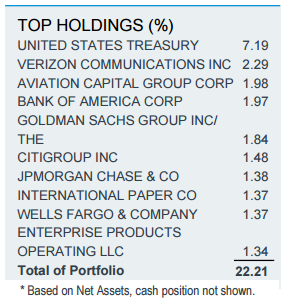 (Source: BlackRock)
Overall, the fund is a lot safer than it has been in the past, as it has shifted significantly towards investment-grade assets and less leverage. Like most of the multi-sector funds, it does use futures, options, and swaps to manage the duration of the portfolio and lower volatility.
Conclusion
There are many options for retirees seeking yield without taking on significant equity risk or moving out into speculative bond quality. Those who are concerned about the leverage in closed-end funds or interest rate risks can find options that seek to mitigate those issues. Even with those risks, the amount of capital loss potential in REITs, high yield equities, and other areas where investors are yield-seeking is significantly greater - with yields likely lower. We think investors should venture into other areas of the market in order to yield-seek.
Our marketplace service specializes in finding opportunities in closed-end funds, business development companies, and mispriced equities with a sufficient margin of safety.
Marketplace Service For Those Hunting For Yield
We launched our new marketplace service, Yield Hunting: Alternative Income Investing, a few months ago, dedicated to yield investors who wish to avoid the froth associated with the equity, REIT, and other more volatile areas of the market. We encourage investors to utilize the free two-week trial in order to benefit from our yield opportunities within closed-end funds, business development companies, and other niche areas. We attempt to construct a "low-maintenance portfolio" with a yield in excess of 7% on a tax-equivalent basis with capital gain optionality.
Disclosure: I am/we are long BTZ.
I wrote this article myself, and it expresses my own opinions. I am not receiving compensation for it (other than from Seeking Alpha). I have no business relationship with any company whose stock is mentioned in this article.
Additional disclosure: The commentary does not constitute individualized investment advice. The opinions offered herein are not personalized recommendations to buy, sell or hold securities. As I have no knowledge of individual investor circumstances, goals, and/or portfolio concentration or diversification, readers are expected to complete their own due diligence before purchasing any stocks mentioned. The strategies discussed are strictly for illustrative and educational purposes and should not be construed as a recommendation to purchase or sell, or an offer to sell or a solicitation of an offer to buy any security. There is no guarantee that any strategies discussed will be effective. The information provided is not intended to be a complete analysis of every material fact respecting any strategy. The examples presented do not take into consideration commissions, tax implications or other transactions costs, which may significantly affect the economic consequences of a given strategy. This material represents an assessment of the market environment at a specific time and is not intended to be a forecast of future events or a guarantee of future results. This information should not be relied upon by the reader as research or investment advice regarding the funds or any security in particular.