The Earnings Reporter
My goal in this segment is to unlock both short-term and long-term growth in stocks that have just reported earnings. These stocks are specifically subject to enormous volatility, as earnings reports are seen (and rightfully so) as a significant display of a company's progression in the market. What I offer you is an analysis of the economic well-being of the company, and whether I think the stock is a Buy, Hold, or Sell for either (or both) the short term or long term. If you are interested in unlocking more immediate growth opportunities, click the follow button by my name! To get used to the format of this segment, take a look at my latest piece on United Parcel Service (NYSE:UPS).
After careful consideration, I have rated Allergan (NYSE:AGN) as a Sell for the Short-Term.
Background
2016 has been an incredibly active one in healthcare, and look no further than Dublin-based Allergan as an example. The company was to be involved with a $160 Billion merger with Pfizer (NYSE:PFE), which would have saved the latter approximately $35 Billion. It was doubtlessly disturbing when Pfizer called off the merger due to new US Treasury regulations involving tax inversions. While Pfizer stressed beforehand that the deal was not simply for tax purposes, they happened to not help their claim by calling it off so quickly after the rule change. Is Allergan maybe not as lucrative a stand-alone company as people think? I certainly believe that despite recent performance, there is not much more upside to be seen, and serious threats to their ophthalmology segment can really disrupt their revenue flow.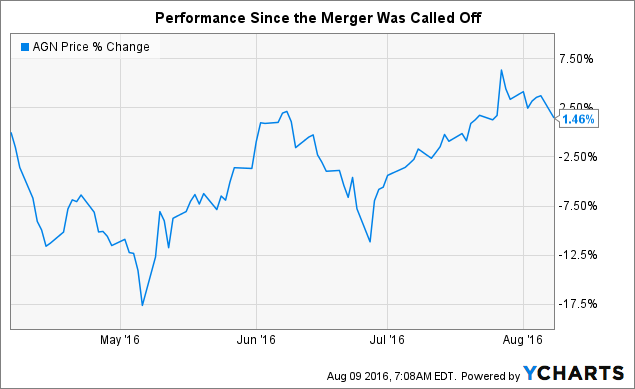 AGN data by YCharts
As you can tell from the chart above, investors have restored confidence in the stock since the mergers failure, but I think that this presents an opportunity to short. I will dive into recent earnings and developments to adequately explain why Allergan will likely miss on 2016 guidance, and see a sell-off in the stock.
Q1 Earnings
Back in May, Allergan reported its Q1 earnings. Similar to this quarter, they beat on bottom line and missed on revenue. Revenue came in at around $3.8 Billion, which translated into $255 Million in net income attributable to shareholders. Using the power of division, one ends up with a figure of 6.7% for profit margin. Payments on debt was the biggest detractor of cash, coming in at $854 Million in cash burn. But to the company's credit, Allergan managed to increase cash flow by over $1 Billion in Q1, an impressive feat. The Anterios acquisition was closed for an upfront cash payment of $90 Million, and all things looked fine. Now we get to the segment performance, and there is one drug that I will circle as critical, both in Q1 and Q2.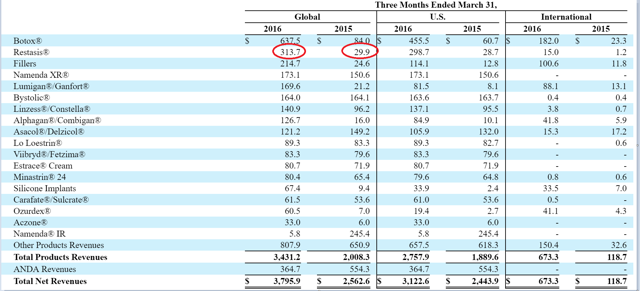 Click to enlarge
(Bamsec.com)
Wow, Restasis really picked up a large chunk of the dry-eye market, one valued at $5 Billion by 2022. It is growing at a quick CAGR of 12.8%, and Allergan must have been thrilled with their Restasis results. This was welcome news, as the loss of Namenda's exclusivity tanked its sales from $245.4 Million to only $5.8 Million, a similarly drastic cut.
Guidance for 2016 came in at $17 Billion for 2016. That seemed fair at the time, considering the $3.8 Billion figure for Q1, the deal in place with Teva (NASDAQ:TEVA) for $40.5 Billion (which will surely be dispersed across the company from R&D to SG&A to M&A and Share Buybacks), and the healthy rise in Restasis and Botox. After checking out the Q2 report, I am less convinced that Allergan can live up to its promise.
Q2 Report
Yesterday, Allergan released its highly anticipated Q2 report. From a glance, it looked quite similar to Q1, but there are stark differences that need to be addressed. Firstly, EPS of $3.35, while beating expectations, only came to fruition due to one time gains and costs (the Pfizer breakup fee, for one). No, I am not attributing the entire $3.35 figure to the breakup fee, but I believe that they would have missed out on expectations quite certainly if this breakup fee hadn't come to fruition. Revenue came in at $3.71 Billion, slightly lower than Q1. We all know that in late July, the FTC finally allowed Teva's acquisition of Actavis, of which I go into detail in this piece, to go through. Using proceeds from the $40.5 Billion deal, Allergan smartly repaid $9.3 Billion in debt. This leaves the company with over $33 Billion in debt, and over $27.5 Billion in cash. What I expect is for Payments On Debt to be much lower than the $845 Million paid in Q1. This time, it came in at $2.7 Billion, as it was labeled under "Actavis Capital". Likely it was to pay off debt before the sale of Actavis to Teva. Fine, this was to be expected, and Free Cash Flow from the quarter really suffered as a result. Rather than being up $1B in cash, the company is now up under $500 Million in free cash. But fine, you can surely argue about all the capital received in the Teva transaction, and how it can adequately fund Allergan's long term debt payment, its interest expenses, and its R&D spend of $1.5 Billion for 2016. But what you cannot argue is the threat facing its ophthalmology segment. Look at how Restasis improved once again in Q2: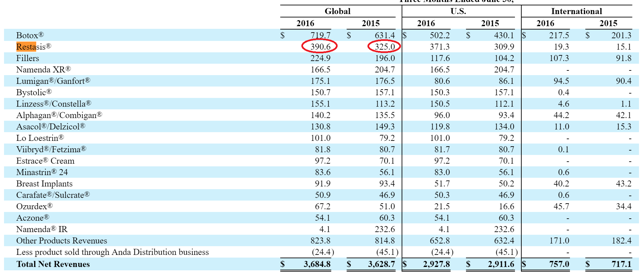 Click to enlarge
Again, sales increased, this time over 20%. Many investors in Allergan should have been happy to see this number only grow again in Q2, but I call for caution moving forward. Anybody who has read my piece on Shire (NASDAQ:SHPG) knows all about the FDA's approval of Xiidra, a new dry eye treatment with stronger efficacy than Restasis. It contains a much more favorable label, and can surely take even around 30% of Restasis's market share in the next few years, according to analyst Umar Raffat. Raffat mentions that while Allergan can offset the damage by lowering prices, that action will only shrink the profits yielded from Restasis. Allergan is facing what many big pharma companies face: competition. Only in this case, it is from a far superior drug priced exactly the same (5K for a year's supply). While Botox can surely help with the lag, I fail to be excited over any other drug stepping in and taking over for Restasis's future struggle. Look at Allergan's current forward P/E ratio: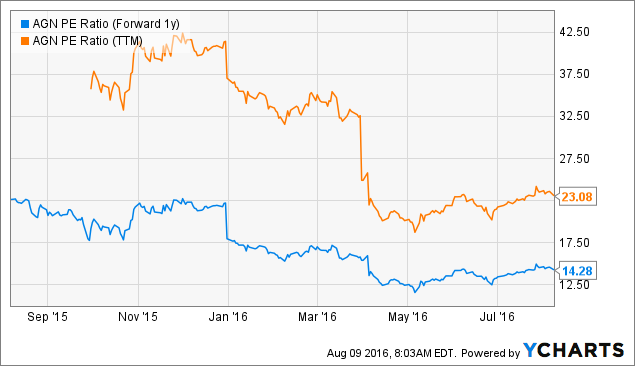 AGN PE Ratio (Forward 1y) data by YCharts
From this chart, it looks like Allergan is expected to perform much more strongly in the following quarters, and is significantly undervalued. I challenge this.
Conclusion
With future declines in Restasis, and still a sizable debt to manage despite the Teva acquisition (its Quick Ratio is still below industry average), Allergan will not be able to achieve such magnificent results. Revenue guidance for 2016 has changed from Q1's prediction of $17 Billion to a range of $14.65-$14.9 Billion. EPS guidance was also lower than analyst expectations for 2016. This all opens up a window for 2016 in which Allergan will likely underperform.
Disclosure: I/we have no positions in any stocks mentioned, and no plans to initiate any positions within the next 72 hours.
I wrote this article myself, and it expresses my own opinions. I am not receiving compensation for it (other than from Seeking Alpha). I have no business relationship with any company whose stock is mentioned in this article.