The S&P 500 (NYSEARCA:SPY) surged to new all-time highs on Friday, following a strong jobs report. That momentum fizzled over the weekend, however, as stocks traded lifelessly on Monday. After a marginal move to new highs, stocks trickled lower to close with minor losses.
Oil (NYSEARCA:USO) was responsible for keeping losses small. Crude jumped back up to the $43/barrel mark, and its gains propelled energy shares higher.
Energy was the only real winner on the day. Most sectors saw mixed trading, however healthcare led the way with most sector players significantly lower. Bristol-Myers (NYSE:BMY) continued its gigantic slump after Opdivo unexpectedly failed in late-stage trials: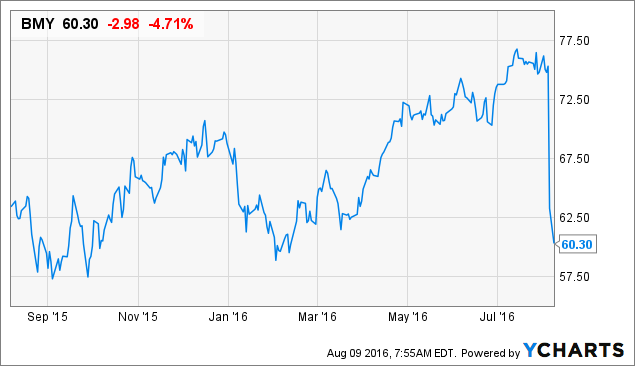 That's a solid $20 billion in market value that has been erased over the past two days. As to the question of whether to buy the drop, I'd wait. Opdivo is the company's crown jewel. When damaged, Wall Street tends to mercilessly continue selling a company's shares.
Never underestimate the need for institutional fund investors to sell underperforming stocks so that they look less foolish in front of their clients. Combine with a mountain of analyst downgrades and price target cuts, and you'll probably see shares head into the mid-$50s before the exodus out of the stock finally resolves. Not helping matters, the stock wasn't cheap on a valuation basis prior to this bad news, limiting the amount of support coming in from value-based bargain hunters.
Peak Hedge Fund?
According to a report from Barclays, the number of hedge funds worldwide will drop this year. That's the first time since the financial crisis. The global hedge fund community numbers at just more than 10,000 today, and had been growing in membership at a roughly 2-3% annual rate.
The report estimates that around 340 net hedge funds will shut down in 2016. Reuters reported that:
Barclays found that 61 percent of those surveyed felt hedge funds did not meet their expectations.

Investors overwhelmingly blamed the industry's large size for current tepid returns, with 74 percent of those surveyed saying too many managers were chasing a limited number of ideas.
I fully agree with this sentiment. I will say it repeatedly: the market is not efficient, there is room for finding alpha. However, many of the easiest or most effective strategies now see hundreds of highly competent funds fighting for every scrap of alpha. M&A funds, for example, performed great when there were a small number of them. But with hundreds of shops picking over each merger of any meaningful size, it's hard to distinguish yourself from the pack.
Funds have to go increasingly into ever more far-flung investments, be it in smaller caps, less liquid credit instruments, or less developed frontier markets to find many unique new opportunities.
The long bull market is also a problem for US focused funds. It is easier to show stock-picking acumen in a flat or bearish market, where individual selection is of the utmost importance. Hedges - what hedge funds are supposed to be doing in theory anyway - also detract from performance when markets only rise. In an ever-rising market where virtually all stocks rise and junk often rises most quickly, it is hard to win without going all-in with leverage.
As various famous investors have said about 1999, if you were a competent investor with a good risk-management system in place, you almost certainly had to underperform the index that year. Funds who tailored their strategy to outperform during the tail end of that bull market were almost uniformly wiped out between 2000 and 2002.
I support hedge funds as an institution; they can provide life-changing returns for investors and also help promote market efficiency. However, there're too many firms chasing too few opportunities. And too many hedge fund managers are mediocre investors, given allocations due to their education and professional networks, rather than proof of investing aptitude. A culling of the hedge fund herd will leave a much healthier group of resulting firms.
Venture Capital: Here Come The Scandals
In a recent article, I suggested that venture capital might be heading toward being the long-sought after "next big short." As I discussed, many firms are now driven more by desire to reach whatever is necessary to get the next round of funding, rather than concerning themselves with making products consumers actually want.
On that note, Bloomberg broke an embarrassing story suggesting just the sorts of lengths companies are going to in order to reach pre-determined metrics. Check out what Hampton Creek, a purveyor of specialty mayo, was found to have done:
[T]he startup undertook a large-scale operation to buy back its own mayo, which made the product appear more popular than it really was. At least eight months before the funding round closed, Hampton Creek executives quietly launched a campaign to purchase mass quantities of Just Mayo from stores, according to five former workers and more than 250 receipts, expense reports, cash advances and e-mails reviewed by Bloomberg.
Now this may seem a bit unusual, but is it necessarily wrong? Actually, yes, if these purported sales helped motivate potential investors to give Hampton Creek more money. As famed entrepreneur investor Marc Andreessen put it on Twitter: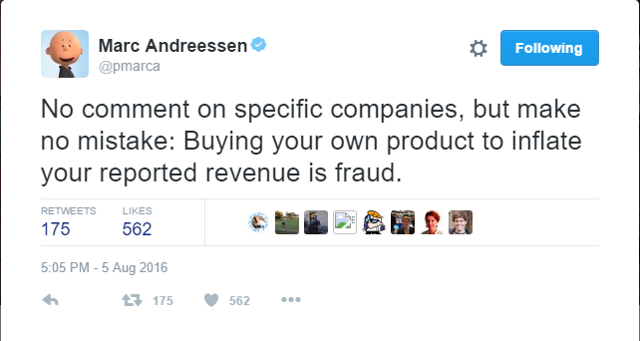 Click to enlarge
Hampton Creek's founder claims these own sales were part of its efforts at quality control. However, companies usually do quality control in-house before sending product out to stores. Additionally, if defective product ends up at a retail location, it's highly unusual for the manufacturer to buy it back at retail pricing.
Bloomberg's account casts specific questions as to the CEO's defense, as ex-employees disclosed that they could buy the company's mayo and simply toss it without any pretext of quality control:
Five former Hampton Creek contractors and two ex-senior staff members say the buyback assignments were separate from quality checks at stores. The ex-contractors say in most cases they were told to simply buy up jars at nearby stores and were free to consume or discard them-not look for quality issues, as the company says.
The company also specifically told its employees when buying the company's products not to wear Hampton Creek gear - it was an "undercover" mission. Employees were also assigned to call retail stores and feign interest in the company's products in hopes of getting the store to order more.
"Fake it 'til you make it" is an accepted motivational practice in some circles. However, trying to generate imaginary enthusiasm for your company's products is right on the line, and arguably generating related-party revenues in this sort of way takes the company into the territory that Mr. Andreessen mentioned in his tweet.
In any case, it's not the first time Hampton Creek has run into trouble. A Business Insider investigative article into the company alleged major problems with the firm last year. The article claimed that the company didn't invent its main product, vastly overstated its scientific achievements and misled folks about famous investors' levels of involvement with the firm, among other things.
To be clear, Hampton Creek is no small firm, it was attempting to raise $200 million at a $1 billion valuation earlier this year. And it has numerous famous investors, including Bill Gates, associated with it.
When looking for a top in a sector, you want to see scandals starting to emerge, as second-rate players grow desperate to try to imitate the success of the real champions. This fits right in with Gary Vaynerchuk's complaints about fake entrepreneurs building financial machines rather than real businesses that I discussed previously.
Now that many of the unicorns are facing real scrutiny, it will be interesting to see if investigative media firms find more unscrupulous dealing in the VC space. If it really is a bubble, as many people suggest, there should be plenty of cockroaches to find once light shines on the sector.
Disclosure: I/we have no positions in any stocks mentioned, and no plans to initiate any positions within the next 72 hours.
I wrote this article myself, and it expresses my own opinions. I am not receiving compensation for it (other than from Seeking Alpha). I have no business relationship with any company whose stock is mentioned in this article.