Paris During the Terror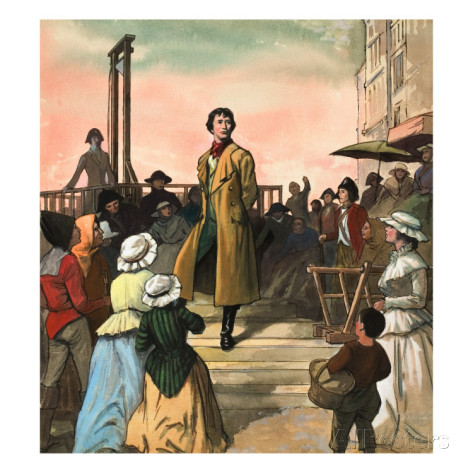 Source: allposters.com
"It was the best of times, it was the worst of times, it was the age of wisdom, it was the age of foolishness, it was the epoch of belief, it was the epoch of incredulity, it was the season of Light, it was the season of Darkness, it was the spring of hope, it was the winter of despair, we had everything before us, we had nothing before us, we were all going to Heaven, we were all going direct the other way - in short, the period was so far like the present period, that some of its noisiest authorities insisted on its being received, for good or for evil, in the superlative degree of comparison only." - Charles Dickens, 1859, A Tale of Two Cities
Charles Dickens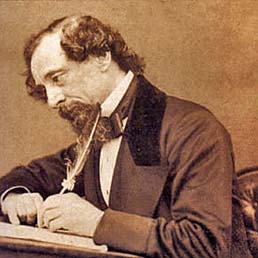 Source: ecenglish.com
We live in interesting times, as the saying goes, and nowhere is that more evident than in the different ways that capitalism is practiced in various parts of the world. For some, it is the best of times, and others the worst; however, this may be a time when the normal fluctuations and variability in economic growth from place to place have given way to some truly profound structural differences that will have lasting effects.
In the great Charles Dickens novel quoted above, the two cities in question were Paris during the Revolution, and contemporaneous London. One was a place of great danger and terror, the other a relative oasis of sanity and peace. One had a fully functioning (although rife with inequality) society, the other the pure chaos of a violent revolution.
I will take this as my point of departure for an evaluation of the current differences between two of the world's great cities: Chicago and Singapore. Of course, the metaphor is only partially apt, since these two cities and the times we live in now are vastly different than Paris or London in 1793. I chose Chicago and Singapore for this analysis because I was struck by the apparently divergent paths the two cities are on.
Even though both are still great economic hubs, they will probably not share the same destiny. Singapore would appear to have a brilliant future with its strategic position athwart China's new Maritime Silk Road, and its solid commitment to economic growth.
Chicago is in the industrial rust belt of the Midwest and is struggling for its survival as an economy, in my opinion. It has been in decline for decades, and conditions are now causing many to opt for leaving the city. Alarmingly, the Chicago Tribune has reported that over 3,000 people with net assets over $1 million (excluding primary residence) have moved away from Chicago in the last year. This is a major problem for city finances if it continues, and it will cause lasting damage to the economy. This exodus is quite similar to what has been observed in Detroit, as elites increasingly left the city over time, resulting in such severe shrinkage of the tax base that bankruptcy became inevitable.
Investors should be concerned about the potential for massive tax increases on corporations operating out of Chicago (even above currently astronomical levels), as the tax base shrinks while municipal costs soar. There is a danger that things will continue to degrade for corporations over time, just as they have in Detroit. This will make hiring top employees more and more difficult, and it will make costs for basic services continue to soar.
Chicago's big companies can flee of course, but that costs a lot of money in the short run. Each major departure will tend to raise the pressure on those who stay, just as it did in Detroit. Until they flee, major corporations still in Chicago will face higher operating costs (rent, insurance, and taxes), diminishing profit margins, and degrading quality of staff.
My focus will be on the economic differences between these two modern cities, but there are other differences worth discussing as well. However, at least on the face of it, there are also some significant similarities between Chicago and Singapore. Chicago has a population in the surrounding MSA of about 7.63 million, whereas Singapore has a population of about 5.54 million.
Both cities are situated on vital transportation routes (Charts 1 and 2) and serve as major ports for international trade. Both are also major financial and commerce hubs with tremendous economic power. Both cities have complex infrastructure, including major international airports, port facilities, modern highways, bridges, canals, and railroads.
Chart 1: Singapore Lies on the Straits of Malacca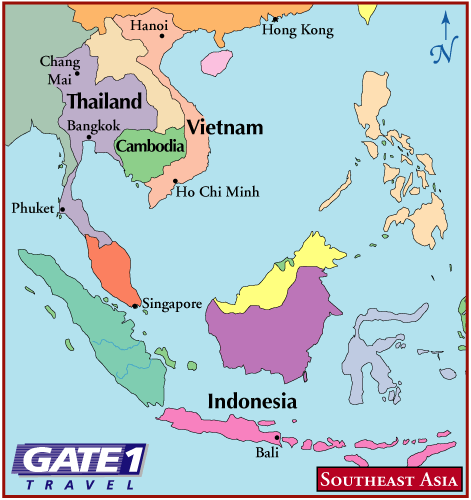 Source: Gate 1 Travel; os-volicina.si
Chart 2: Chicago Lies at the SW Terminus of the St. Lawrence Seaway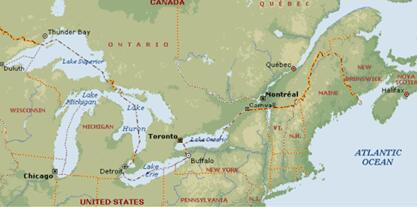 Source: link4business.info
Both cities are currently having some problems with growth, but in my opinion, there are likely to be much different outcomes going forward. I believe that Singapore can rise above the current problems in Asian economic growth because it is well-governed, pro-business, and really adept at encouraging economic prosperity. There are over 60 major international corporations with offices in Singapore.
The city is planning and executing all sorts of projects to support further growth and development. Chicago on the other hand, although a major economic center and a source of innovation, has such massive political, economic, and cultural issues that its business environment is slowly being destroyed. Major concerns include high housing costs, very high taxes, and onerous worker's compensation insurance rates. Chicago and the state of Illinois are considered amongst the worst places to do business in America, according to annual surveys of business CEOs.
Major corporations still domiciled in Chicago include Boeing Co. (NYSE:BA), R.R. Donnelley & Sons (NASDAQ:RRD), CNA Financial Corp. (NYSE:CNA), LKQ Corp. (NASDAQ:LKQ), Jones Lang Lasalle Inc. (NYSE:JLL), United Continental Holdings (NYSE:UAL), Exelon Corp. (NYSE:EXC), Telephone & Data Systems Inc. (NYSE:TDS), Northern Trust Corp. (NASDAQ:NTRS), Hyatt Hotels Corp. (NYSE:H), USG Corp. (NYSE:USG), and Groupon Inc. (NASDAQ:GRPN).
Many more companies, such as Baxter International Inc. (BAX), Illinois Tool Works, Inc. (NYSE:ITW), Navistar International Corp. (NYSE:NAV), Dover Corp. (NYSE:DOV), McDonald's Corp. (NYSE:MCD), Abbott Laboratories (NYSE:ABT), and Sears Holdings Corp. (NASDAQ:SHLD) are based in the surrounding MSA (suburbs). However, a number of businesses have been leaving the Chicago area or reducing operations and staff there over the last few years.
For example, the venerable Chicago Bridge & Iron (NYSE:CBI) left Chicago (for Texas) in 2001. Office Depot (NYSE:ODP) moved from Naperville to Florida in 2013. Integrys Energy was acquired by WEC Energy Group (NYSE:WEC) in 2015, with headquarters moving to Milwaukee. Mondelez International Inc. (NASDAQ:MDLZ) recently laid off 600 workers at its Chicago South Side facility, according to Bob Adelmann at The New American blog. General Mills (NYSE:GIS) closed a plant in West Chicago, laying off 500 workers. Motorola Mobility (now a division of the Chinese company Lenovo Group Ltd.) recently eliminated 500 jobs at its Chicago facilities.
Kraft Heinz Corp. (NASDAQ:KHC) recently let 700 workers go from its Northfield facility. Hoist Liftruck, a private manufacturer, has just moved its factory to Indiana from Chicago, with the loss of over 500 jobs. George Lucas has abandoned his attempt to build his museum in Chicago, according to Alissa Walker of gizmodo.com. This discouraging trend is still picking up speed, unfortunately.
When we examine the economic and political circumstances in each city, we observe some pretty stark differences. For example, the GDP per capita of Singapore is amongst the highest in the world at about $83,000, adjusted for purchasing power parity; in contrast Chicago has a GDP per capita of about $58,000 (good but not great). Singapore has a government debt/GDP ratio of around 106%, or debt per capita of $53,293 (Chart 3); however, none of it is external.
Singapore operates with low deficits and has built much of its debt in support of education, healthcare, and capital projects in aid of business growth. Singapore's private sector debt is also extremely high, with household debt at about 75% of GDP, and corporate debt at about 200% of GDP. Many observers are concerned about the level of debt in Singapore, especially since it has risen so much in the years since the Great Financial Crisis (Chart 4).
Chart 3: Singapore Has High Government Debt Levels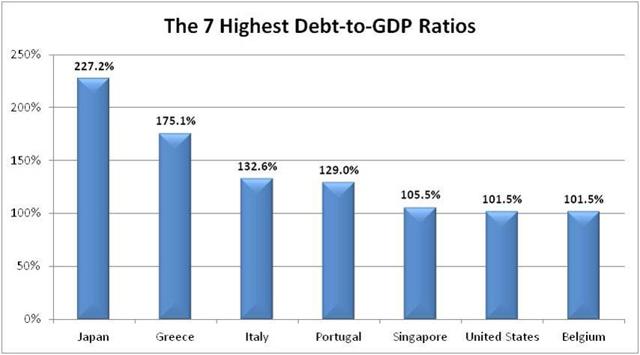 Source: forbes.com
Chart 4: Increase in Debt by Country, 2007-2014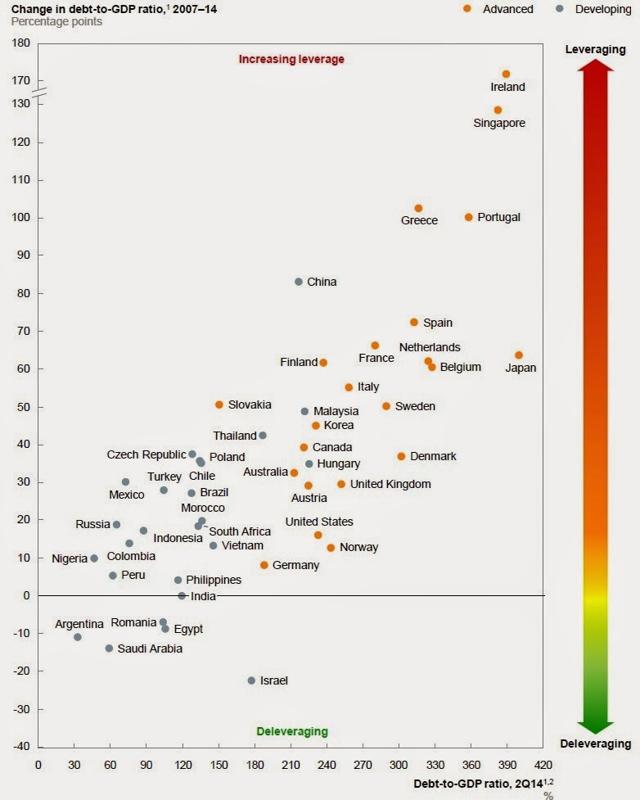 Source: conversableeconomist.blogspot.com
Not to be outdone, Chicago's municipal government has a debt per capita of about $26,000 according to Moody's, or essentially on a par now with Detroit's debt per capita (Chart 5); but that doesn't include federal and state debt burdens (Josh Laurito). Adding those in raises the total debt per capita in Chicago to about $87,300. This is about 64% higher than the government debt per capita in Singapore.
This doesn't even count the fact that the State of Illinois is in arrears on its bills to the tune of $10 billion, which is not counted as debt, but rather as accounts payable, and Chicago will have to pay its share of this.
This also doesn't count Chicago's private sector debt; however, the government debt alone is an extreme burden on households. Much of Chicago's debt is in the form of pension liabilities (Chart 6), which are rising at the rate of $1 billion per year in spite of greatly increased taxes. The annual payments being made to (inadequately) fund these pensions are also rising very rapidly (Chart 7).
Chart 5: Chicago's Debt Approaching That of Detroit (2013)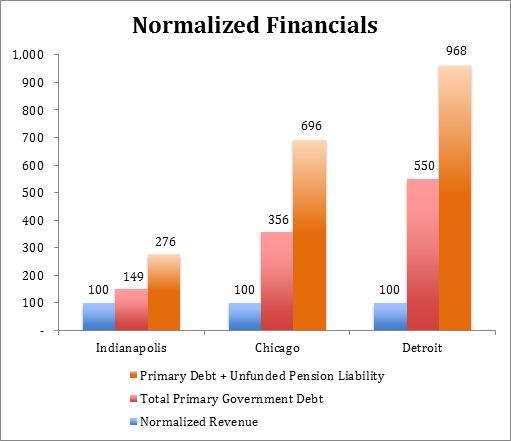 Source: tabbforum.com
Chart 6: Chicago's Debt Burden in 2014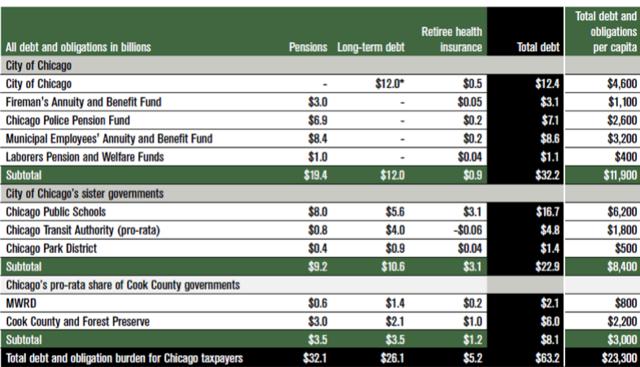 Source: illinoisreview.typepad.com
Chart 7: Rising Pension Liabilities in Chicago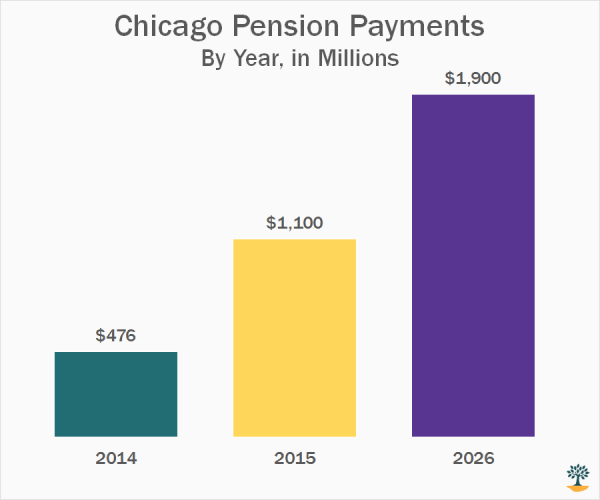 Source: rebootillinois.com
Tax rates are low in Singapore, with the highest marginal income tax rate at 22% and no taxes at all on capital gains. The marginal corporate income tax rate in Singapore is fixed at 17%. There is no estate tax; however, property taxes in Singapore range from 0% to 15%, and sales taxes are now 7% for well-off residents. Chicago has an aggregate sales tax rate of 9.25%, and it charges a median property tax rate of 1.73% (Randolph, Dabrowski and Klingner, 2015). Chicago just raised its municipal property taxes by 13% ($543 million) to help pay for police and firefighters' pensions, and will raise utility taxes by another $250 million to help cover pension contributions for general municipal workers.
The State of Illinois is making a $205 million special contribution to support Chicago Public Schools teachers' pensions, according to the Huffington Post. In spite of all these taxes, pension funding is only at a level of 25% of total liability, and funding assumptions using estimates of total returns have missed the mark for years. Illinois state income taxes add another 3.65% to the total tax burden in Chicago, and the top federal marginal tax rate is 39.6%. Marginal corporate tax rates are 35% at the federal level, and another 7.75% at the state level. Capital gains tax rates are 15%-20% at the federal level, and a maximum of 3.8% at the state level.
Recently, the unemployment rate in Singapore was 2.0%. GDP growth has slowed to just 0.8% on an annualized basis, due mainly to falling global trade and declining economic activity throughout Asia, according to Leslie Shaffer at cnbc.com. However, there has also been an impact from demographics as the population ages; that is, population is increasing at an ever slower rate and will soon plateau (Chart 8).
The unemployment rate in Chicago is 6.2%, according to the BLS. GDP growth was only 0.7% in 2014, and has declined below trend since then, based on the Chicago Fed's Midwest Economy Index's most recent reading of -0.04 (Chart 9). Chicago's population growth has been shrinking for years, and finally went negative last year (Chart 10). Home ownership is at a level of 92% in Singapore, but 80% of this is in government supported housing projects. Chicago's home ownership rate is 63.9% and has been falling ever since 2006 (Chart 11).
Chart 8: Singapore's Population Growth Is Slowing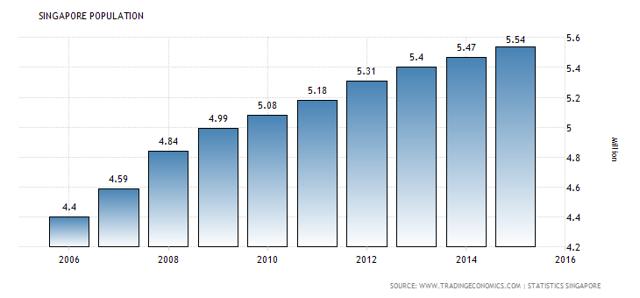 Source: tradingeconomics.com
Chart 9: Declining Midwest Economic Activity Since Mid-2014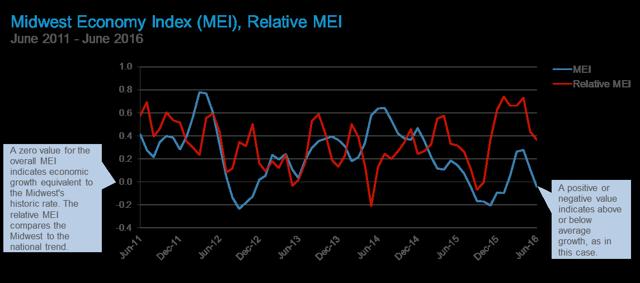 Source: worldbusinesschicago.com
Chart 10: Major Drop in Chicago's Population in 2015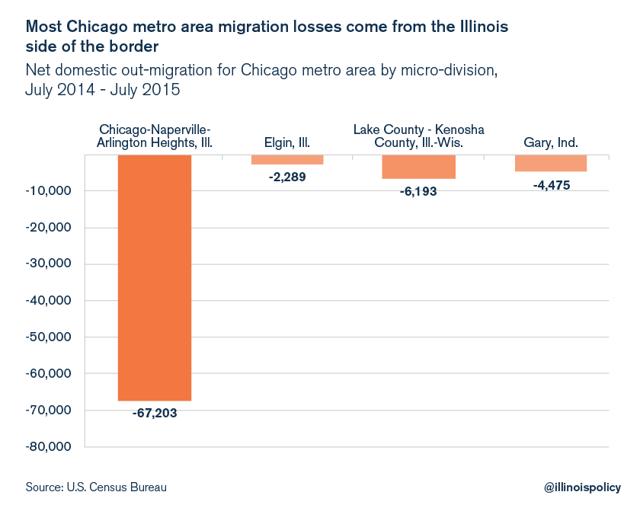 Source: illinoispolicy.org
Chart 11: Falling Home Ownership Rates in Chicago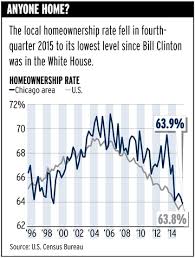 Source: chicagobusiness.com
The quality of life contrast between Singapore and Chicago is perhaps the most striking difference we can observe. For example, violent crime rates in Chicago during 2014 reached 884 per 100,000 people. In Singapore that number is 3 per 100,000 people, according to the nationmaster blog (not a misprint)! Of course, minor offenses can sometimes be punished by public caning in Singapore, and the number of executions there is essentially the same as for the entire United States.
Human Rights Watch has some reservations about freedom and human rights in Singapore. Perhaps the severity of punishment has something to do with the extremely low violent crime rates, or perhaps it is some other cultural factor. Yet Singapore has a very high economic freedom ranking, according to the Heritage Foundation, which scores it at 87.8 on a 100-point scale. There is no score for Chicago itself, but the US score is 75.4.
As of 2016, Singapore was the world's fourth most expensive city, according to cnbc.com. In comparison, Chicago is ranked the 42nd most expensive city in the world, making it far cheaper than Singapore on a relative basis. However, when the level of corruption is considered, Singapore again comes out ahead, having been rated the fifth least corrupt country in the world, according to the Straits Times. Chicago is considered the most corrupt city in America, according to the University of Illinois at Chicago.
In fact, in the last 40 years, there have been 1,500 corruption convictions in Chicago, according to the Rockefeller Foundation. Singapore and Chicago both score well on a global competitiveness ranking, with the former scoring 71.2 out of 100 (3rd place, according to The Economist Intelligence Unit Ltd.), and the latter scoring 65.6 (9th place). Finally, Singapore is world-renowned as a medical travel destination, with excellent hospitals and world class service. Chicago's hospitals get variable ratings, although Northwestern Memorial Hospital is one of the top 20 hospitals in the country, according to usnews.com.
All in all, it would appear that Chicago has a weaker economy, 250 times as much violent crime, triple the unemployment rate, far higher taxes, tremendous pension liabilities, much higher debt per capita, a pervasive corruption problem, and a falling population. Worst of all for investors, it is losing jobs, corporate tax base, and talent rapidly. This is hardly a surprise, given all of the problems in Chicago.
I do not entirely know why there are such stark differences between these two cities. I can speculate that Singapore benefits from being an emerging economy in the fastest growing region in the world. As already stated, Singapore has the good fortune to lie along the new Maritime Silk Road that China is building. But Chicago is literally at the center of the US economy, the greatest economy on earth.
I can also speculate that Chicago's corruption and extremely high taxes have much to do with it. Entrenched high crime rates and the legacy of impoverished neighborhoods scattered around Chicago also have to be contributing to the substantial contrast between these two major economic hubs. Perhaps readers from Illinois will have a better explanation.
But I don't think that bad governance, corrupt politics, tremendous waste in city budgets (Chart 12), epic and fiscally overwhelming debt, and extremely high taxes are an incentive to move to or stay in Chicago. Corporate boards would be severely criticized for moving there in this environment.
Chart 12: Tremendous Waste in the Waste Business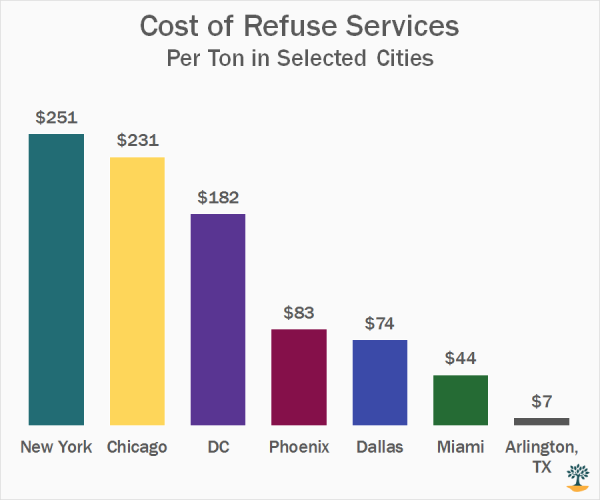 Source: rebootillinois.com
As I have mentioned, with the tax base eroding, Chicago has every chance to follow Detroit down the rabbit hole. However, state law gave Detroit a way out: bankruptcy. That is not available to Chicago, based on court rulings. The mayor of Chicago, Rahm Emanuel, has dropped the deficit quite substantially in four years, but there is a long way to go yet (i.e., it is still $233 million, but will fall to $138 million in 2017). Note however that the additional tax increases (!) necessary to fund the $33 billion in unfunded pension liabilities are conveniently not included in the budget projections until years from now, according to zerohedge.com.
It should also be noted that Chicago has long used a "scoop and toss" method for funding operations, meaning that long-term bonds are being used to finance current operations, which is actually illegal. However, the current budget does attempt to wean the city off such measures. Tax incentive financing ("TIF") funds to the tune of $1.3 billion are apparently unspent and being used as a sort of slush fund.
There is thus great danger in the years ahead. Even with all of the new taxes, the pension problem will not even come close to being resolved anytime soon. It seems a bit of a stretch to expect Chicago to come out of this in good shape. If a major recession were to hit Chicago anytime soon, the damage would be difficult to survive from a budgetary point of view. It will be interesting to see if Chicago can solve its problems and give Singapore a run for its money.
I would be leery of holding stocks of Chicago-based firms unless they are in industries with low fixed costs, such as construction or personal services. Stocks in industries with high fixed costs like manufacturing, professional services, business services, and healthcare will probably be impacted by the continuing problems in Chicago. Examples of stocks to avoid or even perhaps speculatively short might then include Baxter International Inc., Boeing Co., llinois Tool Works, Inc., Dover Corp., Navistar International Corp., and United Continental Holdings. Of course, all of these have some other issues as well.
For example, Baxter International Inc. has had declining revenue and operating earnings in recent quarters, although the latest quarter saw a bounce in earnings; it is richly valued on an EV/EBITDA metric. Boeing has had decent revenue growth but has seen operating earnings decline recently, and has lagged the market for a long time.
Illinois Tool Works has seen good operating earnings growth on falling revenues and is fully priced, with EV/EBITDA fairly high. Dover Corp. has had declining earnings and revenue until the most recent quarter, when operating earnings bounced; it is not cheap. Navistar International Corp. has had negative earnings and declining revenue in recent quarters. United Continental Holdings has seen earnings bounce back but revenue decline recently; however, it is very cheap on an EV/EBITDA basis.
Based on the exodus of corporations and wealthy individuals, it might also make sense to avoid or speculatively short locally based banks and trust companies involved in wealth management, although this is a long-term trend and may take a while to have an impact on any particular firm. Low rates and declining net interest margins contribute to the risk in this sector. An example of a company that may face some pressure here is Northern Trust Corp.
Although their asset base is tremendous ($7.8 trillion), about 35% of those assets are invested in Europe, Africa and the Middle East, suggesting that the fallout from Brexit and the European banking crisis may impact them substantially, according to Barron's. The time to short would be when a recession is imminent, which is clearly the case in the UK, and may not be that far off right now in other parts of the European and MENA regions.
There may even be enough of a slowdown in the Chicago region, based on the recent Chicago PMI data (Chart 13), to suggest that the decline in the regional economy may continue to impact firms in Chicago in the coming year.
Chart 13: Chicago PMI Has Been Sluggish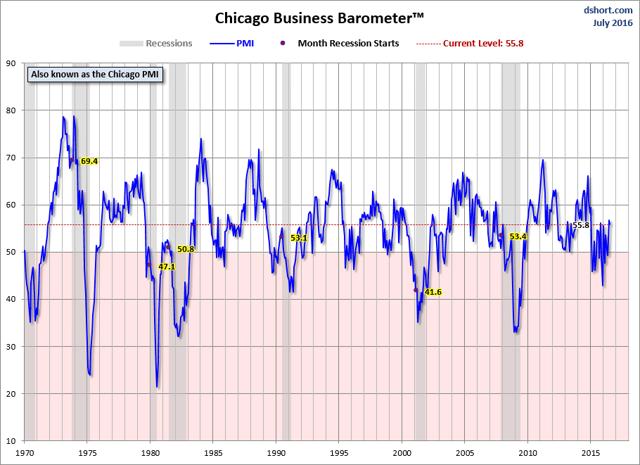 Source: dshort.com
I would invest in Singapore stocks with a hedge against the dollar, or perhaps wait until the dollar rally fades. Singapore Airlines Ltd. (OTCPK:SINGF) and UOB-Kay Hian Holdings Ltd. (OTC:UOBKF) - a global investment bank, are really successful and well-positioned if Asian growth takes off again. A good all-purpose ETF could be invested in as well, such as the iShares MSCI Singapore ETF (NYSEARCA:EWS).
This ETF has had a YTD return of 7.2%, and a current expense ratio of 0.48%. Singapore has only 9.4% of its trade with China, so its ETF and other securities there may be less affected by damage to the Chinese economy, than those in other Asian countries in recent quarters, according to Barron's.
Disclosure: I am/we are long MCD.
I wrote this article myself, and it expresses my own opinions. I am not receiving compensation for it (other than from Seeking Alpha). I have no business relationship with any company whose stock is mentioned in this article.
Additional disclosure: This article is intended to provide information to interested parties. As I have no knowledge of individual investor circumstances, goals, and/or portfolio concentration or diversification, readers are expected to complete their own due diligence before purchasing any stocks or other securities mentioned or recommended. This post is illustrative and educational and is not a specific recommendation or an offer of products or services. Past performance is not an indicator of future performance.
Editor's Note: This article discusses one or more securities that do not trade on a major U.S. exchange. Please be aware of the risks associated with these stocks.