The NXP Semiconductor (NASDAQ:NXPI) merger with Freescale Semi promised huge synergies and a dominant position in the automotive sector. The stock though hasn't even approached the highs near $115 generated by the excitement of the merger.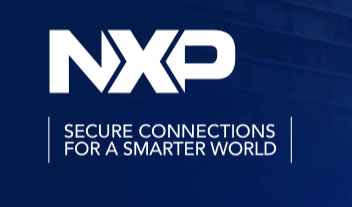 The company has seen slow demand growth in the key smartphone sector and signs of peaking domestic auto sales detracting from a lot of the benefits of the merger. The question now is whether NXP Semi offers a good opportunity at $85?
The original thesis of the merger was that NXP Semi could generate as much as a 2017 EPS of $9.50. The merger had a target of $500 million in synergies that will be close to fully realized by next year. On top of that, the semiconductor company has repurchased 8.5 million shares that would provide more upside to those EPS estimates.
The problem remains that NXP Semi sees subdued end market demand causing those EPS estimates to continue slipping away. The analyst estimates for next year are now down to only $7.37 per share.

Click to enlarge
Source: Yahoo Finance
While plenty of issues exist with the current demand environment, the company is still set up to participate with the auto industries move to autonomous driving. NXP Semi obtained 32% of revenues from the auto sector during 2015 and saw a solid 7% sequential increase in Q2 revenues. Combined with the Secure Connected Devices, the company is at least generating a rebound in the larger sectors.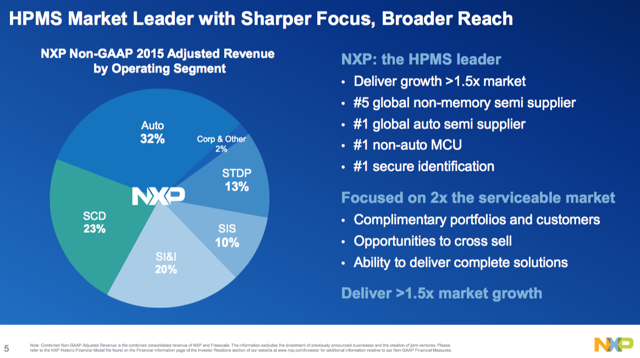 Click to enlarge
Source: NXP Semi presentation
During the earnings call, the company provided a prime example of how the shift to the different levels of driver assistance impacts revenues. For basic level 1, a vehicle will have up to three radar sensors generating up to $35 in revenues. For the full autonomous level 4, a vehicle will have up to 20 radar sensors with revenues exceeding $100 and possibly approaching $200.
This example is a prime reason why auto sales growth is not nearly as important as the additional content pre car. Naturally, the total sales growth is rate is either a headwind or tailwind to their growth.
The key investor takeaway is that a lot of the growth drivers that built up the large EPS estimates for the merger are still possible. Typically though, a stock doesn't rebound until those estimates stabilize and start reversing higher. For this reason, NXP Semi remains a cheap stock, but one to wait for a better entry point.
Disclosure: I/we have no positions in any stocks mentioned, and no plans to initiate any positions within the next 72 hours.
I wrote this article myself, and it expresses my own opinions. I am not receiving compensation for it (other than from Seeking Alpha). I have no business relationship with any company whose stock is mentioned in this article.
Additional disclosure: The information contained herein is for informational purposes only. Nothing in this article should be taken as a solicitation to purchase or sell securities. Before buying or selling any stock you should do your own research and reach your own conclusion or consult a financial advisor. Investing includes risks, including loss of principal.