Next week, shares of technology giant Microsoft (NASDAQ:MSFT) will go ex-dividend for the $0.36 quarterly dividend announced back in June. This will be the fourth payment at this rate, and the company usually announces a dividend raise in mid-September. Today, I'm here to discuss the factors impacting this year's potential increase, and provide my own prediction for where things could land.
As seen in the chart below, Microsoft's dividend has risen nicely since the financial crisis at the end of the last decade. The dividend has more than doubled in just five years, now representing a $1.44 annual payout. Last year's nickel per share per quarter raise was a more than 16% increase, and the last six years have seen raises that were double digits, percentage wise, from 10.7% to 25.0%.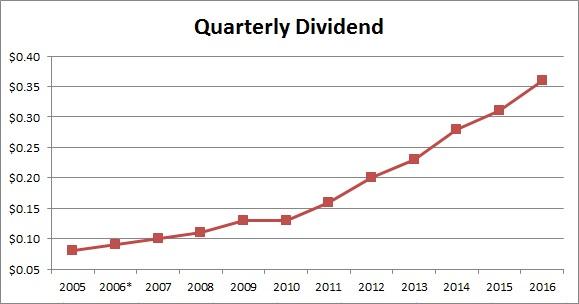 *According to Microsoft's dividend history, the first payment in fiscal 2006 was $0.08 before rising to $0.09 for the final three payments. The chart above uses the $0.09 figure for fiscal 2006. Year above represents the year in which a majority of payments will be.
To think about a potential dividend raise, we must first look at the company's share count. Microsoft has bought back a lot of stock in the last two years, as per its 10-K filing. For the fiscal year ending June 30th, 2016, nearly $16 billion was spent on share repurchases, up from $14.4 billion the year before and just $7.3 billion a year earlier. That has accelerated the decline in the outstanding share count to just over 7.8 billion shares, as seen in the chart below.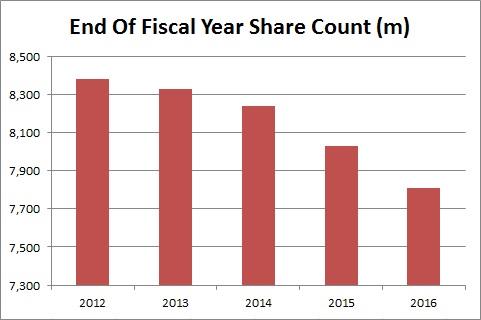 Companies like to increase their total dividend payouts, so with the share count coming down by 2.73% in the past fiscal year, that probably means that this year's dividend raise would be at least 3% to get total payments up. We also have to take a look at how the balance sheet has evolved in recent years, so in the table below I've detailed some key cash/debt and balance sheet figures.

Click to enlarge
*Foreign balance rounded to nearest $0.1 billion, so these amounts may be slightly off due to company rounding.
**Liabilities to Assets ratio.
Overall, Microsoft's balance sheet is in decent shape. The net cash balance has trended around $60 billion in recent years, and there is plenty of working capital. The only problem here is that most of the company's cash is located outside the US, and only domestic funds can be used for dividends and buybacks. That's why total debt has increased so much in recent years, as Microsoft like other tech giants has borrowed to repurchase shares and pay dividends.
After the most recent quarter ended, Microsoft filed a massive debt offering, borrowing nearly $20 billion. Given the size of the deal as well as debt already on the balance sheet, the company did extremely well in terms of interest rates. That's helped by US rates being at multi-year lows post-Brexit. Thus, the company is now over $70 billion in total debt, unless any prior issues have been paid off since quarter's end.
The company took out a large amount of debt to help finance its purchase of LinkedIn (NYSE:LNKD), which I analyzed here. I do think Microsoft paid a bit too much, and one of my key deal takeaways was that this year's dividend raise could be hurt. With a $26 billion price tag, it wouldn't surprise me to see the dividend raise be a bit lower this year, as the company has taken on a boatload of debt. Part of this reasoning is that I think the company will slow down share repurchases in the short-term to avoid taking on a lot more debt. That means the share count won't come down as fast, so the board might be a bit conservative with this year's raise.
When it comes to current expectations, analysts are not that positive for Microsoft's current fiscal year. Revenues are only forecast to rise by 2.1% for the period ending June 2017, with just a few tenths of percentage point growth in the first two fiscal quarters. Earnings per share are forecast to rise a little faster, and both the top and bottom line are projected to grow a bit faster when we get to fiscal 2018. With all of this information, I put together the following table to detail what a potential dividend raise could look like, with my prediction range in yellow.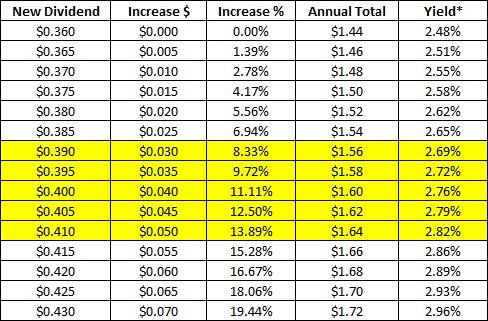 *As of Monday's close.
With the large amount of debt being added for the LinkedIn deal, it wouldn't surprise me if Microsoft's board is a little conservative this year. A raise of 3-4 cents per quarter is still fairly decent, and I did take my prediction range up to a nickel per share, just because it is possible that the board matches last year's raise. Where would this raise put Microsoft against its peers? Well, in the chart below, I've put the name's current yield against Apple (NASDAQ:AAPL), Intel (NASDAQ:INTC), Cisco Systems (NASDAQ:CSCO), and the 30-Year US Treasury (NYSEARCA:TLT). I also added a bar for where a $0.40 quarterly payout, the midpoint of my prediction range, would leave Microsoft.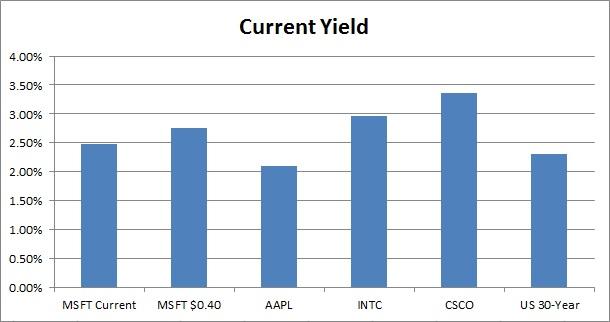 With Microsoft going ex-dividend on its fourth $0.36 payment very soon, all eyes will be on the company next month for a potential dividend raise. While we've seen strong double digit percentage raises in past years, it wouldn't surprise me if this year's raise is a little less given the massive pending purchase of LinkedIn. In the end, I still believe investors will be happy with what they see, with a new annual yield in the high 2% area. That's much better than many fixed income instruments currently, and would put the name in the general area of what many tech peers yield on average.
(Author's note: All chart/table data sourced from Microsoft's annual 10-K filings, which can be seen here, as well as Yahoo! Finance)
Disclosure: I/we have no positions in any stocks mentioned, and no plans to initiate any positions within the next 72 hours.
I wrote this article myself, and it expresses my own opinions. I am not receiving compensation for it (other than from Seeking Alpha). I have no business relationship with any company whose stock is mentioned in this article.
Additional disclosure: Investors are always reminded that before making any investment, you should do your own proper due diligence on any name directly or indirectly mentioned in this article. Investors should also consider seeking advice from a broker or financial adviser before making any investment decisions. Any material in this article should be considered general information, and not relied on as a formal investment recommendation.