On August 4 the CEO, CMO, and board chair of Immune Pharmaceuticals (NASDAQ:IMNP) reported share purchases worth a combined $1 million. Investors noticed. On August 5 the share price rose from $0.33 to $0.38, an increase of 15%. This was followed on August 8 by an increase of 29%, with shares closing at $0.49.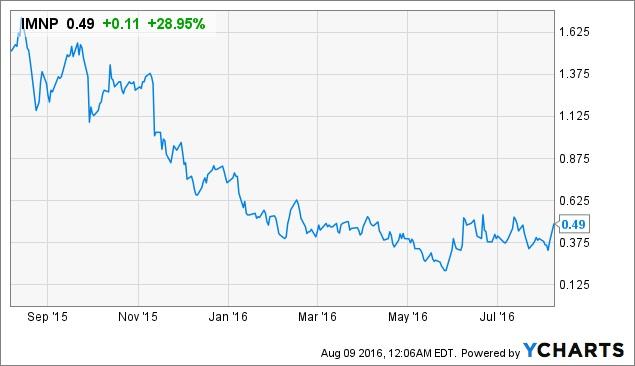 Peter Lynch, legendary fund manager, said, "Insiders might sell their shares for any number of reasons, but they buy them for only one: they think the price will rise."
The Immune insider buys demonstrate a second reason: insider buying due to a mistake.
Author's update, dated August 16, 2016: Please see the end of this article for discussion of an explanation that disputes this analysis.
Promissory Notes: Mistake And Remedy
A note at the bottom of each Form 4 states that the shares were "issued upon repayment" of a promissory note held by each insider.
The promissory notes were issued in June and July when Immune borrowed a total of $1 million from these insiders. These were one-year notes with an annual interest rate of 5%.
Immune had the option of prepaying the debt with cash or with shares at the fixed conversion price. Immune used this option to convert the promissory notes to shares.
If the insiders had wanted shares they could have bought shares in the first place. The promissory notes had the advantage of paying interest. In addition, debt has priority over stock if a company liquidates. At the end of the one-year term the notes could have been converted to shares at the fixed price. With promissory notes the insiders had the upside potential of shares with less risk.
It is unusual to issue one-year promissory notes and repay them with shares within two months. Immune did not announce the reason for the early repayments. An SEC filing for last year's Hercules loan suggests an explanation.
In July 2015 Immune borrowed $4.5 million from Hercules Growth Technology, Inc. The loan agreement defines "Permitted Indebtedness" to include this restriction:
[x] other Indebtedness in an amount not to exceed $500,000 at any time outstanding
The borrower covenants of the loan agreement specify:
7.4 Indebtedness. Borrower shall not create, incur, assume, guarantee or be or remain liable with respect to any Indebtedness, or permit any Subsidiary so to do, other than Permitted Indebtedness, or prepay any Indebtedness or take any actions which impose on Borrower an obligation to prepay any Indebtedness, except for the conversion of Indebtedness into equity securities
If this explanation is correct, then Immune used shares to prepay the promissory notes to avoid breaching the loan covenants. Immune made a mistake in issuing the promissory notes. The remedy transformed the insider financing from debt to equity.
Author's update, dated August 9, 2016
In the comments section, Daniel Carlson points out that Hercules may have agreed to waive terms of the loan. Such an agreement has not been disclosed. If this is the case, then it would be interesting to read other possible explanations for early prepayment of the promissory notes.
Author's update, dated August 16, 2016: Please see the end of this article for discussion of an explanation that disputes this analysis.
Promissory Notes: Additional Questions
The first promissory note was issued to the CEO on June 24 but was not disclosed until July 19. The SEC requires disclosure "within four business days" for 8-K Item 2.03 "Creation of a Direct Financial Obligation or an Obligation under an Off-Balance Sheet Arrangement of a Registrant." Why did Immune take so long to disclose this promissory note?
Also on June 24, the CEO was granted 300K free options to purchase stock at $0.38/share. All of these options vested immediately. Why did Immune grant these options? These 300K options were in addition to 180K options granted to the CEO on June 1.
This June 24 option grant was disclosed on August 4. The SEC requires a Form 4 to be "before the end of the second business day following" a transaction. Why did the CEO delay disclosing the options grant?
According to a memo from the Simpson Thacher law firm:
... most public companies, as a prophylactic measure, impose quarterly "blackout" periods in which trading is prohibited by directors and executives ....
Does Immune impose a blackout period to prohibit insider trading between the end of a quarter and the date when quarterly results are reported? Why were insiders issued convertible promissory notes during this period?
Lack Of Transparency
Immune should have announced the reason behind the promissory note conversions. Such lack of transparency is not an isolated occurrence as shown by recent examples of Immune failing to mention important information.
1. In a January press release Immune announced that it planned NanomAbs "pre-clinical validation with selected immune check point targets" in 2016.
Immune has not announced the outcome of its previous efforts with NanomAbs. In May 2015 Immune and STC Biologics partnered "to accelerate the development of NanomAbs" with an initial focus on paclitaxel nanoparticles using monoclonal antibodies. The results of this partnership have not been reported to investors.
2. In a February press release Immune announced filing a patent application for Ceplene "in combination with immune checkpoint inhibitors" and "directed to the treatment of Acute Myeloid Leukemia and other cancers."
Immune has not mentioned that Novartis (NYSE:NVS) has a patent application with a priority date of September 13, 2014, that covers treating AML with a combination of an "inhibitor of an immune checkpoint molecule" and Ceplene, histamine dihydrochloride.
In June I wrote an article that was skeptical about Ceplene's chances for commercial success. This Novartis patent application strengthens my skepticism. (Jason Napodano wrote an article with a more hopeful view. Jason has disclosed working as a paid consultant for Immune.)
3. A March press release mentions a patent application filed by Immune "for anti-eotaxin-1 monoclonal antibodies for the treatment of" ulcerative colitis and Crohn's disease.
Immune did not mention that the International Preliminary Report on Patentability for this patent application found that all of the patent application's claims are neither novel nor inventive.
4. In multiple presentations this year Immune included a slide which claims that Crolibulin has completed a phase 2a trial: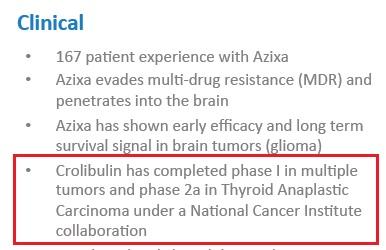 Immune's claim is contradicted by the clinical trial record which states, "The phase II portion was not completed because it was impossible to recruit." In addition, for the phase II primary outcome of progression free survival, the trial record states, "The outcome was not met because the patients died and were not scanned before their death."
Immune's misstatement about this clinical trial is disrespectful to the patients who participated in the trial.
Conclusion
The promissory notes blunder underscores Immune's problems with management execution and transparency. There will be additional opportunities this year for investors to evaluate Immune's quality of execution and Immune's level of transparency. Immune has said it expects clinical results this year for its two phase 2a trials as well as the initiation of new clinical trials. Based on Immune's track record I remain skeptical.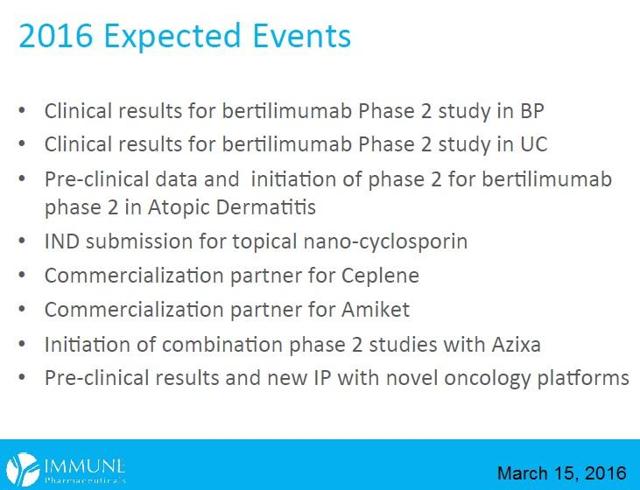 Click to enlarge
Author's update, dated August 16, 2016
On August 15, Immune filed its 10-Q for the second quarter of 2016, which states:
On July 21, 2016, Hercules, the Company and the holders of certain promissory notes (see Notes 14) entered into a Subordination Agreement to the Loan Agreement whereby the holders agreed to be subordinated to any security interest or lien that such creditors may have in any assets of the Company to Hercules.
Based on this, Hercules was in agreement with the promissory notes on July 21, but this is after the promissory notes were issued (June 24 and July 15). The 10-Q does not claim that the promissory notes were in compliance with the Hercules loan terms when the notes were issued. If the notes had been in compliance, then there would not have been a need for a subsequent agreement.
Jason Napodano commented on a different Seeking Alpha article: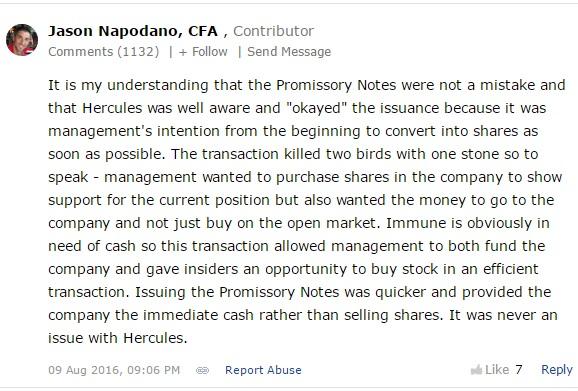 As mentioned above, Jason has worked as a consultant for Immune. For this reason, I believe his comment uses information from Immune, though he does not mention a source. Note that Jason says Hercules' agreement was based on the notes being converted into shares.
The 10-Q supports my analysis that the promissory notes were not in compliance when they were issued. Jason's comment supports my analysis that the notes needed to be converted to satisfy Hercules.
Jason disagrees with my analysis that it was a "mistake" to issue promissory notes not in compliance with the Hercules loan terms. His comment says that management intended "from the beginning to convert into shares as soon as possible."
Jason's explanation, however, indicates that what Immune did was worse than a mistake. This is shown by reviewing the disclosures for the promissory notes.
Using reporting deadlines linked above, here are key dates for the promissory notes:
June 24: Promissory note issued to the CEO.
June 28: Deadline for the CEO to file Form 4 for acquisition of his convertible promissory note. To date, this Form 4 has not been filed.
June 30: Deadline for Immune to file an 8-K disclosing the creation of a direct financial obligation. This was disclosed on July 19.
July 15: Promissory notes issued to the CMO and the board chair.
July 19: Deadline for the CMO and the board chair to file Form 4s for acquisition of their convertible promissory notes. To date, these Form 4s have not been filed.
July 19: Immune filed an 8-K disclosing the three promissory notes as well as the "Form of the Note."
July 21: Agreement with Hercules.
August 4: The CEO, CMO, and board chair filed Form 4s disclosing the conversion of promissory notes into shares.
August 15: Disclosure of the agreement with Hercules.
The "Form of the Note" filed on July 19 does not mention the intent "from the beginning to convert into shares as soon as possible." If this had been agreed by the parties, then why was this agreement not disclosed?
More significant is the question raised above in this article: Why did Immune take so long to disclose the first promissory note? This promissory note should have been disclosed in a Form 4 due on June 28, as well as in an 8-K due on June 30. The absence of these filings allowed the CMO and the board chair to make their transactions on July 15 with knowledge that should have been public but was not. If investors had known about the CEO's promissory note and understanding to convert to shares, then the conversion price may have been higher on the notes issued to the CMO and the board chair.
Did management intentionally time the filings to put the interests of insiders ahead of shareholders? Or were the filing decisions made by mistake?
The explanation provided by Jason underscores the questions about Immune's compliance and transparency discussed in this article.
My analysis in this article called the promissory notes issuance a mistake. Jason states that this was not a mistake. Given Immune's disclosure failures, Jason's explanation leads to the conclusion that Immune acted to favor insiders over shareholders. This is far more negative for Immune than the unintentional action implied by my analysis.
Disclosure: I/we have no positions in any stocks mentioned, and no plans to initiate any positions within the next 72 hours.
I wrote this article myself, and it expresses my own opinions. I am not receiving compensation for it (other than from Seeking Alpha). I have no business relationship with any company whose stock is mentioned in this article.
Additional disclosure: This article is not intended as investment advice.
Editor's Note: This article covers one or more stocks trading at less than $1 per share and/or with less than a $100 million market cap. Please be aware of the risks associated with these stocks.