With a market cap of around $400 million, Apigee (NASDAQ:APIC) is a small-cap tech concern that went public a little over a year ago. The San Jose-based company supplies integration software to businesses that allows cloud-based devices to interact and connect with various apps and helps create an integrated network.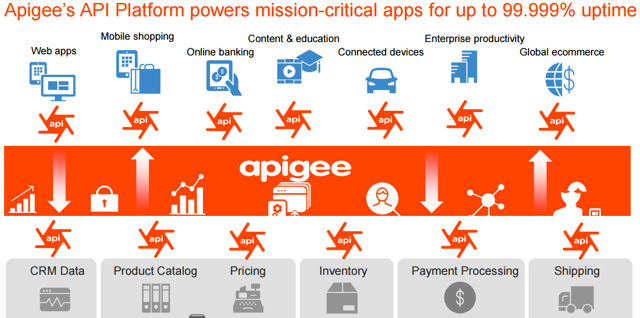 Click to enlarge
Source: Company Presentation
As an API management company, Apigee basically helps software connect with other software. Whether trying to find a free car on Uber, looking for cheap flights online, or making a payment on your bank's application, APIs are critical and continue to be more so as the digital economy accelerates. The company´s own survey found that 44% of app users would delete an app immediately if it didn't perform as expected (i.e. freezes, crashes, slow responses, etc.), which helps explain why APIs are so important and necessary to get right for their end users.
While there are a few competitors that specialize in API management and aid clients in becoming more productive in the digital economy, Apigee is one of the most utilized and offers investors a unique opportunity to profit from this area.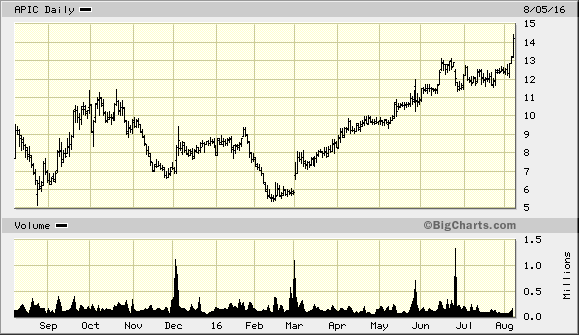 A brief look at the stock's chart shows the company has been on a tear since the beginning of the year, now working its way back to the original IPO price from 2015. Even though it's at 52-week highs, I hope to show investors that there is plenty of upside ahead.
Numbers
Most recent third-quarter results showed promising growth, as revenue increased 39% year over year to $18.6 million, gross profit increased 46% year over year to $16.4 million, and deferred revenue increased 33% to $50.9 million.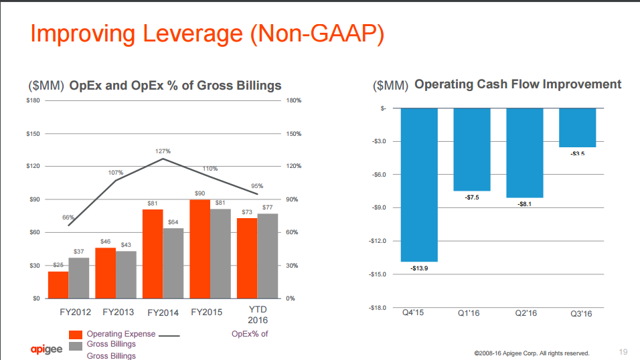 Click to enlarge
Steady march to positive operating cash flow (est. Q2 2017)
Source: Company Presentation
With operating cash flow of negative $3.5 million, Apigee is narrowing its losses and approaching its goal of break-even cash flow.
The company had 300 customers versus 114 in the same quarter last year, with expansion deals signed for 42 customers in the quarter. Renewal rate exceeded 90% for the fourth straight quarter, showing this revenue was sticky and Apigee's clients tend to stick with them. Full-year guidance was for $90.9 million to 92.4 million in revenue.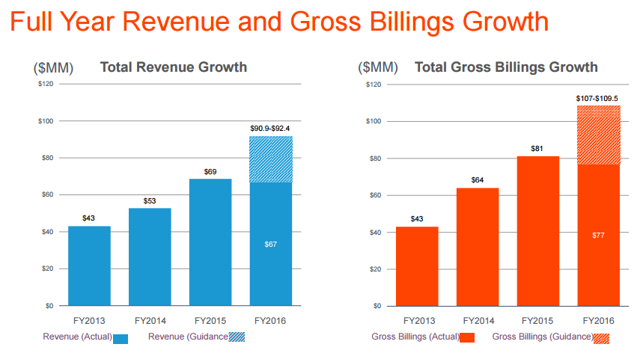 Click to enlarge
Impressive revenue growth: Gross billings increasing even faster
Source: Company Presentation
This growth comes as no surprise, as two years ago, the company was able to raise $60 million in a round of financing while it was private, with the likes of Northwest Venture Partners, Third Point, SAP Ventures, Pine River Capital Management, BlackRock, and other notable investment firms participating.
The average analyst price target is $16.5, slightly north of where shares currently lie. 55% of shares are held by institutions, including Dan Loeb's Third Point, holding a little over 3 million shares. While not a large position in contrast to the fund's $10 billion value, annualized returns of 21% in the first 20 years of running his fund suggest the man knows what he's doing.
Digging Deeper
On the conference call, the company highlighted its work with Microsoft (NASDAQ:MSFT) and Amazon (NASDAQ:AMZN) Web Services, as well as mentioning a new solution to help EU banks implement a new system using Apigee Edge.
Analyst Richard Baldry from Roth pointed out in the Q&A that the company's customer count is growing much faster than revenues and wanted further clarity on the difference between initial deal size and expansion deals. CFO Tim Wan replied that the last two quarters have seen 40-42 expansion orders versus 30 to 35 a year ago. It makes sense that customers dip their toes in the water first, and as they grow accustomed to the product and build confidence in the partnership, they continue to build out their program. Ideally, we'll see further evidence of this expansion in quarterly results due September.
One of my significant concerns about the company is that I see positive trends in cash flow, but I want to know when the company actually will be a cash-generating machine, not just breaking even. Another analyst had a similar question, to which Tim responded that while Apigee will achieve positive cash flow in 2017, it expects to "continue to make investments along the way", from which I gather that significant positive cash flow is not happening any time soon in the company's future.
On Competition
When researching API management companies, I came across considerable competition, including Mashery, Mashape and 3Scale. I wanted to know what makes Apigee different (if anything), and how likely are its clients to defect to a rival competitor. API Evangelist gives an interesting metaphor, comparing these companies to brokers in the API economy, competing with each other for your business, shaping the space, and striving hard to gain market share.
CEO Chet Kapoor responded to a similar concern about the threat of competition by stating that the company's moat is "fairly deep and wide". He alludes to the Amazon Web Services deal as an example of how customers need scalability to run key apps, where there are no glitches and hangups, customers aren't lost to dropped calls and companies don't lose money, and features are continually added while velocity is kept front and center. While Kapoor did not provide enough clarification (I would have preferred a more in-depth example or a series of examples), he does imply that these clients are receiving a product and quality of service that is difficult to match elsewhere. Case in point, remember the 90% renewal rate we mentioned earlier.
When SAP (NYSE:SAP) chose to partner with Apigee, quite a few analysts were skeptical about how it fits into their plan and how it would interact with SAP's existing assets. Joav Bally, chief project manager at SAP, responded:
SAP's number one mission is to make every business a best-run business. With the growth of the app and API economy, we need to make sure our customers can transition along with the market - if we are to keep up with our mission. We decided to go with Apigee as a partner because Apigee provides the API management capabilities our current solutions lack. Also, Apigee is in itself is an API, so we were able to pick and choose the parts we really needed and to integrate with what we had pretty seamlessly.
It would seem that the need to truly deliver on promises to customers, especially as legacy businesses transition to the digital age, Apigee (and its competitors) provides tools and resources that these tech giants lack in many cases. Also, these partners can identify where exactly they need help and focus on those weaknesses, instead of having to settle for an all-in-one solution that doesn't take into account their specific needs.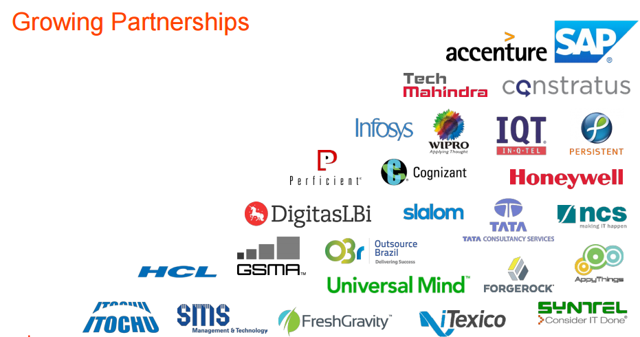 Click to enlarge
An impressive resume
Source: Company Presentation
Thesis
At the present valuation of around 5x sales and an enterprise value of around $350 million, I consider the company richly valued. However, I believe that being turned off the stock simply because of its lack of profitability and current valuation to be short sighted, as future prospects and opportunities should be taken into account.
Take a look at Zendesk (NYSE:ZEN) (10x sales), Shopify (NYSE:SHOP) (11x sales), Workday (NYSE:WDAY) (13x sales) and other tech firms currently on Wall Street's radar and we see that higher valuations are possible. Additionally, just a couple months ago, Pacific Crest named Apigee as a possible takeover target, and I concur. For one of the tech giants or a larger firm that wants to gain a strong foothold in the API space, this makes quite a bit of sense.
As we saw in prior sections, Apigee is an integral part of the API workflow, and investors might be wise to position their portfolios accordingly, investing in companies that are and will continue to be critical in this arena.
Risks include falling short of management's aggressive (yet attainable) financial projections, as well as increased competition and taking longer than expected to achieve positive cash flow as the company continues to invest in its future.
Disclosure: I/we have no positions in any stocks mentioned, but may initiate a long position in APIC over the next 72 hours.
I wrote this article myself, and it expresses my own opinions. I am not receiving compensation for it (other than from Seeking Alpha). I have no business relationship with any company whose stock is mentioned in this article.