Wal-Mart's (NYSE:WMT) acquisition of Jet.com for $3.3 billion may be good for some inorganic growth, but otherwise won't do much for Wal-Mart's stagnating revenue. Wal-Mart's fundamental problem is that Amazon (NASDAQ:AMZN) is embarked on the next major advance in retailing: artificial intelligence (AI) assisted shopping. Wal-Mart-Jet has nothing like Amazon's Alexa AI.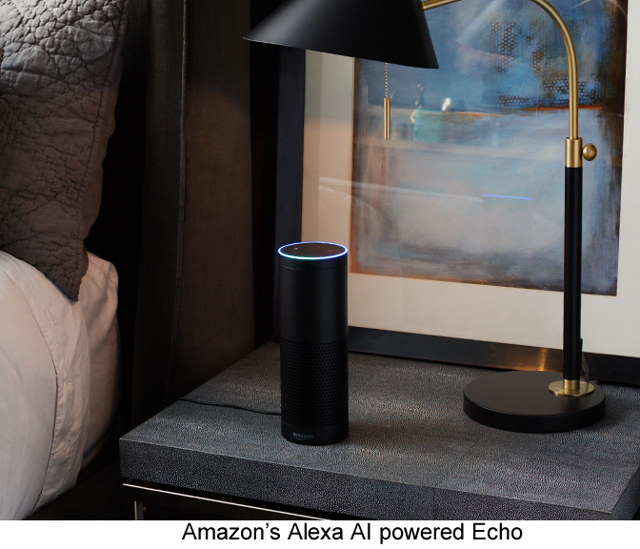 Click to enlarge
Source: Amazon
Act of Desperation
While Wal-Mart's revenue has stagnated, Amazon continues to grow by leaps and bounds. According to its Q2 earnings report, revenue was up 31% y/y to $30.4 billion, while operating income was up 180% y/y to $1.3 billion.
In contrast, Wal-Mart revenue was down at -0.7% y/y at $482 billion for its fiscal 2016 which ended in March. Operating income declined by 11% y/y to $24.1 billion. Since Jet is privately held, it's not known how much it will contribute to the top line, but the purchase price suggests it will be substantial.
As reported by Forbes, Wal-Mart CEO Doug McMillion stated
Wal-Mart.com will grow faster, the seamless shopping experience we're pursuing will happen quicker and we'll enable the Jet brand to be even more successful in a shorter period of time. Our customers will win. It's another jolt of entrepreneurial spirit being injected into Wal-Mart.
According to Forbes, online sales made up just 3% of total revenue in fiscal 2016. That puts it second behind Amazon, which had $107 billion in sales in fiscal 2015 (ended in December). But it will take more than a jolt of entrepreneurial spirit to keep up with Amazon.
If e-commerce was a quantum leap in reducing the "friction" of shopping, then Amazon is on the verge of another quantum leap in reducing the friction of on-line shopping through its Alexa artificial intelligence assistant.
Alexa is now available in a number of Amazon devices, including Fire TV and the Echo, which I recently profiled. According to the Q2 earnings report, Alexa now has over 1900 skills. Most of those skills involve home automation or opening and interacting with third party apps. The Domino's Pizza app allows you to order your favorite pizza by voice command.
Most of Alexa's built in skills pertain to home automation or initiating media streaming through Echo or Fire TV. But it's clear that e-commerce is where the money will be for Amazon and its Web Services partners that can employ and develop new skills for Alexa.
Instead of being hunched over a computer screen filling in purchase information, Amazon's AI has the potential to make the on-line shopping experience even more frictionless. For instance, an AI can help navigate through myriad choices, make suggestions based on past shopping history, and of course commit to the purchase and track shipments. In many cases, users won't even need a computer screen, and will be able to shop through the Amazon Echo device, at least for things they buy regularly, as in the case of Domino's.
Alphabet's (NASDAQ:GOOG) (NASDAQ:GOOGL) Google Assistant in Google Home (similar to Echo) was previewed at Google IO this year. Google's AI is largely involved with search, not surprisingly. Shopping is a form of search, so it's a natural way for these AI assistants to make the shopping process easier. All the major computing platforms from Microsoft (NASDAQ:MSFT), Google, and Apple (NASDAQ:AAPL) have some form of voice activated AI assistant with search capability.
In addition to enhancing platform desirability and utility through voice enabled search, there is a perception that these assistants will play a strong role in e-commerce. For iOS 10 this year, Apple has made available to developers a set of specific skills for Siri, Apple's voice assistant. These are mostly involved in various e-commerce activities such as payments, ride booking, restaurant reservations, and VoIP calling. Although the skill set is fairly limited compared to Alexa, the emphasis on enabling commercial transactions is clear.
Traditional retailing giants, looking at the impending onslaught of AI assisted e-commerce can only be dismayed. Rather than buying Jet.com, Wal-Mart's interests might have been better served by starting to develop an Alexa based assistive app for Wal-Mart shoppers. But of course, that would require going to AWS to host the app, or at least the AI portion of it.
With the advent of AI based shopping assistants, it's no longer enough for a retailer to simply maintain an e-commerce site. The companies that control major computing platforms, whether on line or mobile platforms, have a significant advantage through their AI capability. Amazon has Amazon Web services as a platform with Alexa. Alphabet has both Android for mobile devices as well as its search and web services as platforms. Microsoft has Windows with Cortana, Azure web services, and Bing search as platforms. Apple has iOS with Siri as a platform, as well as a very substantial iCloud web services operation.
In comparison, Wal-Mart has Jet. Seems like way too little, too late, doesn't it?
Investor Takeaway
With Alexa and the Echo home device, Amazon is pioneering a new way to shop. The other major platforms are rapidly picking up on this. Google Home is almost a direct copy of the Echo functionality. Apple is offering similar capability through Apple TV and iOS apps for iPhone and iPad devices. When Apple TV was first introduced last year, one of its other major functions, besides being a streaming media player and lightweight game console, was to host shopping apps.
Unless there's some secret development work going on over at Jet.com, I don't see Wal-Mart's acquisition doing anything to address the AI gap. Amazon has taken a clear lead in AI assistance in the home, and that's going to include home based shopping (and mobile as well). In AI assisted shopping, Amazon has a clear path forward to accelerate its growth. Despite its high valuation, I rate Amazon a buy.
Disclosure: I am/we are long AAPL.
I wrote this article myself, and it expresses my own opinions. I am not receiving compensation for it (other than from Seeking Alpha). I have no business relationship with any company whose stock is mentioned in this article.