The July 31, 2016 Research Affiliates (NYSE:RA) Real Expected 10-year return is out. As in previous months, US equities and fixed income are indicating low real returns versus risk given the current reach for safety and/or yield, depending on your point of view. The direct link to the RA Asset Allocation site is found here, with the bar chart version shown in the headline image here.
COMBATING HOME COUNTRY INVESTOR BIAS
US-centric investments are among the lowest forecast returns in the chart below.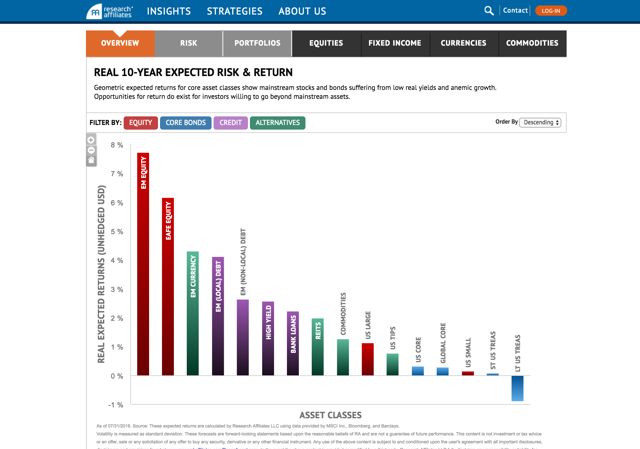 Click to enlarge
Based on their analysis and models, RA forecasts that the highest real returns, shown from the left side of the table in descending order, all come from outside the US:
1. Emerging Market Equity (forecast 7.7% real return with 21.8% expected volatility)
2. EAFE Equity (forecast 6.2% real return with 15.9% expected volatility)
3. Emerging Market Currency (forecast 4.3% real return and 10.0% volatility)
4. Emerging Market (local-currency-denominated) Debt (forecast 4.1% real return and 17.0% volatility)
The lowest real returns on the right side of the table and moving to the left, are dominated by US equities and fixed income. Here's what equity returns look like in isolation: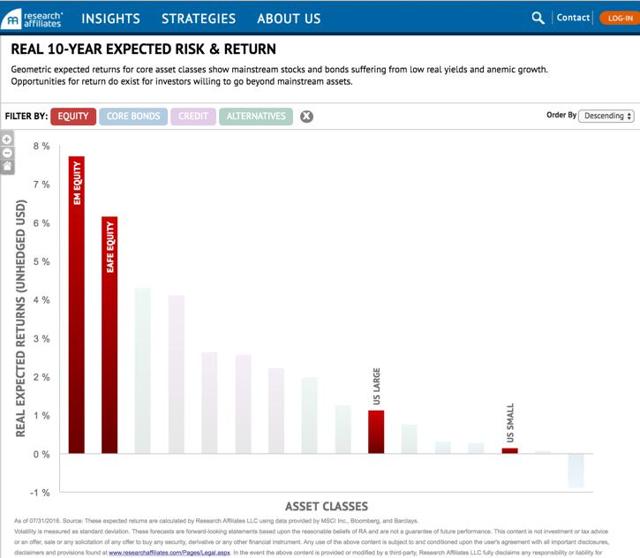 Click to enlarge
The challenge for investment managers is to try to achieve a higher expected real return for their clients without going too far out of an investor's comfort zone.
Academics have shown that investors have a bias toward owning the majority of their investments in their own home country or region. But if US forecast returns for the next decade are expected to be inferior to non-US countries, then what do investors and their investment professionals do? In other words, how do you position a client portfolio for better returns than those expected for US equities and fixed income, while ensuring that your client doesn't lose sleep at night?
The answer may lie in the middle of the table, which is highlighted with three green arrows.
First, the Barclays US High Yield Index (forecast 2.6% real return and 9.5% volatility) -- even at these lofty valuations, which RA has taken into account in their calculations. So investors are able to 'stay at home' with their money and allocate to the credit market, and perhaps away from core bonds given their even higher valuations due to a flight to yield and safety from investors outside the US.
Second is US Bank Loans: RA uses the JP Morgan Leveraged Loan Index (forecast real return 2.2% and 8.1% volatility). Floating interest rate bank loans provide absolute returns that will rise and fall with inflation.
Third is REITs using the FTSE NAREIT All-REIT Index (forecast real return 2.0% with 20.7% volatility). According to RA's forecast, REITs have the highest volatility on the list, second only to Emerging Market Equity at 21.8%. Still a better opportunity than US Large or US Small stocks, if one can stomach the volatility.
SUMMARY
Using Research Affiliates' latest return and risk forecast for investors looking out a decade or more into the future, domestic High Yield, Bank Loans and REITs may provide higher real returns than core US Equities and Fixed Income allocations for investors nervous about venturing abroad.
Disclosure: I/we have no positions in any stocks mentioned, and no plans to initiate any positions within the next 72 hours.
I wrote this article myself, and it expresses my own opinions. I am not receiving compensation for it. I have no business relationship with any company whose stock is mentioned in this article.