This is a quick update piece, as I haven't written an article on Famous Dave's (NASDAQ:DAVE) since early January. The reason I haven't published a new piece is due to limited bandwidth and there hasn't been a lot of great news or much news to really report since then. I wrote a fairly detailed and bullish piece for one of Seeking Alpha's contests back in November 2015, which can be read here.

Thus far, I have been wrong and my thesis hasn't yet played out. The strong arguments for getting long the name were I really liked the food and experience as a customer, Ed Rensi's, the former CEO, short sided moves to cut portions may have led to a decline in traffic as customers noticed, low valuation given the steady 5% franchise royalties, and the fact that management and insiders own roughly 50% of the company's stock.
Again, as the market knows, the turnaround has been slow to show meaningful signs of progress. That said, we continue to hold our shares of DAVE with the cost basis in the mid $7s, as it is still quite possible that Adam Wright and his refreshed management team can execute a turnaround. When I read the Q1 2016 conference call, I noticed, at least at face value, they are more organized and shared a detailed turnaround plan that could work.
Given the prolonged weakness in comparable sales, at some point, assuming management can deliver, the comps become much easier to step over. As we can see from the FY15 10-K, here are comparable sales from 2015-2011 (read left to right).

Here are average weekly sales for company-owned stores vs. franchise-operated. Notice the big difference in weekly sales at franchise-operated and how through better execution, franchisees have delivered better results. As I have mentioned in the past, this indicates to me that the concept still works, but it comes down to strong execution, delivering a quality meal at a fair price, and finally providing good customer service.

Here is an excerpt from CEO, Adam Wright, made during the Q1 2016 conference call, where he describes the four-point turnaround plan.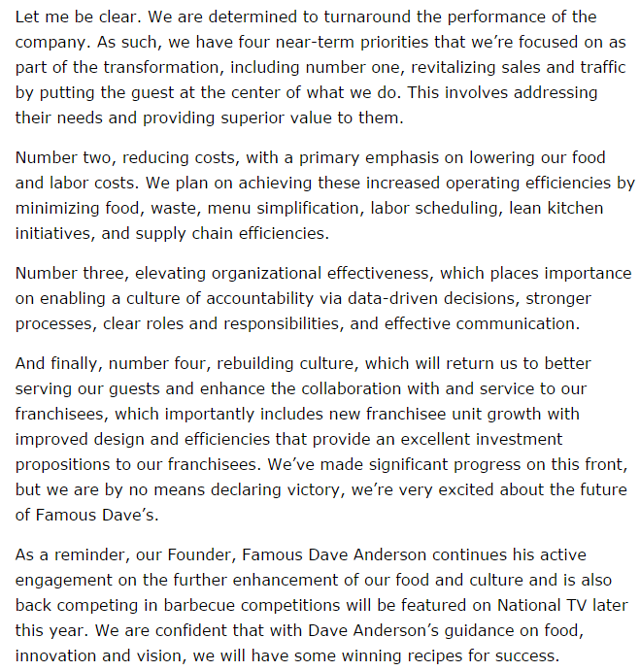 To pivot, I don't want to rehash too much more about the past as stocks are about assessing the future relative to consensus estimates and expectations.
What is interesting to me is that Bandera Capital has increased its stake in DAVE to 834,300 shares ahead of Q2 2016 results. As you can see, as of March 31, 2016, they owned 634,919 shares.

Source: Yahoo Finance
On July 21, 2016, they filed with the SEC that they increased their ownership stake and now own approximately 12% of the equity. They now own over 834,000 shares.

Similar to early January, when the hedge fund LionEye shutdown, Bandera opportunistically scooped up shares from investors that threw in the towel.

According to Insider Monkey, Bandera Capital is a $160 million New York-based hedge fund.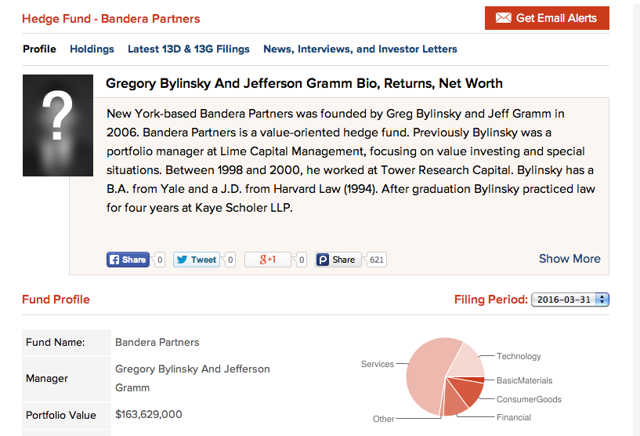 Outside of this news, a few months back, I did speak with a junior member of Famous Dave's management team. We spoke in broad generalities, but he indicated that morale was more upbeat, especially about the new additions to the management team. He emphasized a renewed focus on trying to win back past guests as well as finding creative ways to target new customers unfamiliar with Famous Dave's and its high quality barbecue offerings. Incidentally, on August 3rd, we saw an indication of a different marketing approach to expand brand awareness.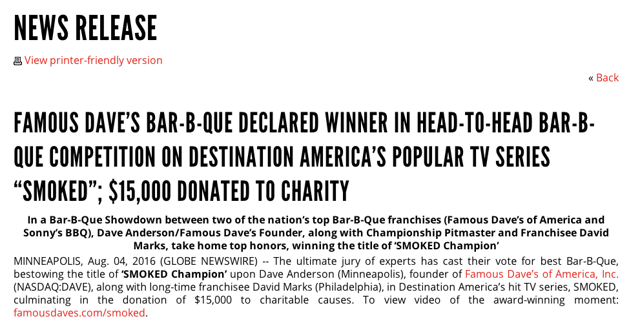 Concluding thoughts: I have no idea if Q2 2016 will mark the quarter where comps start to noticeably improve. As I said, we still own the stock and think it is extremely cheap given the royalty income stream and the fact that the market isn't pricing in much upside optionality. At the end of the day, I am betting on Adam Wright and his new management team to work tirelessly to resolve the weakness in comps and deliver some tangible signs of a turnaround. Finally, it is encouraging to see the technicals perk up and Bandera Capital confidently increase its stake to 12% in this very thinly traded name.
Disclosure: I am/we are long DAVE.
I wrote this article myself, and it expresses my own opinions. I am not receiving compensation for it (other than from Seeking Alpha). I have no business relationship with any company whose stock is mentioned in this article.
Editor's Note: This article covers one or more stocks trading at less than $1 per share and/or with less than a $100 million market cap. Please be aware of the risks associated with these stocks.