Last week, Immersion Corporation (NASDAQ:IMMR) delivered disappointing Q2 2016 results.
As a result, the stock tanked and is now trading close to its 52 week low.
An analysis of the company's performance in the first half of 2016 paints quite a disappointing picture.
Outside of litigation, IMMR seems incapable of benefiting from the strong tailwinds that haptics are experiencing in several verticals.
Rather than adding new customers, IMMR seems to be fighting with the reality of existing clients that are "either delayed in their reporting obligations or are taking more time to acknowledge the applicability of [IMMR] intellectual property", as resumed by Immersion's CEO during the last conference call.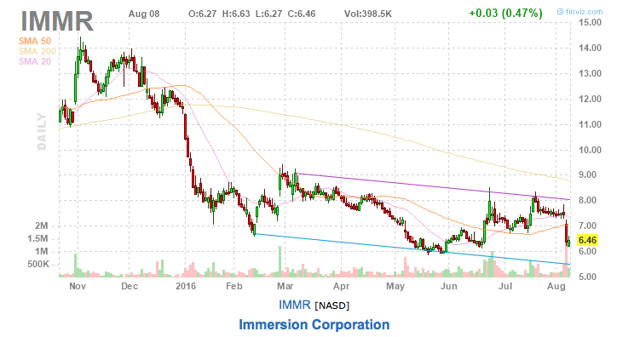 chart from finviz.com
Declining revenues in 1H 2016, excluding Samsung - quite a change for a company that had grown 33% in 2015
First, some good news.
In Q2 2016 Immersion received a final settlement payment of $1.0 million relative to the sale, made in 2009, of its 3D product line. Given the "uncertainty relative to the credit worthiness of the buyers", as noticed in IMMR 10Q filing (pg. 15), this may be considered unexpected good news for its investors.
More importantly, IMMR resolved its dispute with Samsung (OTC:SSNLF) relating to tail rights, and has already collected $19 million from the Korean company. These revenues from wind-down rights, that are very close to what Samsung was paying as fixed royalties per year ($ 20 million), will be recognized in Q3 2016.
From a cash point of view, IMMR will basically record in 2016 a very similar financial contribution to the ones received in the last three years from Samsung. Unfortunately, the future of this relationship remains quite uncertain.
These two unrelated events have certainly strengthened the company's cash position, which was already a healthy $56.3 million, with no debt, as of June 30, 2016.
Now, let's turn to the bad news.
Excluding Samsung, IMMR experienced negative revenue growth in 1H 2016, in spite of haptics being more and more popular.
Revenues for the first 6 months of 2016 were $ 21.5 million, compared with $ 22.5 million in 1H 2015, excluding Samsung.
While it is true that IMMR recorded $2 million in 2015 as a non-recurring license fee from a completed contract, in Q1 2016 Immersion received $ 3 million as a non-recurring license fee from a customer in the medical sector.
Even excluding these two one-time events, the picture remains negative. Adding up the unreported Q2 revenue of about $700,000 from a mobility customer (that was paid in Q3), doesn't really change the landscape.
At the beginning of 2016, while commenting on 2015 results, management underlined the strength of its revenue growth:
Paul Norris (former IMMR CFO)

So I would highlight that in 2015, we've grown our non-Samsung revenue at about 33%, actually growing from $33 million in 2014 to $44 million in 2015.
This growth rate seems to have somehow disappeared, and all of a sudden. Having two different legal fronts opened with both Apple and Samsung probably did not help. Losing some customers like Xiaomi, that walked away from a relatively low fixed price deal, may have helped reinforce doubts in the market place about the "applicability of [IMMR] intellectual property".
The mid point of the company's 2016 guidance translates into an expected decline in revenues.
IMMR's management seems to be cooling down any hope of reversing to revenue growth in the second half of 2016.
No increased guidance, in spite of collecting the same revenues from Samsung, a clear indication of a weak sales pipeline
Given a recent decent number of positive announcements, that we expected to translate into additional or higher than expected revenues, and the positive Samsung settlement, we thought management would be able to increase or narrow 2016 guidance to the high end.
This has not been the case, and IMMR still expects revenues to be in the range of $55 million to $65 million for 2016 - less than in 2015 at midpoint or at roughly the same level in a best case scenario.
As a reminder, IMMR recently revealed that it has a right to receive additional contribution from HTC due to the recent court win that reversed a previous decision related to three patents invalidated, announced a new agreement with Lenovo, that supersedes its deal with their Motorola brand only, and announced winning a settlement with Sony leading to increased revenues from that customer.
In all honesty, all these announcements (and we include the Samsung wind-down right settlement in this short list) also highlight the fact that Immersion seems probably much better at having its IP reinforced through litigation rather than at signing new deals. Even the new Lenovo deal is based on the Motorola settlement that originates from a lawsuit.
"Haptic is for free" has been for too long a mantra in the market place, and the company hasn't really been able to reverse this situation outside of going after some key customers - although we obviously acknowledge that this was not an easy task.
The elephant in the room - the company becoming an acquisition target - now more unlikely to materialize
We've always seen Immersion's patent portfolio as an interesting acquisition target for a large company, like Apple or Google (NASDAQ:GOOG), needing to strengthen their IP in a few key verticals like mobility and automotive - even if just for defensive reasons.
The fact that the most important Android OEM, Samsung, is not a customer any more and the fact that the Apple lawsuit will probably require another year and a half before coming to a conclusion, makes in our opinion IMMR position less attractive for any potential buyer, as they would probably prefer to wait and see how the company progresses on both these fronts.
Conclusion
While the company seems to be progressing nicely in its efforts to show how haptics can transform a mobile ad or video experience, revenue expectations from this vertical are still relatively low:
Vic Viegas

The revenue stream is still, I think this year will be [under $1] million, next year I'd imagine that will be something north of $1 million, but I think before it becomes many millions of dollars, it could be another few years.
However, haptics seems to "winning its war by itself" in the market place, as there are more and more news related to its wider adoption.
Mark Gurman, one of the best Apple reporters in the world, and a great source of breaking news on the notoriously secretive tech giant, just speculated about haptics becoming an even stronger feature in the next iPhone:
Home Button

Apple is planning an updated home button for the new models. Current home buttons are switches that physically press into the phone, but the new models will have a pressure-sensitive button that employs so-called haptic feedback, according to the people. This mechanism is similar to that of the trackpads on the latest MacBook line.
We still hope that, one way or the other, Immersion, as the "owner" of the best IP around basic and advanced haptics will be able to benefit from this trend and finally reward its shareholders.
Time will tell if this is just wishful thinking on our side or if IMMR management will be able to make it happen.
Disclosure: I am/we are long IMMR.
I wrote this article myself, and it expresses my own opinions. I am not receiving compensation for it (other than from Seeking Alpha). I have no business relationship with any company whose stock is mentioned in this article.
Editor's Note: This article discusses one or more securities that do not trade on a major U.S. exchange. Please be aware of the risks associated with these stocks.