A year ago, in late July 2015, I started on a dividend growth investing journey. In spite of arguments to the contrary, I believe that there will be some level of Social Security benefits when it comes time for me to retire. I should also have a couple of pensions that should be able to replace some of my working income. However, as I looked at what these payments will come to when I hit my 60s, it did not look as though they would provide for a terribly luxurious lifestyle. I've seen people who have not lived on much more than Social Security, and the sight is not always pretty. Therefore, I decided that it would be a good idea to try and find more income for my golden years.
I figured that I have around two decades to build up some additional income to supplement my lifestyle. While reading up on personal finance on the Internet and in print, I came across the concept of dividend growth investing. I realized that building up a sizable income is a slow process, but it is one that can add up over time. I've decided to document my journey, because I hope that it can serve as an encouragement to those who might not have thousands of dollars to put to work every month. I've put in, on average, just over $300 a month over the past year. Some months have had higher investments; some have had investments that were lover than $300 in capital.
In July, I was able to invest $328.50 toward my dividend growth portfolio. I made two $10 outlays toward each of my regular Loyal3 purchases. The companies that I've been putting money toward in this account are Apple (NASDAQ:AAPL), Coca-Cola (NYSE:KO), McDonald's (NYSE:MCD), and Wal-Mart (NYSE:WMT). These four companies come from four different sectors of the economy, and with the exception of Apple, they have a decades-long history of growing their dividend payments on an annualized basis. I believe that making regular purchases will allow me to dollar cost average into these positions. I also made a $25 purchase toward Starbucks (NASDAQ:SBUX). I'm building up a smaller position in this great company that sells an addicting substance that's perfectly legal. It's also showing growth overseas and has started paying out a growing dividend payment in the past few years.
Loyal3 does not charge me any fees to invest, so I can make as many purchases as I want for no additional cost, provided that the purchase equals at least $10. Since the beginning of the year, I've been pooling any dividends that I've earned in my Loyal3 account in an attempt to diversify even more. I decided upon Unilever PLC (NYSE:UL) as the company that I would put my dividends toward. I personally use many of their products from Axe deodorant and shower gel to Country Crock, which is a butter-like substance. My first purchase of UL stock came in early April. It was $10. My second came during the early days of July. This purchase was for $13. The fact that I was able to increase the amount that I put toward this company by 30 percent in just three months shows the power of dividend income and compounding as small infusions of additional capital increase the amount of income that a dividend portfolio can provide.
My final purchase of the month went toward Omega Healthcare Investors (NYSE:OHI), which is a solid real estate investment trust that yields nearly 7 percent and owns skilled nursing facilities. The demographics of the US tend to indicate that the income that this company can provide can continue to grow for the next few years. Baby Boomers have been retiring in record numbers, and within the next decade or two, many of them will need to go into nursing homes. OHI should benefit from this situation. OHI has increased its dividend every quarter for the past four years, which contributes to the compounding process. I put $210.50 toward Omega Healthcare Investors. This purchase immediately added $14.40 to my estimated annual dividend income, which buys me about 45 minutes of freedom (see below for my explanation of this concept).
While this was not a purchase, per se, I also earned a dividend from Bank of Nova Scotia (NYSE:BNS) that was reinvested into 0.084 additional shares of this bank stock. While this will admittedly not add up to much over the course of a year, regular contributions on a quarterly basis and additional capital that should be put toward the company will build up this income and add even more shares over time. It's a great example of compounding in action.
At the end of July, my dividend growth portfolios had the following holdings: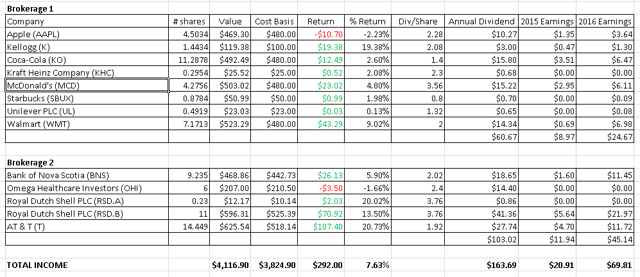 Click to enlarge
The chart shows that I've invested just over $3,800 in the past year, while the value of the portfolio has grown to more than $4,100. This is a return of 7.63 percent, and this return is actually brought down by my recent purchase of OHI. Without this purchase, the return would be more than 8 percent. My dividend income has nearly reached an average of $10 on a monthly basis. I set a record in June, with more than $18 in dividend earnings. July was lower, with only $8.50 in earnings. My hope is that this is the final month that I'll have less than $10 in earnings.
My estimated dividend income for the upcoming 12 months would be approximately $163.69. This is an approximate number, because the Bank of Nova Scotia and Unilever pay in foreign currencies, and there are exchange differences that can come into play and change the payout from these companies from quarter to quarter. It is estimated that these will even out over time.
I've been showing that my annual dividend income can replace a certain number of hours of work. Last month, I had enough estimated dividend income to pay for about 7.5 hours of work (assuming that I'd need about $20/hour to handle my living expenses when taxes are removed from the equation. I'm now just north of being able to take 8 hours off. This increases the percentage of a regular 2,080 work year that I could take off from 0.35 percent to 0.39 percent over the past month. Admittedly, the progress is slow, but anything worth doing is worth taking time to do right.
I hope that the monthly progress that I'm able to make is the encouragement that others might need to make a start toward a solid investment portfolio that can provide passive income going (hopefully indefinitely) into the future. I don't find that portfolios that are in the hundreds of thousands or millions of dollars serve to do much more than depress those who have very little to invest. With brokerages like Loyal3 and RobinHood that charge no transaction fees, there's no reason not to start. That's why I'm sharing on a monthly basis. If you've found my updates interesting or encouraging, please feel free to hit the follow button. I appreciate your support.
Disclosure: I am/we are long AAPL, KO, K, MCD, WMT, KHC, UL, SBUX, OHI, T, BNS, RDS.B.
I wrote this article myself, and it expresses my own opinions. I am not receiving compensation for it (other than from Seeking Alpha). I have no business relationship with any company whose stock is mentioned in this article.
Additional disclosure: I am not a licensed financial professional. This article is only for educational/entertainment purposes and should not be construed as a recommendation to buy or sell any securities. As losses up to and including all capital invested can occur, be sure to do due diligence and check with a financial professional before investing in securities.