Like most upstream producers, Vermilion Energy's (NYSE:VET) stock got hammered by the dramatic drop in oil & gas prices starting in the Fall of 2014. Today the company posted a Q2 loss of -$0.48/share. While that's a substantial improvement over Q1 ($-0.76), it's still a substantial loss. So why did the stock close up 2% today? There are multiple reasons why, but the primary reason starts in the ground with the company's diversified production profile of high-netback, low decline rate assets.
For those of you unfamiliar with Vermilion Energy, it has operations in three primary regions:
In Western Canada, Vermilion produces ~26,700 boe/d (45% liquids) and in aggregate holds over 450,000 net acres in the light-oil Cardium and liquids-rich Mannville and Duvernay plays. Canadian cash flows are fully tax-sheltered for the foreseeable future.
In Europe, VET is the #1 producer of oil in France and is the #2 onshore producer of natural gas in the Netherlands. The company also holds an 18.5% interest in Ireland's Corrib Field. At full production Corrib will produce 95% of Ireland's natural gas output. Shell (NYSE:RDS.A) is the operator of Corrib and holds a 45% interest. StatOil (NYSE:STO) holds a 38.5% stake. VET's total European production will top 30,000 boe/d this year.
In Australia, the company owns 100% of the offshore Wandoo field which currently contributes ~6,100 bpd of oil production. That production is fully contracted and receives a price premium to the Dated Brent Index.
Q2 Earnings
At first glance, the Q2 EPS report was nothing to get excited about - after all, the company did post a loss of $55.7 million in the quarter: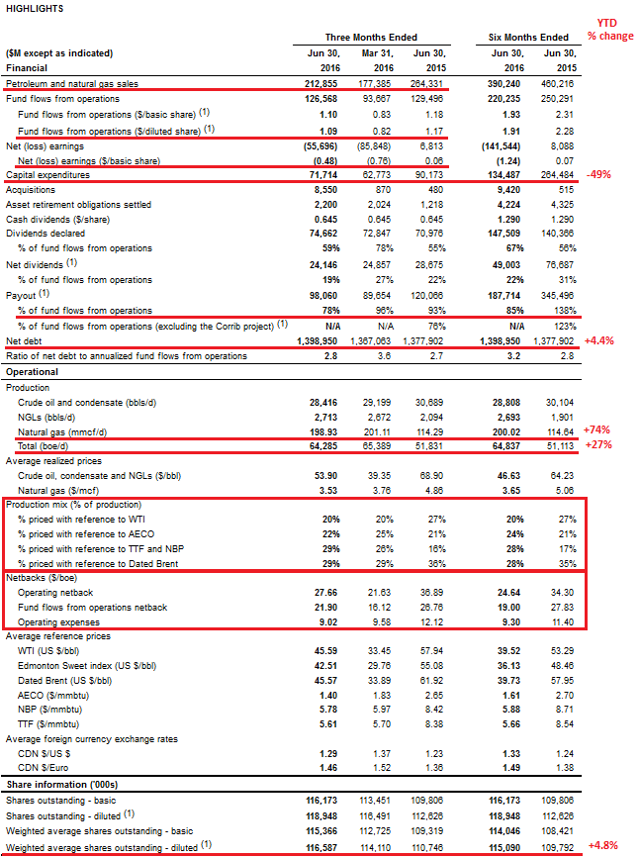 Click to enlarge
However, note that loss was a 35% improvement over Q1. In addition, revenue was up 20% qoq due primarily to higher oil & gas prices as well as the continuing ramp-up of the Corrib field in Ireland which led to a 74% yoy increase in natural gas production YTD and a 27% yoy increase in total production as compared to the first 6 months of 2015.
FFO increased 33% qoq while cap-ex has dropped 49% over the first 6 months of 2016 as compared to 2015. Once again, the huge swing in cash flow - with FFO showing strong growth while cap-ex falls dramatically - was due to Corrib coming into service and was expected.
There were no impairment charges this quarter, so to figure out why the company still posted a substantial loss we need to take a look at the supplemental Q2 Financial Data: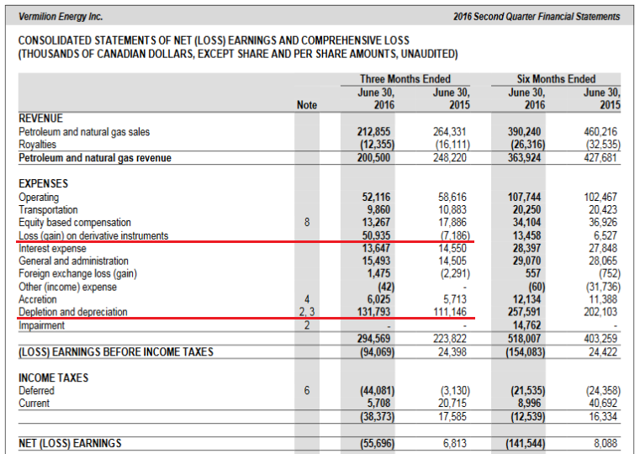 Click to enlarge
The two items that stand-out are the negative $58 million swing in hedging related expenses and the $20 million increase in depletion and depreciation charges. While we cannot ignore those line items, it is interesting to note that VET would have posted positive net income were it not for these charges. That is quite an accomplishment given the still very low oil and gas prices in North America.
The stock was likely up today for a variety of reasons. For one, Brent and WTI are currently up over 2% today, but that is a relatively short-term development. The rise is more likely due to a number of factors disclosed in the Q2 EPS report and comments during the conference call. These include the following:
Corrib has ramped up faster and with higher output than originally expected. During the quarter, production reached full plant capacity of 10,900 boe/d (net) to Vermilion.
Both sidetracks drilling at the Wandoo field in Australia were successful and placed online during the quarter. The two new wells will add an incremental 4,700 bpd of premium Brent based production. VET reported that the drilling program was completed ahead of schedule and under budget. Production is currently choked-back, but the company said IP rates were "strong".
Due to continuing cost reductions efforts, the company has decided to modestly raise its full-year cap-ex budget by $5 million to $240 million. More notable is what VET can achieve for the additional $5 million in incremental capital (normally an aggregated ~$50 million per previous well cost estimates):
Reinstatement of the 4-well drilling program in France.
Three net Cardium and seven net Mannville wells in Canada.
Full-year guidance was not changed, but the company said it now expects to reach the "upper-end" of the 62,500 to 63,500 bpd range. That would be an ~10% gain yoy.
In addition to these positive developments, the company reported it shut-in ~6,000 mmcf/d (~1,000 boe/d) of gas weighted production from its Canadian operations in response to the extremely low AECO price during the quarter. In the Q2 conference call today, the company reported that it now has roughly 2,000 boe/d curtailed in Canada. CEO Anthony Marino said:
While the vast majority of the shut-in gas would provide positive cash flow at today's prices, we think it is likely that we can make substantially greater margins if we save it for a later time period. Our current plan is to bring back about a third of this gas by the end of 2016 depending on the course of North American gas prices.
Note that the AECO index has bounced sharply off the May low (see below):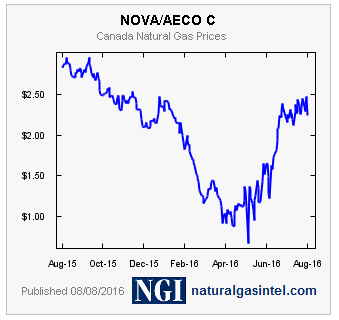 Asset Base Advantage
As the title of this article suggest, one beneficial and distinguishing attribute that differentiates VET from many NA independent upstream producers is its diversified asset base: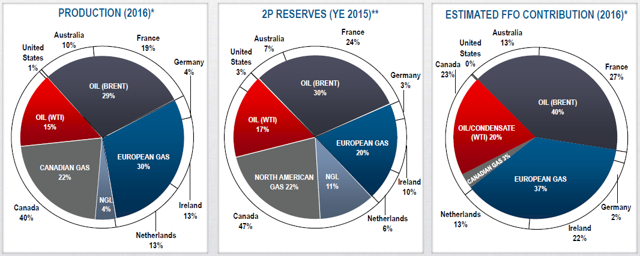 Click to enlarge
Source: August Presentation
Note that ~40% of 2016 expected FFO comes from Brent based oil barrels produced in France and Australia. In fact, VET has said its Wandoo production in Australian fetches a premium to Brent.
With the ramp-up of Corrib, Euro gas will now contribute roughly 37% of FFO this year and total production from Europe will equate to roughly half of VET's total production profile: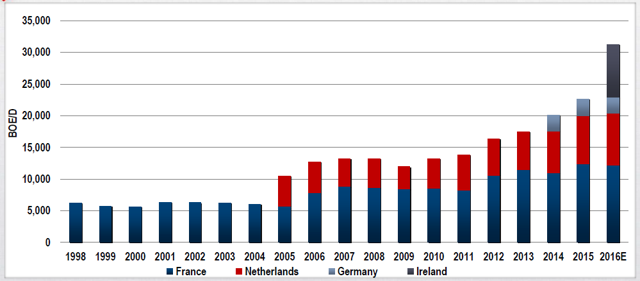 Click to enlarge
This is important because Brent based bbls normally receive a premium as compared to WTI. Of course this premium fluctuates based on geopolitical and country-by-country production and consumption, but the Brent/WTI spread is currently ~$2.33/bbl: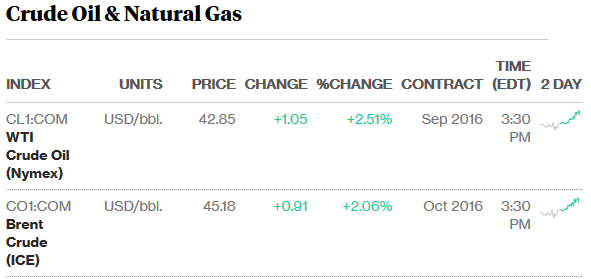 Source: Bloomberg
Euro gas also fetches a substantial premium as compared to the Canada centric AECO index and also to Henry Hub. From the Q2 report (see above) note the Euro-gas reference indexes (NBP & TTF) were roughly 4x that of AECO during the quarter.
A geographically diversified portfolio also gives Vermilion additional optionally when it comes to deploying capital expenditures. Note that after the two successful sidetracks in Australia, where VET basically aims to keep production flat at about 6,000 bpd over time, the company now plans to reinstate its 4-well drilling program in France. And then of course there was the big investment in Corrib. One look at the after-tax netback chart below shows why VET has put a priority on those projects: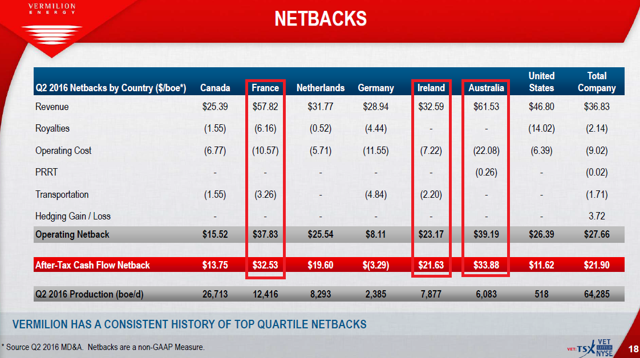 Click to enlarge
So while North American producers deliver into low-priced oil (WTI/WCS) and gas (AECO/HH) markets, Vermilion can pivot to its foreign assets. And it is doing so very effectively.
Risks
As an upstream producer with no downstream refining or chemical operations, the biggest risk for VET continues to be commodity prices that could stay "lower-for-longer". Certainly oil back into the $30's would put pressure on VET even though it has already declined roughly 50% from its high in June of 2014.
However, the strength of VET's balance sheet and operations can be seen by looking at three YTD factors:
Net debt is up only 4.4% yoy.
Shares outstanding have increased only 4.8% yoy.
VET has not cut the dividend.
At the end of Q2, VET was not highly levered by any measure: net-debt to TTM FFO was only 2.9x. Net-debt to market-cap was only 27%, which is why VET is still looking for opportunistic acquisitions despite the commodity price down-turn. On that front, a high price-tag acquisition that required the company to take on debt could - depending on the assets and production acquired - put downward pressure on the stock given the current energy market environment.
Another risk for U.S. investors owning VET shares on the NYSE would be continued weakness in the Canadian dollar versus the US$: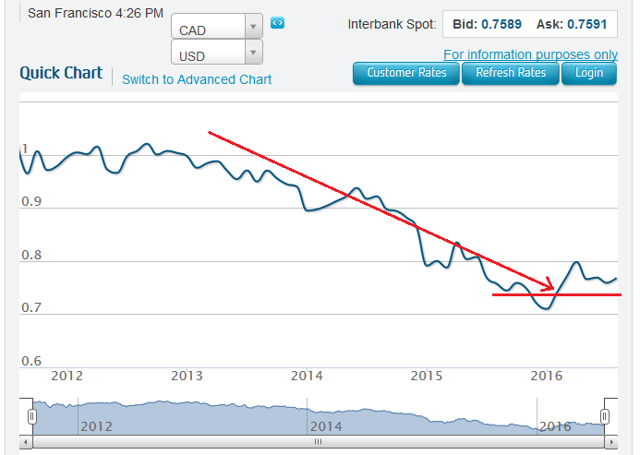 Click to enlarge
Source: USforex.com
The weak Loonie has been a headwind for investors owning dividend paying Canadian energy producers on U.S. exchanges (like PEYUF) because it reduces US$ denominated dividend payments. However, it looks like the C$ may have bottomed after dropping roughly 30% since reaching parity with the US$ back in 2012.
Summary & Conclusion
Vermilion has a highly diversified portfolio of high margin assets. The company's Q2 report was full of positive operational developments going forward. The company's balance sheet is strong and, as my last article on the company suggested (see VET: Highly Profitable Irish Gas Production Secures Dividend), the dividend is secure. On the conference call today (referenced earlier), an analyst asked if there was any free-cash flow after cap-ex and dividends. CEO Marino said:
Yeah. Under the strip, there is some cash left after paying the cash dividends and the funding the E&D CapEx investment....I think under the strip we had last week ... we were something like 95% used roughly, I think, during that period for cash dividends and E&D CapEx.
While Marino said that this estimate obviously changes everyday depending on strip movements, it means that VET is currently cash-flow positive after cap-ex and dividends. This is a very positive statement to make considering WTI was around $40 last week, and AECO was still under $2.50/GJ. There are many energy companies struggling to get free-cash flow positive that pay no dividend at all. Many of these companies have issued large amounts of debt and equity over the past 6 months. VET hasn't, and is already cash-flow positive. Meantime, VET is still paying a C$0.215 monthly dividend - which equates to a 5.5% yield.
Vermilion Energy is ATTRACTIVE for investors looking for secure dividend income while being highly levered to a oil and gas price recovery. Oil at $50/bbl (sustainably) could see VET back to $40 based on positive earnings estimate upgrades and dividend security.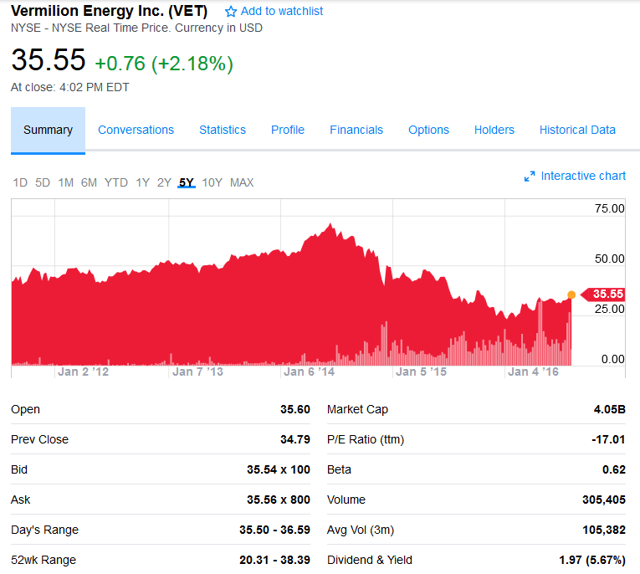 Click to enlarge
Disclosure: I am/we are long VET, STO.
I wrote this article myself, and it expresses my own opinions. I am not receiving compensation for it (other than from Seeking Alpha). I have no business relationship with any company whose stock is mentioned in this article.
Additional disclosure: I am an engineer, not a CFA. The information and data presented in this article were obtained from company documents and/or sources believed to be reliable, but have not been independently verified. Therefore, the author cannot guarantee their accuracy. Please do your own research and contact a qualified investment advisor. I am not responsible for investment decisions you make