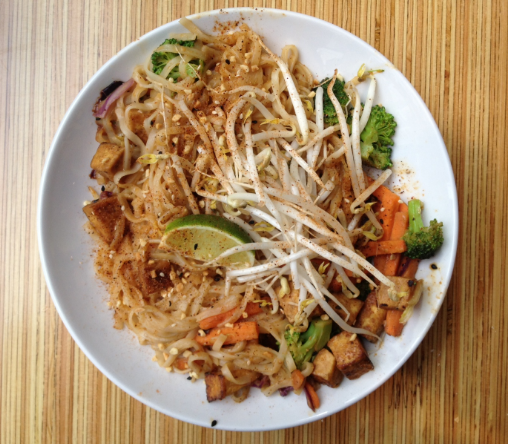 I've been bearish on Noodles & Company (NASDAQ:NDLS) since the day it came public. The company's stratospheric valuation was easy to spot, and its pathetic fundamentals made it a very easy short target. In fact, NDLS may be the easiest short I've every personally come across, and indeed, I've been calling for single-digit price targets for some time. Most recently, I said back in May that NDLS was probably worth just $5 as the stock was trading at $11. If we fast forward three months, NDLS is now trading under $7, surpassing my original downside target of $8 and seemingly heading towards my new target of five bucks. The company has been messy of late with terrible Q2 earnings and even an abrupt CEO exit, so is my $5 price target still in play or is the pain over for NDLS?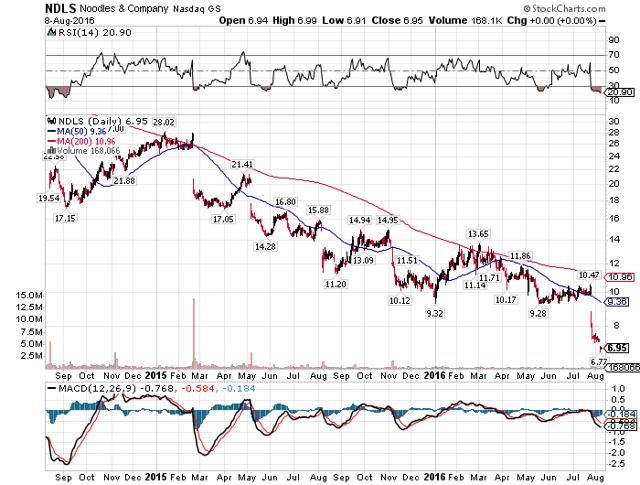 Click to enlarge
My bearishness on NDLS has been the result of just about everything about the company's operating metrics failing to measure up. In addition, with the stock in the $40s, then $30s, then $20s, the valuations this thing has been afforded have been absolutely preposterous. Indeed, my only regret is that I didn't mortgage my house to be able to afford shorting more of NDLS than I have; this thing has been a slam dunk from the short side. But we are nearing some very low prices here, so let's take a look and see if the good times will keep rolling for those betting against the stock.
Total revenue was up 5.4% in Q2 as NDLS continues to open new stores. I remember when NDLS came public, the management was touting the potential for something like 2,500 stores, a goal that I laughed at when I became aware. It was this sort of delusional thinking that led the stock into a meteoric rise only to come crashing back down to earth. Now, with NDLS at just over 500 units, slow sales growth has led the management to (finally) pull back on the number of new units. And since this is the only source of revenue growth for Noodles, that's a big problem if you're long. Before, we at least had new units to mask all of the other problems this company has, but now, what is left?
One thing that is left is NDLS's perpetually disappointing comp sales. This edition of comp sales came in at -90 bps for company stores and -210 bps for franchised units. The thing is that this isn't all that bad compared to other recent results for Noodles, and as sad as that is, NDLS disappoints investors; it's just the way things are. Weak comp sales continue to plague NDLS and will continue to since management doesn't try to innovate its way out of the problem. We get the same menu with a tired rotation of specials that almost universally fail to drive traffic.
The other problem with low comps - besides all of the obvious ones - is that Noodles is going to have a very difficult time finding new franchisees as time goes on. Franchise comps are typically worse than company comps for Noodles, and while that's better for the company's financials, it means that the pitch to potential franchisees is more and more difficult as time goes on. People with money to invest in a Noodles franchise (there aren't many of them) are sophisticated enough to know that NDLS has been struggling for a long time and when they see that company stores perform better, that's got to be a huge turn off. Why would you spend your money (and a lot of it) on a store where you know the odds of failure are high? Noodles' long-term growth plans are all but scrapped at this point because I think franchisees will continue to back away from NDLS knowing that it is a sinking ship. That simply exacerbates the revenue problem Noodles already has and that's another strike against the stock.
As if Noodles' revenue woes weren't bad enough, its margins continue to suffer as well. Unit-level margins fell from 18.6% in last year's Q2 to just 13.7% this year. That is an absolutely devastating loss of profitability and it is due to deleveraging of costs based upon lower unit volumes and higher labor and marketing costs. This has been a common theme for Noodles in recent quarters as comps have continued to disappoint and management's solution is to spend more on marketing. While I fundamentally agree with spending on trying to get people in the door, whatever Noodles is doing isn't working; throwing more money at it quarter after quarter isn't the solution. We continue to see unit-level margins get crushed and Noodles simply cannot afford it.
So Noodles is still a disaster; what now that we're at $7? Earnings estimates out as far as you can see are negative, so there is no real valuation based upon earnings here. NDLS used to trade at crazy multiples of its estimates, but those have come and gone and now there are only losses. I think that tells you all you need to know about Noodles' valuation, but on a book value basis, NDLS is still very expensive. The market cap is $193M, but the equity is ever-dwindling and is now just $79M. The equity really doesn't have much value here on an earnings basis because I don't see how Noodles can get to profitability any time soon. Thus, I think Noodles should trade at a discount to its book value until that number stops declining. But more and more losses will ensure book value continues to decline so the stock potentially still has a long way to go to the downside.
Thus, I think Noodles should go for $5 or less because there simply isn't any value here. Noodles will continue to lose money and shareholders' equity will continue to fall. And with no recovery in sight, there is no reason at all to own it. I'll continue to short NDLS here because there is more left in the tank.
Disclosure: I am/we are short NDLS.
I wrote this article myself, and it expresses my own opinions. I am not receiving compensation for it (other than from Seeking Alpha). I have no business relationship with any company whose stock is mentioned in this article.