AVX Corp. (NYSE:AVX) has never been the market's favorite. Historically underperforming the Russell 2000, the only reason the stock seemed attractive in the past was market tailwinds and steadily increasing dividend payments. However, with the slowdown in end markets, and flat dividend payments, I see no reason to have AVX in your portfolio except the for the "decent" dividend yield of 3.08% and low volatility (Beta of 0.89 against the Russell 2000).
Q1 Results
The company recently came out with the earnings for the first quarter and neither the numbers nor the management commentary seemed very optimistic. Sales growth has been tepid with sales growing by a mere 3.7% this quarter. Though there seemed some optimism due to the increasing books to bill ratio (1.07) and growing POS in all regions, it doesn't seem good enough, given the alternatives stock investment opportunities in the market.
End market Slowdown
Management, in the recent earnings call, attributes low sales growth to end market headwinds.
AVX, a manufacturer and distributor of passive electronic components, interconnect devices and related products primarily caters to the automotive industry, electronic devices industry and telecom industry.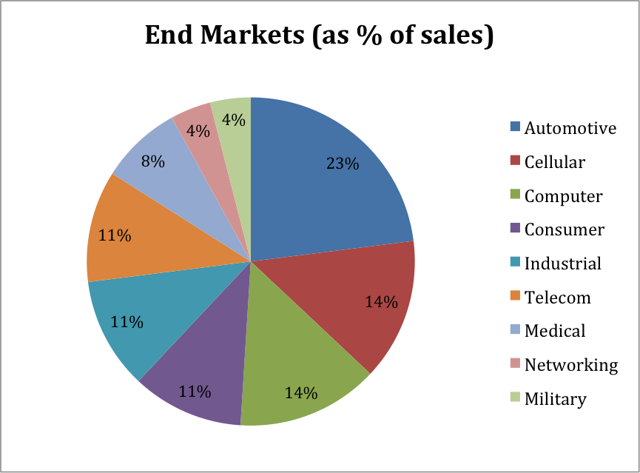 Click to enlarge
Automotive sector is the largest contributor. However, its contribution has remained considerably flat (~23% for the past couple of quarters) despite management optimism for quite some time now.
There is currently a slowdown in the sector, esp. in China. Moving forward, automobile sales are expected to continue this trend.
However, even though demand for automobiles is slowing down, the increase in hybrid and all electronic vehicles, as a percentage of the vehicle sales could prove to be tailwind for the company moving forward as it will directly impact the sales of capacitors and interconnect devices.
Apart from new auto sales, the company is also expected to benefit from an increase in electronic content in vehicles. As cars get upgraded technologically with advanced driver assistance systems, Internet access and eventually self-driving systems, the demand for components is expected to increase.
The trends seem optimistic and compelling, but are far off and due to high competition in the industry, impact on top line cannot be known with certainty.
Another major contributor to revenue is the electronic devices industry. In the recent earnings call, management remarked that the pace of growth in the segment has begun to slow down lately due to "market saturation, less carriers subsidizing new phones with contracts and a lack of compelling new features to motivate the user to upgrade." Smartphone sales grew only 15% last year and further erosion of this growth rate down to 7% is expected in 2016.This will likely impact the sale of passive components.
AVX's major customers in the smart phone segment are Lenovo (Motorola) and Microsoft (Nokia) and both have rapidly been losing market share to larger players like Samsung and Apple. Chinese and Korean brands have also intensified competition. As a result, the contribution of the smartphone segment to AVX's sales has come down one point further this quarter and is down five points from last year. Furthermore, it is difficult for AVX to grow business by new contracts in this segment because Samsung and Apple already have contracts with component manufacturers (Samsung electro mechanics and Murata manufacturing respectively) and according to Nicolas Baratte, head of technology research for CLSA, "It's clear the Chinese brands prefer to have Chinese suppliers."
Apart from smartphones, there is also a major slowdown in the PC market. The overall PC market continues to decline since the beginning of 2015, with the year-to-date 2016 shipments declining in the 10% range. This decline is expected to continue and shipments are expected to fall by 7.2% in 2016.
In the telecom space, 4G developments in China and India, will lead to an increased demand for higher quality and value-added electronic components, than currently used today in the current bandwidth, which could drive margins in the medium term.
The broadband infrastructure market is also seeing growth due to the need of more bandwidth on the Internet. Along with the need for more bandwidth comes more demand for storage to support the increase of cloud-based storage and applications in the IT industry. A particular focus for AVX in this segment is solid-state drives, where the company has a significant level of new design activity.
In the Industrial space, activity has been flat due to increased activity in the security & surveillance market and the wind & solar energy market offset by declines in the oil and gas industry.
In the medical space (down 1%), there have been inventory corrections due to which the sales of high-reliability in the segment have declined, negatively impacting margins.
In conclusion, there are tailwinds in the automobile segment (23%) indicated by the increase in the sales of connector devices (up 1% to 12%). However, they have been offset by declines in the cellular and computer segments (28% combined) as indicated by the decline in advanced components (down 2 points to 26%). Since advanced components have higher margins, this headwind is dragging margins down. Other sectors have been relatively flat and are expected to remain that way since there is nothing major in the pipeline. Furthermore, the contribution of these other segments to overall sales is not very significant.
Global Scenario
The current slowdown in the global economy is also affecting AVX Corp. The company is majorly exposed to Asia (42% of revenue) and Europe (28% of revenue), where economic activity has been slow. There has also been a considerable amount of political and economic uncertainty in these places. In the past, the company's sales numbers have also been adversely affected by the strengthening of the US dollar. According to the annual report, during fiscal '16, AVX's sales were adversely impacted by 51 million due to the strength of the USD against the Yen and Euro. With Japan and the Eurozone pursuing expansionary policies, and US expected to increase rates by the end of this year, the US dollar is expected to continue strengthening.
Legal Concerns
In the past, legal charges have heavily affected the company's bottom line. Back in FY13, the company's bottom line was heavily affected by a $366.2 million charge (24% of FY13 revenue), which it was subject to due to an environmental issue. In the most recent quarter, the company was subject to a $3.6 million charge towards the clean up of New Bedford Harbor. In January 2016, AVX lost an IP case against Greatbatch and had to pay damages in the amount of $37.5 million. In April 2016, AVX's subsidiary, American Technical Ceramics ("ATC"), was also subject to a patent infringement case and the company had to pay damages to Presidio in the amount of $2.2million.
A major threat looming at the moment is with regard to the allegations against AVX with respect to a PCB leak in Canada. From the 1940s to 1972, AVX (then named Aerovox before a merger) operated at one of three Hamilton properties named in the Ministry's order. The Ministry says this facility used PCBs, which were legal at the time. The company moved out of Hamilton in the early 70s, however, the ministry says those chemicals have been leeching into the harbor since the mid 90s. The ministry is currently using its legal authority to reach back in time and include AVX in the cleanup order. AVX hasn't complied yet but if this goes through, AVX could be looking at a massive clean up charge (amount undisclosed), which would affect bottom line. AVX is also currently a defendant in a few cases involving violation of anti-trust laws, which if ruled against the company, could result in further depression of bottom line.
Financial Performance
AVX isn't doing very well on that front. Sales have grown by merely 5% since Q1FY15. Gross margin is down to 22% this quarter compared to 26% in Q1 FY15. Net margin is also down to 9% compared to 12% in Q1FY15. According to management commentary,margins are expected to stay that way for the upcoming quarters.
The company's long-term growth story isn't quite impressive either. In fact, there hasn't been much growth. Over the past 5 years, sales have declined by 6.28% and EPS has declined by 15.84%. EPS is expected to decline in the current financial year as well, according to consensus estimates.
Looking at AVX from a competitive viewpoint, things don't seem very pleasing either.
| | | | |
| --- | --- | --- | --- |
| % | AVX | Industry | Sector |
| Sales (TTM) v/s TTM 1 Yr. Ago | -7.16 | 6.19 | 4.4 |
| Sales - 5 Yr. Growth Rate | -6.28 | 7.74 | 6.7 |
| | | | |
| --- | --- | --- | --- |
| TTM | Company | industry | Sector |
| Gross Margin | 23.29 | 45.89 | 35.63 |
| Operating Margin | 9.1 | 21.49 | 16.71 |
| Net Profit Margin | 7.92 | 14.89 | 9.65 |
| Return on Investment | 4.31 | 11.01 | 6.35 |
| Return on Equity | 4.41 | 12.68 | 9.66 |
Source: Reuters
From the balance sheet perspective, things don't look so bad (on the surface). The company has a higher current ratio of 9.57 compared to an industry average of 5.81 and no debt.
The company also looks good from a dividend perspective. Currently, dividend yield is 3.07% compared to the industry average of 1.29%. Dividend payout is also high at 55.12%. However, the amount of dividend paid has been constant for the past 7 quarters at 0.105.
Though some of these trends seem positive on the surface, they might also be indicative of future pessimism. High current ratio could indicate that the company may not be efficiently using its current assets or its short-term financing facilities. The high payout ratio may be a sign that the company has little room to grow by reinvesting in its business. And even though it seems counter intuitive, some amount of debt can be beneficial. Debt provides tax benefits, is a lower cost source of funds and allows a higher return to the equity investors by leveraging their money.
Insiders:
Insider holding indicated the faith of management in the company's future. Insider holding in the company is extremely low at 0.11%, which reflects negatively on the company. Furthermore, over the past 12 months, insider sell transactions have exceeded insider buy transactions. On Aug 4, 2016, Kurt P Cummings (VP CFO Treasurer and Corporate) sold 18,000 shares at $13.35 per share price. Also, On May 6, 2016, Peter Venuto (Vice President of Sales) sold 2,766 shares at $13.30 per share price.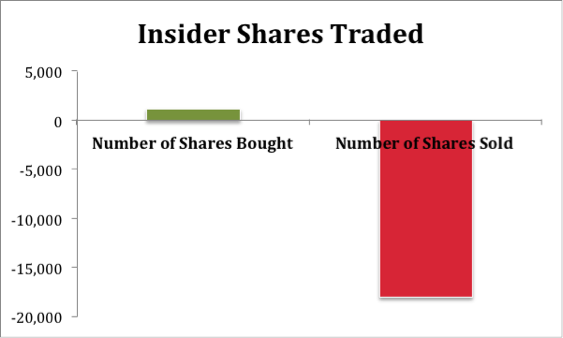 Source: NASDAQ
Looking at the price:
AVX is currently trading close to its 52-week high of 14.32. According to consensus estimates, the target price for the company should be $15, which could lead to a decent ~8% upside. However, $15 seems a bit too optimistic. According to my valuation, the company should be trading between 13.40 and 14.20 (about where it is now). Therefore, the stock seems like a hold.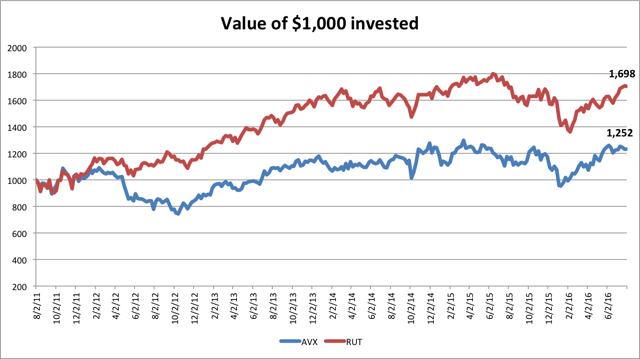 Click to enlarge
Disclosure: I/we have no positions in any stocks mentioned, and no plans to initiate any positions within the next 72 hours.
I wrote this article myself, and it expresses my own opinions. I am not receiving compensation for it. I have no business relationship with any company whose stock is mentioned in this article.