API reported its forecast this afternoon, and here's what it expects: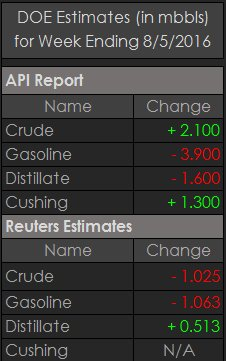 The larger than expected gasoline draw makes perfect sense if crude stock builds. However, there are some indications that point to both a large draw in crude and gasoline stock. ClipperData reported a much lower US crude import estimate for last week.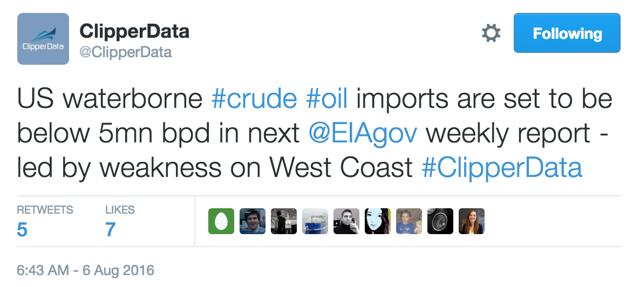 Click to enlarge
ClipperData has been particularly accurate in the past as they track shipping traffic in and out of ports. We have always found ClipperData to be a highly credible source. In addition to the sub 5 million b/d import figure, ClipperData also expects the largest inventory draw this year.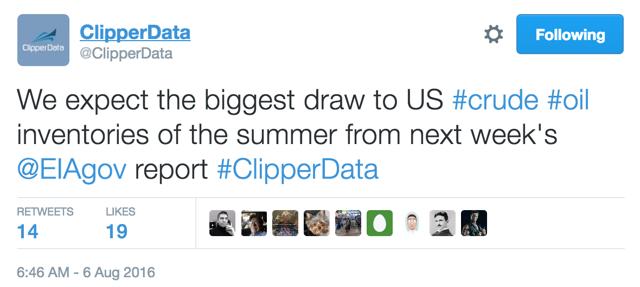 Click to enlarge
We have always said in our weekly inventory reports that the crude draws have been dampened by significantly higher imports. If crude imports averaged the same as last year, we would've seen much larger scale draws. If imports really did fall below 5 million b/d, and refineries cut back throughput simultaneously, then it's very possible to see a large draw in crude and gasoline.
If the EIA report confirms ClipperData's estimates, then we could see a sharp rally in oil (NYSEARCA:USO) prices tomorrow.
Oil prices leveled off today after nearly a 3% gain on Monday, and all the oil traders we talked to are waiting for the EIA report tomorrow. Some traders have said to us that the import figures should be sharply lower in this week's report. We will just have to wait till tomorrow to confirm.
Thank you for reading our Oil Markets Daily. If you want to read more of our articles, please be sure to hit the "Follow" button above. For investors interested in what E&P names we are buying, please check out the HFI Research premium service. We also write a weekly HFI portfolio update for premium subscribers. You can read a sample weekly update here and view our delayed one-month portfolio update here. We hope you can join the HFI community.
Disclosure: I/we have no positions in any stocks mentioned, and no plans to initiate any positions within the next 72 hours.
I wrote this article myself, and it expresses my own opinions. I am not receiving compensation for it (other than from Seeking Alpha). I have no business relationship with any company whose stock is mentioned in this article.