By Taras Berezowsky
MetalMiner's index of global precious metals prices notched the second-largest move for August in our Monthly MMI series, behind only the Stainless MMI.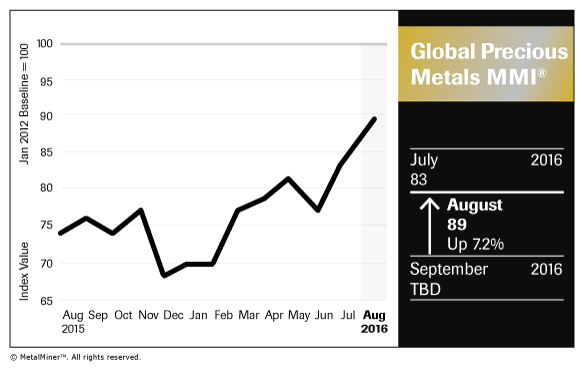 The Global Precious MMI rose 7.2%, from 83 to 89, between July and August. Gold prices again drove the move, with U.S. bullion logging its second straight month above the $1,300 per ounce threshold; however, the U.S. palladium price experienced a significant jump, rising 18.4% over the month.
Palladium on a Bullish Rebound
After hitting multiyear lows at the beginning of 2016, palladium has begun a slow down, but its long-term ascent is still acting rather bullish.
The PGM has been making higher highs and lower lows since January, and hit above $700 per ounce at the beginning of August.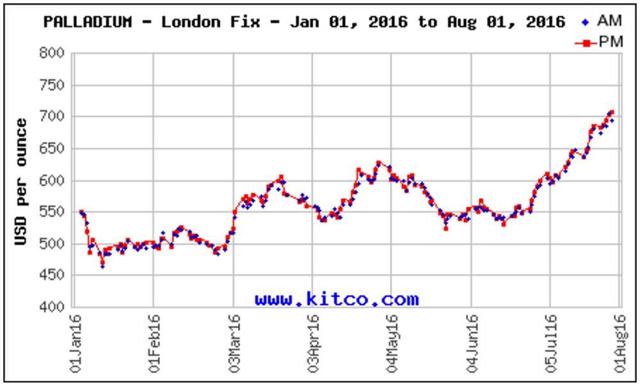 Click to enlarge
Why?
Looks like investors have been giving palladium and its cousin platinum some more love.
Analysts at INTL FC Stone and Citi Research have said recently that they think investors have taken some of the money they've been putting behind gold and spreading it to the PGMs, according to the WSJ.
Back to Gold
While U.S. gold prices have hovered recently, they are still far ahead of their pre-Brexit levels. The Federal Reserve's dovishness has not given investors any reason to abandon their investments in gold, or silver for that matter.
Core Consultants Group opined recently that gold broke through a psychologically important barrier when it crossed $1,300/ounce and is still finding overall bidding interest despite the slight declines in the price during the last few weeks.
We, too, can't see gold's recent increases being pushed back, or even tempered, by anything other than significant interest rate increases by the Fed. The type of radical action that the central bank has shown no stomach for, lately, despite recent comments that it won't rule out increasing rates this year.