Twilio Reports Strong Quarter and Guidance
Although Twilio (NYSE:TWLO) still reported a loss for the quarter, it was able to top earnings per share estimates, reporting a loss of 8 cents per share, besting the consensus estimate of a 15 cent-per-share loss. Revenues climbed a whopping 70% year over year to $64.5 million.
As for expectations, the company guided for Q3 and full-year revenues of $63 million to $65 million and $253 million to $257 million, respectively. As it stands, analysts were looking for $61.14 million in sales for Q3 and $242.37 million for Twilio's full-year.
Despite these numbers, shares climbed just 1.2% on the day, but I guess that's what happens when the stock is up almost 200% from its IPO price a few months prior.
Guidance for both numbers are decisively higher than estimates, and in combination with the top and bottom line beat for this quarter, perhaps some investors are perplexed by the stock's reaction - although it did hit a fresh high before pulling back in Tuesday's session.
Perhaps investors will also recall analysts' "subdued" reaction when they were able to issue their new ratings for the stock, with five of six analysts rating it with a hold or equivalent, and just one analyst recommending it as a buy.
So where does that leave investors? Despite the company serving a slew of big tech players, like Airbnb (Private:AIRB), Uber (Private:UBER), Netflix (NASDAQ:NFLX), and Salesforce (NYSE:CRM), the stock has its work cut out for it.
Big sales growth and industry-leading customers will help, but trading at 17x revenue is a rather large hurdle to clear. Case in point, the company expects to do about $255 million in sales this year. Its market cap is ~$3.5 billion.
That's where the issue lies within the stock, although it is a very good company with strong growth and quality customers. Its valuation is another story.
LendingClub Searches for Bottom, C-Suite Exodus Continues
While Twilio may be the headline for successful (so far) IPOs, LendingClub (NYSE:LC) is certainly in the littered field of disastrous public debuts. Shares are down 80% since late-December 2014 and more than 50% this year alone. The company originally priced its IPO at $15 per share, but opened its first day of trading at $24.75.
Shares currently trade below $5.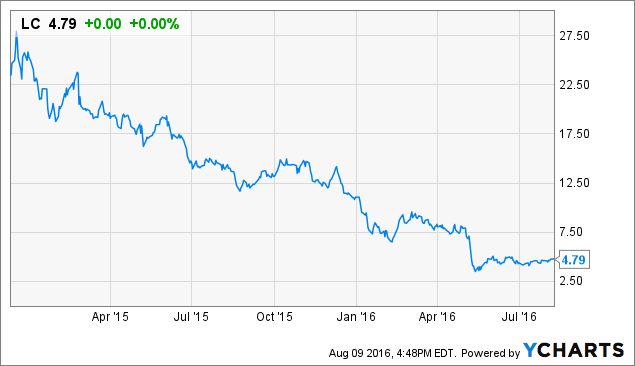 This is really one of the most painful charts that I've come across in a while. I mean investors have been underwater from day one, unless they were in it for a quick bounce.
Although the company has struggled, the bottom really fell out in May when its CEO resigned alongside three other senior managers after several "dodgy loan sales" had surfaced. A Justice Department subpoena and several probes followed as a result.
On Tuesday, the company reported an earnings per share loss that missed analysts' expectations while also announcing its CFO would be resigning. After initially falling Tuesday, the stock has actually rebounded quite a bit, closing flat in the session at $4.79.
This could be investors deciding that all of the negatively is already priced in. It could also be short covering, given that the stock is down immensely from basically any point pre-May 9th. As of the most recent reading, about 20% of the stock was sold short.
Investors are now getting into an interesting situation. With shares this low, a lot of the risk is clearly baked in, with shorts likely tempted not to press their luck too much. With that being said, the company has seen its top leaders go and sales growth plummet. Revenue growth of just 6.5% pales in comparison to the 97% growth it put up in the same quarter last year, and even the 86.6% growth is registered just last quarter.
Analysts weighed in, here.
Monster Worldwide Reports Earnings. Oh Yeah, and Sells Itself
Monster Worldwide (NYSE:MWW) has agreed to be sold for $429 million. The announcement came at the same time the company reported earnings, which resulted in a loss of 2 cents per share on revenues that fell 10% year over year to ~$151 million. Both results missed expectations.
From the press release:
"Monster has entered into a definitive agreement under which Randstad Holding NV (NASDAQ:RAND), through a wholly-owned subsidiary, will acquire Monster for $3.40 per share in cash, or a total purchase price of approximately $429 million (enterprise value)."
The deal came at a 22.7% premium to Monday's closing price, but some investors seem torn. Shares are trading near $3.60 per share, perhaps on the expectation (Read: Hope) that another bidder will emerge, boosting the price of the takeover.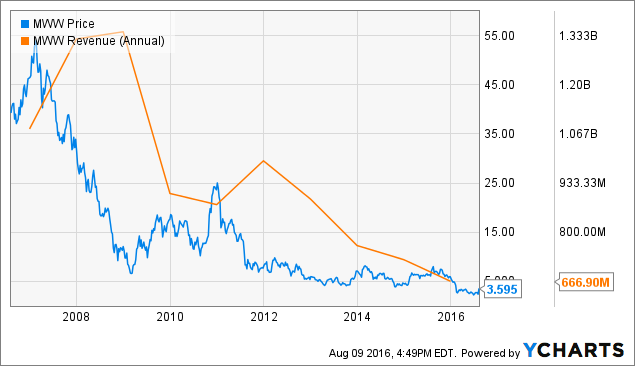 The company trades with a minuscule valuation on an earnings basis, and at just 64% of book value. That to some warrants a higher buyout price.
On the other hand, the company has been struggling to turn a profit and has seen revenues fall for each of the last four years. So to many, Monster is lucky to have gotten off a sale, given that it is somewhat of a sinking ship.
Perhaps the deal works out for best parties. Randstad gets a property at a discount under the current deal, and Monster gets out at a higher price. However, one could argue that the company could have been turned around without being acquired, likely causing frustration for some investors given the valuation.
Shares are down 65% over the past five years and 39% this year, even with Tuesday's rally.
Qualcomm Exposes Risk to 900 Million Android Phones
Qualcomm (NASDAQ:QCOM) has been on quite a tear lately - and it's been a while since anyone was able to write that. The stock is about a buck per share off its 52-week high, is up 24% this year and approximately 45% from its lows in February.
However, there appears to be a security issue at hand, not that you'd be able to tell by the stock price's reaction, up 0.7% on Tuesday. Actually, it's a pretty serious security flaw.
Wired did a great job explaining it in the excerpt below (bold emphasis added by me):
"As security research firm Check Point detailed this week, the vulnerability in question is actually a set of four issues, collectively called QuadRooter, and affects Qualcomm chipsets from manufacturers ranging from HTC to LG to OnePlus to Google, which contracts with other makers for its own Nexus devices. It's serious; compromised devices would give bad actors root access, meaning they could collect any data stored on the phone, control the camera and microphone, and track its GPS location. It's like giving someone the keys to your house, then holding the door open for them while they make off with the jewels."
The damage is widespread too, affecting some 900 million Android devices. The fact that it's Android really makes a different too. Not that iOS devices aren't vulnerable to their own security issues. But because Apple (NASDAQ:AAPL) controls both the hardware and the software, it can make software updates a breeze. However, with so many different manufacturers using Android, the same cannot be said.
For instance, only 15% of Android devices have updated to the latest version, Android 6.0 Marshmallow. If you're assuming it's because users need more time, it seems that's not the issue: Google (NASDAQ:GOOG) (NASDAQ:GOOGL) released this version in October 2015.
It's proving difficult, without question, as Qualcomm has already released fixes for all four issues over the past few months, but they have not been fully rolled out yet.
So what's the outcome and who's on the hook? It's hard to say at this point. While the problem starts with Qualcomm, the patches have been made and now it's up to others to get the updates pushed through. If any hackings occur, someone (or multiple companies) may suffer as a result. For now though, the stock is carrying on as usual.
Tech Tidbits
Alphabet's shares hit a new high in Tuesday's session, climbing to $813.33 at its highs. Microsoft (NASDAQ:MSFT) and Amazon (NASDAQ:AMZN) also hit new highs, helping to propel the NASDAQ to a 52-week high as well.
Honeywell (NYSE:HON) is exploring an acquisition of JDA Software Group, with sources reporting a $3 billion valuation for the supply chain management company.
Disclosure: I/we have no positions in any stocks mentioned, and no plans to initiate any positions within the next 72 hours.
I wrote this article myself, and it expresses my own opinions. I am not receiving compensation for it (other than from Seeking Alpha). I have no business relationship with any company whose stock is mentioned in this article.
Editor's Note: This article covers one or more stocks trading at less than $1 per share and/or with less than a $100 million market cap. Please be aware of the risks associated with these stocks.