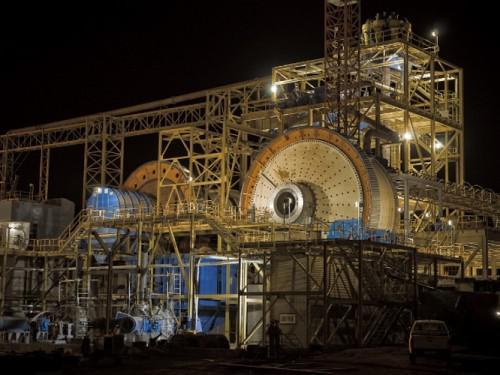 Burkina Faso: Essakane gold mine.
IAMGOLD (NYSE:IAG) is a mid-tier gold producer based in Canada with five operating gold mines on three continents. The company also has four development projects: Westwood in Quebec, a Cote Gold project in Ontario, Rare earth elements in Quebec, and Camp Caiman in French Guiana.
This article is an update of yesterday's article covering Q2 2016 results.
On August 8, 2016, the company announced it has:
... entered into an agreement with a syndicate of underwriters led by TD Securities Inc., National Bank Financial Inc. and Morgan Stanley Canada Ltd., pursuant to which they have agreed to purchase, on a bought deal basis, 38,850,000 common shares of the Company at a price of $5.15 per common share (the "Offering Price"), for aggregate gross proceeds to the Company of approximately $200 million (the "Offering"). The underwriters will also have the option, exercisable in whole or in part, at any time up to 30 days following the closing of the Offering, to purchase up to an additional 5,827,500 common shares at the Offering Price to cover over-allotments, if any. In the event that the option is exercised in its entirety, the aggregate gross proceeds of the Offering to the Company will be approximately $230 million.

The Company plans to use the net proceeds of the Offering to strengthen its balance sheet, by reducing indebtedness, and to fund future growth. The Company will use up to approximately $150 million of the net proceeds to fund its concurrently announced tender offer for its outstanding 6.75% senior notes. The Company intends to use the remainder of the net proceeds to fund internal growth projects, including the expansion of the Sadiola mine, subject to the timely approval of its joint venture partner to proceed, for future debt reduction and for general corporate purposes.
The same day, Iamgold announced also:
The commencement of a tender offer to purchase for cash from each registered holder (each, a "Holder" and, collectively, the "Holders") up to $150,000,000 in aggregate principal amount (the "Maximum Tender Amount") of the Company's outstanding 6.75% Senior Notes due 2020 (the "Notes") (the "Offer").
What does it mean?
First, let's assume that the gross proceeds will be $230 million and the total shares bought will be 44,677,500 shares. I will be surprised if IAG is unable to sell the additional 5.8 million or so shares.
IAG has actually 405.6 million shares, so adding 44.7 million shares represents a basic dilution of 11%. The total shares outstanding will be 450.3 million shares, and the cash on hand will be approximately $855.5 million, based on Q2 2016 results.
The long-term debt is $628.9 million and could be reduced to $479 million.
This can be considered a good move for the company, but IAG shareholders may not appreciate it.
We know that IAG is going to use the net proceeds of the offering to strengthen its balance sheet by paying down debt and funding future growth. This is a good move for the long term.
I have explained in my preceding article that I believe IAG stock was reaching an overvalued situation. If we look at production on a 7-quarter basis, here is what we see: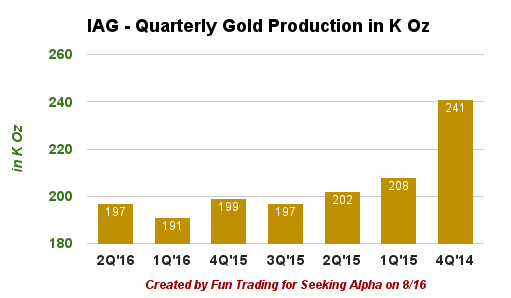 Production has hardly moved and average a production of 196 K Oz/ Year, while the AISC is averaging $1,107/ Oz, which is one of the highest AISC among a dozen gold miners, that I am following regularly.
A few readers may not consider AISC a strong indicator, but I really do. In my opinion, It is important to look at it and searched for the underlying problems that highlights a high AISC. Looking at the producing mines it is easy to see what works and what doesn't.
Gold production per mine
Mines

Production

K Oz 1Q'16

Production

K Oz 1Q'16

Production

K Oz 4Q'15

Production

K Oz 3Q'15

Production

K Oz 2Q'15

Production

K Oz 1Q'15

Rosebel (95%)
73
68
70
70
71
76
Essakane (90%)
89
88
98
107
89
89
Westwood (100%)
16
15
13
2
23
22
Sadiola (JV 41%)
18
19
16
17
17
19
Yatela (JV 40%)
1
1
2
1
2
2
Total
197
191
199
197
202
208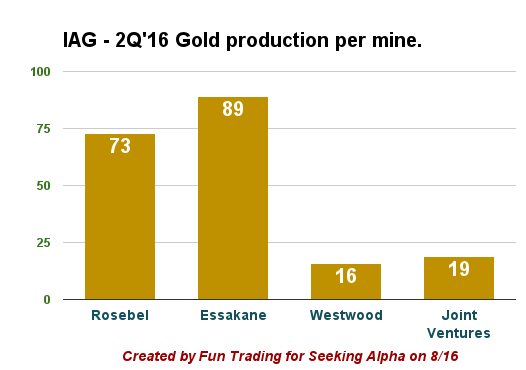 We know that IAG is going to use the net proceeds of the offering to strengthen its balance sheet by reducing indebtedness and funding future growth. This is a good move for the long term.
While Essakane is a good mine with potential, Iamgold is struggling on two fronts. Westwood mine in Canada has experienced a lot of problems due to a debilitating earthquake last year, and Rosebel mine in Guyana, often disturbed by "issues" such as strike. Furthermore, the company had to replace most of the equipment at the mine.
The company confirmed the 2016 guidance on August 4, 2016.
| | |
| --- | --- |
| Guidance 2016 - IAG | |
| Attributable Gold Production | 770k-800koz |
| Total Cash Costs | $775-$815 |
| All-in Sustaining Costs | $1,000/$1,100 |
| Capital Expenditures | $250 million ±10% |
| Exploration | $47 million |
| Depreciation | $260 and $270 million |
| Cash Taxes | $15.0 million to $20.0 million |
Thus, my first point is that IAG has reached a plateau around 195K-200K Oz, confirmed by the 2016 production guidance. To be able to increase significantly production, IAG will need to invest in CapEx.
We may have reached temporary resistance for gold at $1,350 per ounce.
Let's look at the 5-year chart: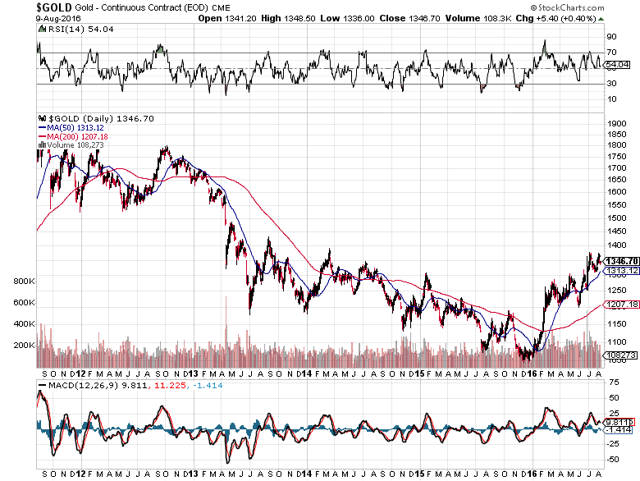 Click to enlarge
It is theoretically impossible to present an accurate gold outlook based on the chart. Those who have tried have been mostly wrong, though a few were very lucky.
However, if we look in the rear-view mirror, we see that gold has had a terrific run since early January. The positive momentum is sustained by the market urgent need to re-balance, but the basic situation is not dramatic enough to justify a "run to gold safety."
Many consider this recent run up as overdone, and expect a correction soon. I tend to agree with this idea and see the gold sector overvalued. Obviously, IAG management seems to agree.
Conclusion:
I think IAG chose the right timing to reduce its debt load and finance the expansion of its new projects.
IAG indicated that "The Company will use up to approximately $150 million of the net proceeds to fund its concurrently announced tender offer for its outstanding 6.75% senior notes."
The reminder will be used to fund internal growth projects, such as one or more of these:
Sadiola and a potential of 10-year of LOM with the expansion.
Boto Gold project in Senegal,
Pitangui in Brazil,
Siribaya joint venture project in Mali
The Eastern Borosi project in Nicaragua.
The Nelligan project in Northwestern Quebec
Growth potential with Cote Gold.
Unfortunately, in this case, what can be considered good for the company is not necessarily good for shareholders, especially those who bought recently around $5.75 or higher.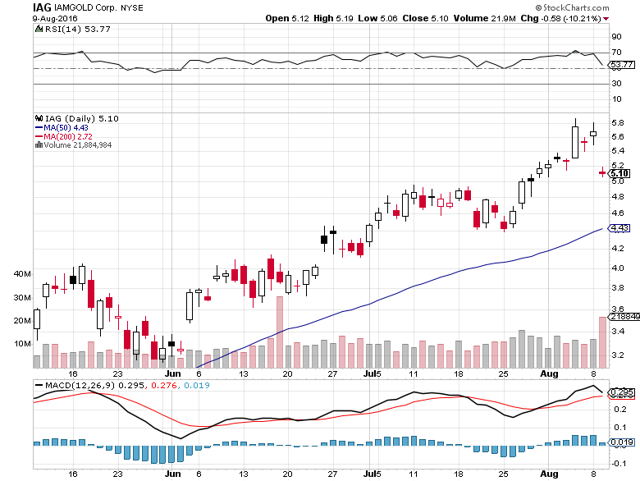 Click to enlarge
Depending on the gold price, it is possible that IAG corrects quickly to its 50-day Moving Average at around $4.50. However, in the long term, any significant pull back should be viewed as an opportunity to add.
I invite you to become one of my followers on IAG and other gold miners. Thank you.
Disclosure: I/we have no positions in any stocks mentioned, and no plans to initiate any positions within the next 72 hours.
I wrote this article myself, and it expresses my own opinions. I am not receiving compensation for it (other than from Seeking Alpha). I have no business relationship with any company whose stock is mentioned in this article.