The U.S. (NYSEARCA:SPY) economic data from 2010 until now has displayed a significant recovery. The market and the Fed are being too myopic at this point. The economy has normalized, while monetary policy is still on a near-emergency setting. There are numerous indicators in the U.S. near or above 2007 levels. I think the lift-off should have taken place earlier without as much forward guidance and cautiousness. The Fed should have raised rates throughout the year 2016, although the pace of business investment has slowed recently, and this is often associated with recessions. Business investment is still at a high level, and growth was strong until the recent soft stretch. Industrial production has also struggled, but this can be attributed to the decline in the energy and mining sectors. Global concerns, particularly in China, are also reasons for U.S. policy delays. If the Fed showed confidence in its decision to raise rates instead of wavering, it would lessen uncertainty about the future of the economy. Ultimately, 25 or 50 basis points aren't going to make or break the economy. Policy is still very accommodative, and the Fed is still reinvesting maturing bonds, thus the balance sheet is nearly unchanged. I agree with the Fed that economic expansions don't simply die of old age. There has to be a shock, such as high inflation triggering major Fed tightening.

Click to enlarge

Click to enlarge
The Federal Reserve manages reserves in the banking system to set interest rates or the price of credit. With higher rates, demand for credit falls, and with lower rates, demand for credit rises. Credit inflows into an economy create money and sustain existing debt burdens. Therefore, expanding credit is essential to a functioning economy in the modern monetary system.
Using QE, the Fed has set up a scenario for potentially high inflation exceeding the 2% target rate. Through QE, the Fed injected massive reserves into the banking system. The positive economic effects were: a further decline in long-term interest rates, depreciating the U.S. dollar, boosting exports, increasing stock and asset prices and changing economic expectations. These effects are not generated without risk, though, in the form of high inflation. The result of QE are a banking system flooded with reserves to be multiplied and lent into the economy.

Click to enlarge
The Fed has little power to affect these reserves balances permanently and meaningfully unless it sells securities off its balance sheet. The Fed will have a difficult time reining in inflation when it picks up, and there will have to be fairly aggressive tightening to catch up with inflationary pressures at some point. Although headline inflation is muted right now, other measures such as core PCE and trimmed mean PCE are at 1.6% and 1.7% respectively. This is around the target rate. Why run interest rates at or near zero percent when the labor market has healed substantially and core inflation is approaching 2%? Maximum employment and price stability is the Fed's dual mandate.

Click to enlarge
The Taylor Rule is an economic model developed by Federal Reserve economist John Taylor, and it would assign a higher Fed Funds Rate and an earlier lift-off.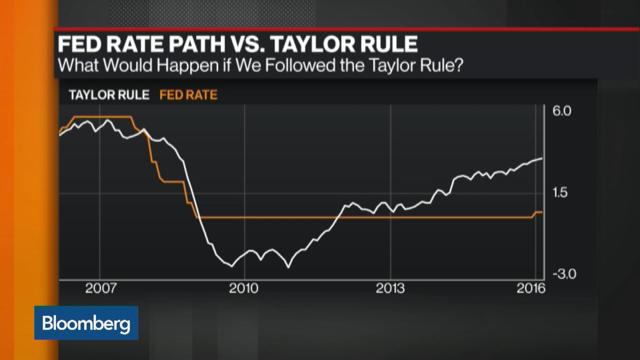 Click to enlarge
I believe this is actually a very non-data dependent Fed. I mentioned previously that we had numerous economic indicators near 2007 levels. The charts below prove this point.

Click to enlarge

Click to enlarge

Click to enlarge

Click to enlarge

Click to enlarge

Click to enlarge

Click to enlarge

Click to enlarge

Click to enlarge

Click to enlarge

Click to enlarge
All this while the Fed is holding rates at near zero percent. GDP growth is largely in line with the long-term trend around 2%. The recovery thus far is strong enough to warrant rate hikes. I'm very optimistic about the U.S. economy, as I expect credit to continue growing, which is a driver of inflation, spending and money supply measures. The U.S. economy is much more resilient than Japan, and I don't anticipate poor long-run economic growth. I believe the U.S. has reached escape velocity.

Click to enlarge

Click to enlarge

Click to enlarge
Household debt-to-income ratios are at a 30-year low, and net worth is at an all-time high. This is an optimistic signal for the U.S. economy.

Click to enlarge

Click to enlarge
Interestingly enough, as much as the Fed should be hiking rates, market-based expectations for it not to are rather high. According to CME Group, there is only a 40% probability of one rate hike by June 2017. This is a too dovish, in my opinion. The market has become very tied to a deflationary story, where interest rates stay lower for longer and the U.S. recovery stalls out or goes into a recession. I'm much more optimistic, because I believe the Fed is behind the curve here, and on the way to excessively high inflation, it would involve an improving U.S. economy with higher GDP growth, wages and stronger data. For these reasons, I think it is highly unlikely for the Fed to undershoot market interest rate policy expectations. The data should continue proving, the Fed will respond with rate hikes and this would lead to another phase higher for the U.S. dollar (UUP, USDU) versus most peers and moderately rising yields (TLT) in the U.S. Global QE and low or negative rates will likely prevent a spike in U.S. bond yields until inflation accelerates. Since the Fed deemed it appropriate to lift off, long-term interest rates have fallen. The key point is the chances of moving into inflationary boom phase because of a monetary policy-economic mismatch are greater than the probability of slipping into a recession or deflation in the medium term.

Click to enlarge
Disclosure: I/we have no positions in any stocks mentioned, and no plans to initiate any positions within the next 72 hours.
I wrote this article myself, and it expresses my own opinions. I am not receiving compensation for it (other than from Seeking Alpha). I have no business relationship with any company whose stock is mentioned in this article.