It's been a couple of weeks since chip giant Intel (NASDAQ:INTC) reported its second-quarter results. The news was mixed, and there wasn't any earth-shattering news, so shares have stalled in the mid-$30s as seen in the chart below. However, sentiment surrounding the name has improved a bit since the Q2 report, which hopefully sets things up for the second half of 2016.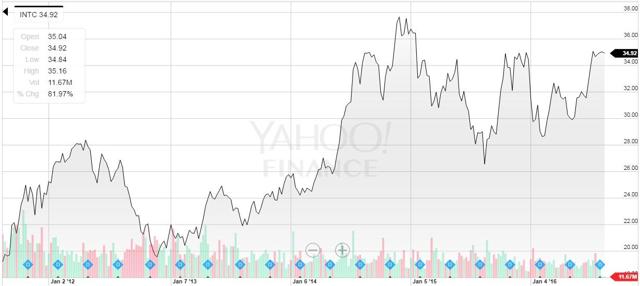 (Source: Yahoo Finance)
Perhaps the most interesting item currently is short interest for Intel, which is at its lowest point since I started tracking this metric in early 2012. As you can see in the chart below, nearly 75% of shares short have been covered since the 2013 peak. In the past 12 months alone, shares short have nearly been sliced in half.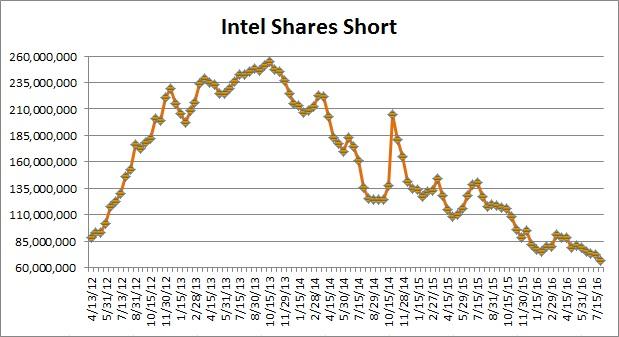 (Source: Nasdaq Intel short interest page)
(Note: The last data point on chart is for settlement date of 7/29/16.)
While Q2 revenues fell a little short of street expectations, Q3 guidance was quite strong. Additionally, the company reiterated its full-year forecast for mid-single digit revenue growth. As I discussed in my preview article, analysts were a little worried that Intel could take down its 2016 guidance. In the past couple of years, the company has been known for giving aggressive guidance to start with, then cutting the forecast as the year progresses. That did not happen this quarter, so analysts have raised their average revenue estimate from 3.3% growth to 4.2% for 2016. Non-GAAP EPS averages have also risen, thanks to a Q2 beat and guidance, while GAAP numbers look much worse thanks to restructuring charges.
While Intel is trying to transition away from its legacy PC business, it is that segment that's helping the most currently. The Data Center Group isn't growing as fast as expected, and most of Intel's other new-age efforts aren't large enough to make a tremendous dent in results. The company is still cautious on the PC space, but things could be a lot worse currently. Now it is time for the Data Center Group and IoT to show the progress everyone is looking for, not the low-single digit revenue growth seen in Q2.
Thanks to the Altera purchase, Intel still has a negative $5.7 billion cash balance when including long-term investments. Management hopes to get closer to a net zero position by the end of the year, while still being shareholder-friendly. The company did spend over $800 million on buybacks in Q2, and the stock's annual dividend yield sits just under 3.00% currently. That's much better than fixed-income instruments, even the 30-Year US Treasury bond. As the cash position improves, investors will be looking for a dividend raise for 2017, which could be announced at the November investor meeting.
I still believe Intel needs a major catalyst to break out of its recent range. I suggested that it consider debt for a larger buyback, given where US interest rates stand. The company could see cash flow savings by buying back shares that yield more than its after-tax interest costs. Additionally, the share count would be reduced, helping EPS, and there would be another sizable buyer in the market. Unfortunately, Intel CFO Stacy Smith said on the Q2 conference call that he doesn't believe in this strategy, but the board could always decide it is worthwhile.
While the company's Q2 results did end the recent rally in shares, the news was good enough to keep the stock hanging around $35. It was nice to not see management take down its yearly guidance, and capital returns keep coming even as the company looks to improve its cash position. As long as the PC business doesn't collapse in the second half of the year, better efforts from Intel's growth areas could help break this stock out of its recent range.
Disclosure: I/we have no positions in any stocks mentioned, and no plans to initiate any positions within the next 72 hours.
I wrote this article myself, and it expresses my own opinions. I am not receiving compensation for it (other than from Seeking Alpha). I have no business relationship with any company whose stock is mentioned in this article.
Additional disclosure: Investors are always reminded that before making any investment, you should do your own proper due diligence on any name directly or indirectly mentioned in this article. Investors should also consider seeking advice from a broker or financial adviser before making any investment decisions. Any material in this article should be considered general information, and not relied on as a formal investment recommendation.