A few days ago, Baker Hughes (NYSE:BHI) released its monthly rig count report. Every month, the company publishes this data in order to put their weekly rig count changes in the U.S. in perspective because, as some of my readers have pointed out accurately in the past, there's a lot more to the oil market than just what happens domestically. In what follows, I will look at the recent data surrounding the rig count changes across the globe and give my own thoughts on what it means for investors in companies like Memorial Production Partners (NASDAQ:MEMP), Approach Resources (NASDAQ:AREX), and Legacy Reserves (NASDAQ:LGCY), as well as for the United States Oil ETF (NYSEARCA:USO) and other oil-related ETFs.
A look at the global rig count
For the month of July, Baker Hughes figured that there were 1,481 rigs in operation across the globe. Of these, 30.3%, or 449 rigs in all, were operating in the U.S., an increase of 32 from 417 units seen just one month earlier. Globally, the rig count in June came out to 1,407 units, implying that the total rig count during the one-month period rose by 74 units. No matter how you stack it, any increase in the rig count is bearish compared to what the picture would otherwise be, but exactly how bearish are we talking about?
Click to enlarge
Unfortunately, the fact of the matter is that I have yet to find a country whose government is as transparent as the U.S. when it comes to not just energy-related data, but economic data in general. Every month, the EIA (Energy Information Administration) releases their Drilling Productivity Report, which gives analysts data with which they can forecast, given certain assumptions, what oil or natural gas production may be moving forward. I have yet to find comprehensive data from other nations, but it should be mentioned that in a prior analysis, I concluded that even with the recent uptick in rig counts in the U.S., domestic production would still continue to fall over the next 12 months (unless rig counts rise a lot more); just that the drop would be smaller than initially forecasted. Given that the global rig count is still down 31.7%, or 686 units, year-over-year, I suspect that the same can be true on the larger scale.
Of course, the U.S. wasn't the only nation to see increases in July. According to Baker Hughes, every single region covered by the business reported increases, with the exception of Africa, which reported a decline of 5 units, falling from 87 to 82. Internationally, excluding the U.S. and Canada, the global rig count grew a modest 11 units, rising from 927 to 938. This represents a falloff of 16.1%, or 180 units, from the 1,118 seen in operation this time last year, implying that the picture is still more bullish for long-term investors than it was then.
What about Canada?
Canada's an interesting case in my opinion. During July, the rig count in operation there came out to 94 units, a significant increase of 31 units, or 49.2%, over the 63 in operation seen in June. In and of itself, this makes it look as though the country's production may have adapted to low (but generally rising) oil prices and that the glut may grow further given the country's low decline rates, but historical data suggests that this is a seasonal fluctuation.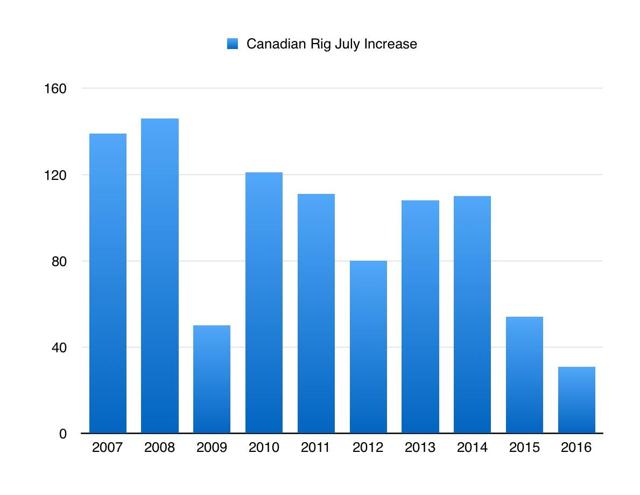 Click to enlarge
In the graph above, you can see the June to July change in rig count every year from 2007 (this is the furthest back that data goes) through 2016. What we can make from this is that, every single year, the rig count rises irrespective of energy prices. Because of this, what matters is not an increase or decrease in the rig count in Canada but the magnitude of the change. Looking at the graph, you can see that this has been the worst year on record for the Canadian rig count, with the next-best year coming in 2009 when the count rose just 50 units.
What this data suggests is that, if anything, changes in the Canadian rig count should not be counted for this time of the year and it also suggests that while the rest of the world (besides Africa) is seeing some sort of recovery in drilling operations, times are still tough in Canada; perhaps tougher than at any point on record. Following my line of thought and stripping out Canadian activity, the rig count rise would have been a fairly small (but still important) 43 units between June and July of this year.
Takeaway
Based on the data provided, it's undeniable that additional drilling activity is taking place in different parts of the world and this is, in and of itself, bearish in nature. As I've shown before, however, an increase in drilling activity does not necessarily cause production to grow so fears that the glut is going to continue to grow larger are likely being overplayed. It does, on the other hand, imply that changes will probably cause production to fall at a slower rate than anticipated but the full impact of this is likely to be seen next year as opposed to this year.
Disclosure: I am/we are long AREX, MEMP, LGCY.
I wrote this article myself, and it expresses my own opinions. I am not receiving compensation for it (other than from Seeking Alpha). I have no business relationship with any company whose stock is mentioned in this article.
Additional disclosure: I own LGCYO, not LGCY
Editor's Note: This article covers one or more stocks trading at less than $1 per share and/or with less than a $100 million market cap. Please be aware of the risks associated with these stocks.