After a three-month losing streak earlier this year, which was the longest since 2013, the NFIB Index of Small Business Optimism increased for the fourth straight month in July. 2013 was also the last time we saw a four-month winning streak. Despite the four straight monthly gains, though, small business optimism is nowhere near ebullient.
This month's reading came in at a level of 94.6 versus 94.5 last month. As shown in the longer-term chart below, the headline index is still more than a point below its average of 96.0 going back to 2000 and hasn't even made up half of the 7.7 point decline it saw from the end of 2014 through earlier this year. So there's still a way to go.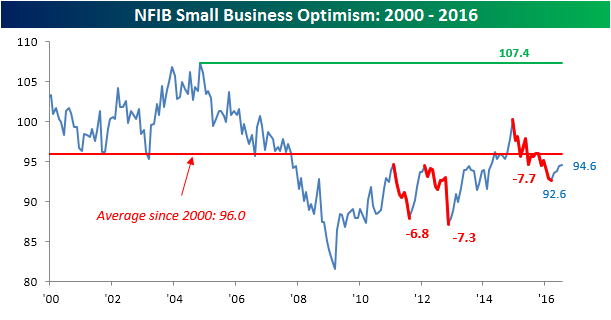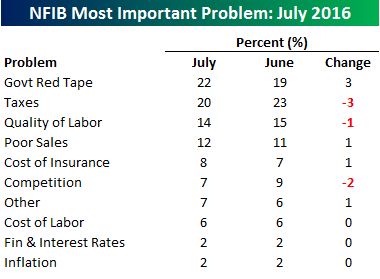 In terms of the biggest problems businesses are facing, in July, more businesses cited Government Red Tape (22%) while fewer cited Taxes (20%). The only other major change in the various categories was Competition, which declined from 9% down to 7%. As shown in the chart below, after trending lower for over a year now, the percentage of businesses citing Government Red Tape made a higher high this month and is getting back up near its all-time high (24).
One potential explanation for the uptick could be related to the fact that as the political season heats up, we begin to hear more and more about how government regulations are such a large burden on small businesses and that various candidates will alleviate these burdens.