After the close, CyberArk (NASDAQ:CYBR) reported that Q2 results blew past expectations. My previous research detailed how the cybersecurity specialists typically blows past quarterly estimates.
The stock plateaued at $55 over the last month. CyberArk is trading down in after hours after the beat as a further highlight that the valuation could be a limiting factor to stock gains.
The company beat EPS estimates by a wide $0.09 due to the typical revenue beat of $2.1 million. The stock had a valuation of $1.8 billion though quarterly revenues were only $50.4 million so the valuation was already stretched.
As stated prior, CyberArk faces the issue of slowing growth. The company grew Q2 revenues by 39% and only forecast Q3 growth of 30%. The number is right inline with analyst estimates, but the normal beat will still lead to a deceleration in the growth rate.
The biggest hiccup comes with the Q3 EPS guidance of $0.22 that suggests a $0.07 sequential decrease. The Estimize chart highlights the history of earnings beats, but the company now requires the huge beats in order to grow earnings.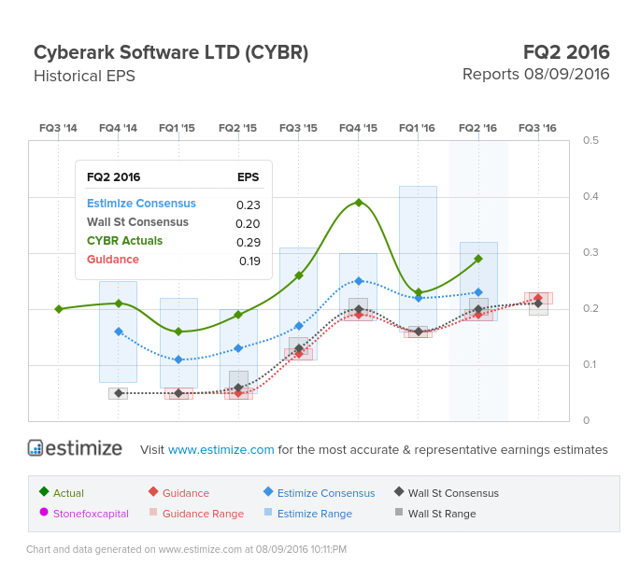 Last Q3, CyberArk reported and EPS of $0.26. This year, the company has to beat guidance by $0.05 to generate growth. History shows that CyberArk is likely to achieve that earnings beat, but the impact of not beating by a wide margin could be brutal to the stock.
The chart of sector players is a prime example of what eventually happens to the valuation. Cybersecurity stocks like FireEye (NASDAQ:FEYE), Imperva (NYSE:IMPV) and Palo Alto (NYSE:PANW) have all fallen from the lofty P/S ratios from a year ago.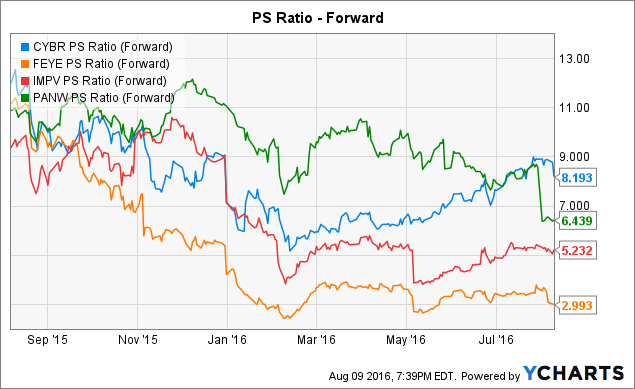 CYBR PS Ratio (Forward) data by YCharts
The key investor takeaway is that CyberArk continues to forecast that the bullish growth story will end some day. History suggests the stock won't survive very well from these lofty valuations when that occurs.
Disclosure: I/we have no positions in any stocks mentioned, and no plans to initiate any positions within the next 72 hours.
I wrote this article myself, and it expresses my own opinions. I am not receiving compensation for it (other than from Seeking Alpha). I have no business relationship with any company whose stock is mentioned in this article.
Additional disclosure: The information contained herein is for informational purposes only. Nothing in this article should be taken as a solicitation to purchase or sell securities. Before buying or selling any stock you should do your own research and reach your own conclusion or consult a financial advisor. Investing includes risks, including loss of principal.