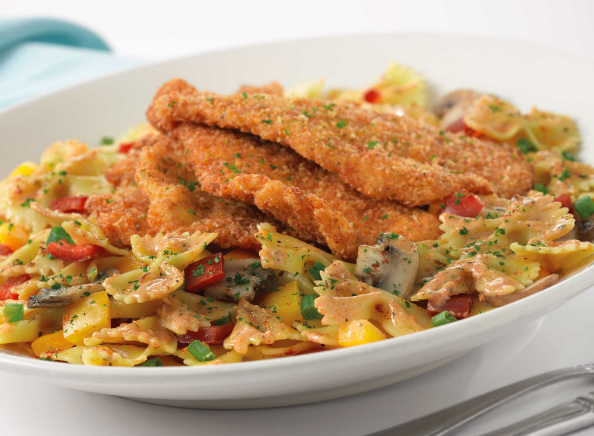 Cheesecake Factory (NASDAQ:CAKE) has been one of my favorite restaurant stocks of late in a space that I've found to be very crowded and overpriced. But CAKE bucks the mold as it has shown a propensity to grow earnings in multiple ways and its fundamentals have been strong. That led me to declare that CAKE's rally would resume after Q1 earnings but shares have just bounced around since then. There are many headwinds for restaurants right now but Q2 earnings revealed some very positive news including a higher dividend and buyback authorization. At $51, is CAKE a buy or is more sideways action in the cards?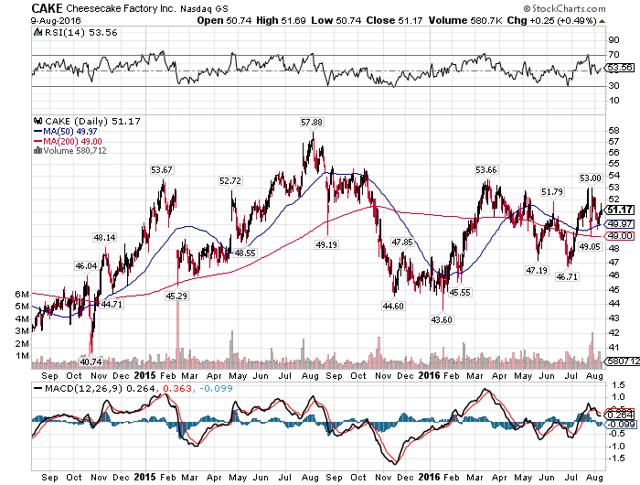 Click to enlarge
Revenue was up 5.6% during the quarter as new stores helped boost the total. CAKE is a fairly mature chain and while new stores will continue to be a part of the picture for some time - particularly internationally - this is not about huge revenue growth the way that some fledgling chains are. CAKE is about positive comp sales, margin growth, the dividend and the buyback so we'll need to frame our valuation based upon those criteria.
Speaking of comps, that number was up just 30bps during the quarter. Comps have been tough to come by for most restaurant chains in 2016 as a variety of factors play in but to CAKE's credit, Q2 did represent the 26 th consecutive comp sales gain. Even at 30bps, that's an impressive feat and it is certainly part of the reason why I believe in CAKE's model. This company has proven it works over time and while 30bps isn't much to get excited about, many other chains were negative in Q2. Obviously, I'd like to see an improvement but for now, that will do. Again, this isn't a huge growth story but comp sales have knock-on impacts for the rest of the business, such as boosting margins.
On that front, CAKE saw some positive leverage from its cost of sales, which fell 120bps Y/Y. This is a continuation of a trend we saw in Q1 of this year and indeed, we've seen this across much of the industry. Lower commodity prices have impacted different chains in different ways but in general, input prices have come down for restaurants of late. That is certainly helping CAKE and 120bps is not an immaterial gain in operating margins. Unfortunately, another continuation of a trend we saw from Q1 is higher labor costs. The industry is also grappling with higher wages as upward pressure on that line item is coming from lots of places including legislation. CAKE's labor expenses deleveraged 140bps in Q2, more than wiping out the input cost gains we just mentioned. The good news is that higher labor costs will anniversary in the coming quarters so we should see growth in that line item slow. However, the bad news is that the company's labor costs are likely to be permanently higher, indicating that profitability will suffer somewhat or that CAKE will need to figure out ways to recapture that lost margin elsewhere. Time will tell but for now, labor costs are a sizable obstacle to profitability growth.
The good news is that CAKE's net income margin rose 30bps during Q2 to 6.9% as it made up some ground in other places like G&A costs. And nearly 7% net income margin is a very strong number indeed for a restaurant chain; this is a big part of the reason why I was originally drawn to CAKE's model. While labor costs are likely to remain elevated for the long term, lower commodities may not and I see this as the principal risk to CAKE's profitability growth over time. But for at least the medium term, it seems commodity prices will remain fairly low and CAKE's margins will be intact.
In addition to strong earnings, CAKE increased its dividend to 24 cents and bumped its share repurchase authorization. The new dividend is worth about 1.9% on today's prices and while that's an also-ran yield, CAKE is getting ever closer to becoming an income stock. Recall that CAKE has only been paying its dividend for about four years so it hasn't had a lot of time to bump the payout. But management has shown the willingness and ability to bump the dividend and I think this stock will eventually yield something like 3% and be a true income stock. We aren't there yet but CAKE is taking the necessary steps to get there.
So far this year, CAKE has repurchased $77M worth of stock, good for an annual run rate of about 6% of the float. That is a sizable tailwind for EPS and should help CAKE grow its EPS materially quicker than it would on its own.
On that front, analysts expect 16% growth this year but only 8% next year. That would equate to $2.75 in earnings for 2016 and $2.97 for next year but the latter number seems low. I just mentioned that CAKE's buyback is good for about 6% of the float; that implies that the market is pricing in fundamental EPS growth of just 2% next year. Given that CAKE continues to produce higher comps and that margins are growing despite higher labor costs, 2% seems very low indeed. But even if I'm wrong, CAKE is only going for 17.2 times next year's earnings. That's a very low bar on an earnings basis and indeed, a valuation basis. In other words, I think the odds are good that CAKE beats $2.97 next year and that we'll see some level of multiple expansion as well for all of the reasons I just discussed .
Given all of that, I think the clear bias for CAKE is up. This company continues to grow comp sales and it has some EPS growth levers it can pull including higher revenue, expanding margins and the buyback. And if that isn't enough, CAKE is well on its way to becoming an income stock. There's a lot to like here in an industry that is crowded with average companies with huge valuations but CAKE is anything but. I still like CAKE very much here as a longer term play and I think it is moving higher.
Disclosure: I am/we are long CAKE.
I wrote this article myself, and it expresses my own opinions. I am not receiving compensation for it (other than from Seeking Alpha). I have no business relationship with any company whose stock is mentioned in this article.