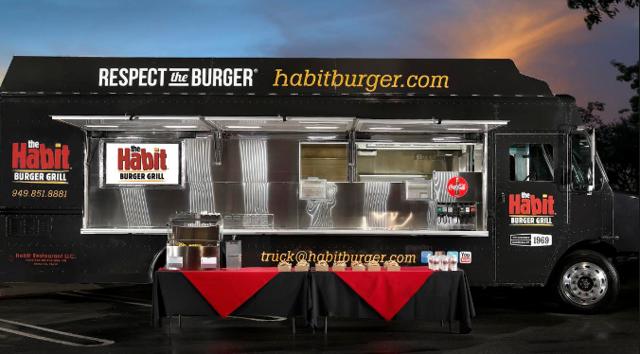 Click to enlarge
Habit Restaurants (NASDAQ:HABT) is a stock I've been bearish on since it came public. The mold of unbelievably overpriced restaurant chains coming public at ridiculous valuations is one that many companies have used including a company that runs a very similar model in Shake Shack. Both companies received valuations that are hard to comprehend and early shareholders have been absolutely decimated in both cases. The fact that HABT was overvalued was very easy to spot in the $40s and $30s but what about now? After Q2 results the company's shares are going for just $15 as HABT seems to perpetually make new lows. But at these levels, is there finally some value?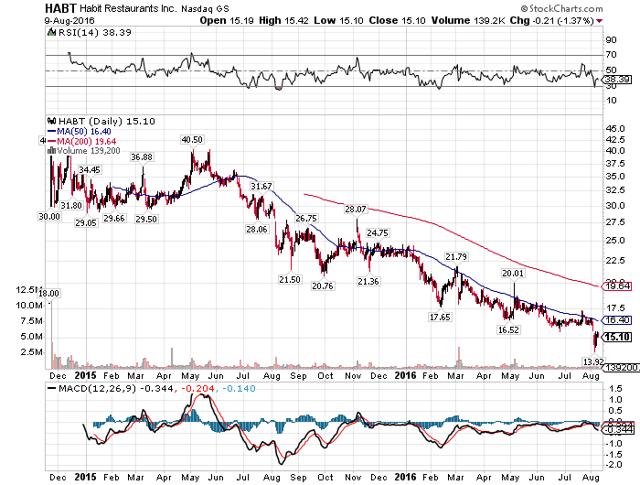 Click to enlarge
HABT's revenue continues to fly as it is very much in its growth stage. This is a small company that has big aspirations and its revenue was up by a quarter in Q2, something that we've become accustomed to from Habit. That revenue growth is surely what attracted investors to Habit in the early days but that alone isn't enough. Indeed, we eventually need to see profitability commensurate with those sorts of revenue gains but as the quarters have gone by since Habit's IPO, it has become increasingly clear that this isn't happening anytime soon.
A full 4% of the revenue gain was due to comp sales moving higher and given today's environment, +4% is certainly a strong result. Many chains have seen drastically reduced or even negative comps of late but Habit continues to chug along. However, if we look at the composition of the comp sales gain, the picture is less rosy. Habit saw a 4.3% gain from average ticket size and a 0.3% loss in traffic. I always look at traffic as the most important indicator of demand because job number one for any restaurant is to get people in the door. Habit is having a hard time doing that just like everyone else and while ticket gains are nice, they are less sticky than traffic gains and have a natural ceiling; there is only so much one customer is willing to spend at Habit or any other restaurant. That is why traffic is so important and negative traffic growth is a huge red flag.
This is more so because Habit is such a young company. This is the stage in its lifecycle when excitement around the brand should be the highest but negative traffic certainly suggests that it isn't. What will happen as the chain matures? The outlook certainly has to be downgraded based upon negative traffic growth unless Habit has some tricks up its sleeve. But with a tremendously competitive landscape in the better burger segment, I don't know how Habit will differentiate itself. After all, Smashburger, Shake Shack, Five Guys and Habit all do exactly the same thing. And with those chains and others throwing up new locations everywhere, it certainly seems as though we're reaching overcapacity in the space. People aren't going to stop eating hamburgers but so much new capacity in addition to legacy capacity from bigger players like Wendy's and McDonald's isn't helping. This is a very crowded space and Habit is suffering from that in my view.
Like many other restaurants in Q2, HABT saw some leverage on its commodity and paper costs. This has been an industry-wide thing of late as certain food costs have come down and Habit continues to see leverage from its higher comp sales as well. This is a sizable margin tailwind as food and paper costs fell a whopping 220bps during Q2. Unfortunately, also like its competitors, HABT saw drastically increased labor costs. That line item continues to grow across the industry and retail as well as pressure for higher wages grows from a variety of sources. Labor costs deleveraged 240bps during Q2, wiping out the food/paper cost gains it made. That's a problem and unfortunately, higher labor costs are here to stay. How Habit works around that will be interesting to watch but to its credit, if it can find a way to continue to meaningfully increase comp sales, it should see a more muted impact from higher labor costs than some of its competitors. Still, labor is a huge expense and getting larger so it certainly bears watching in the coming quarters.
Analysts have Habit hitting 34 cents in EPS next year, good for an eye-watering 44.4 times forward multiple even on today's beaten-down price. That's quite the multiple and it certainly puts Habit in a league of its own in terms of valuation, except for maybe Shake Shack. Still, that is a very difficult price to pay for any stock but in particular, one with so many headwinds to growth. Habit will see blistering top line growth for a long time to come simply because it has a lot more units it is going to add. Revenue growth has never been a problem but with slowing comps and in particular, negative traffic growth, the top line growth outlook certainly isn't as strong as it once was. And let's keep in mind that Habit is marginally profitable, with Q2's adjusted EBITDA hitting just $8.7M on $71.1M in revenue. Unit profitability is in excess of 20%, which is very strong of course, but Habit is going to have a very long road ahead of it in terms of corporate profitability. It has a lot of costs that need much higher sales and operating earnings levels to be leveraged lower and produce some sort of meaningful corporate profit number.
And that's the story with Habit; do you believe it will grow into the stratosphere and eventually produce meaningful profits? Right now it is growing a lot but its profit levels are marginal at best. The current price implies that Habit has an extraordinarily high chance of success and while it may succeed, it also may not to the extent that people currently believe. After all, I can't think of a more crowded sector than hamburgers and in particular, the newest crop of competitors I mentioned earlier all have the same goal and the same means of trying to achieve it. That leaves a lot of capacity and a lack of differentiation so for me, Habit is still way too expensive. I wouldn't necessarily short it here but I wouldn't buy it either; there is simply way too much that has to go right for Habit to grow into its valuation and/or move higher over time.
Disclosure: I/we have no positions in any stocks mentioned, and no plans to initiate any positions within the next 72 hours.
I wrote this article myself, and it expresses my own opinions. I am not receiving compensation for it (other than from Seeking Alpha). I have no business relationship with any company whose stock is mentioned in this article.