Oil prices went down on Tuesday after American Petroleum Institute (API) released its weekly oil data. As per API, the U.S crude oil inventories increased by 2.1 million barrels during the week to August, 5. However, API also reported a drawdown of 3.9 million barrels in gasoline stocks and drawdown of 1.5 million barrels for distillates. As most of the analysts and traders were expecting a drawdown in crude oil inventories, oil prices decreased with WTI (WTI) and Brent trading at $42.69 and $44.94 respectively at the time of writing this article. It will be interesting to see the EIA weekly oil data which will be released shortly. If EIA reports a buildup in crude oil inventories, then oil prices will fall even further. Most of the traders and analysts believe that for oil prices to move up, crude oil and gasoline stocks must reduce by at least 1-2 million barrels. According to me, even if EIA reports a drawdown in oil and gasoline stocks in its weekly report, oil prices will largely remain low as there are other factors that are weighing in on oil.
Any hope of an oil recovery through OPEC fizzles out
Markets had reacted positively to the possibility of a revival of oil-freeze talks between OPEC and non- OPEC players like Russia. Oil prices had increased on Monday because of reports that OPEC members like Venezuela, Kuwait and Ecuador were trying to revive freeze talks in September during the upcoming International Energy Forum in Algeria. However, markets were quick to realize that even if these 'informal' talks are successful and a freeze - deal does take place in future, it will not affect the prices significantly. On the other hand, OPEC members like Saudi Arabia and Iran are already fighting for market share in the Asia and it is unlikely that they will limit their production levels. So, any hope of an oil price recovery through OPEC seems to be nil.
China's slowing oil demand growth
Being the second biggest global consumer of oil, China's demand for crude oil has significant impact on markets. A recent report shows that China's crude oil imports declined to lowest levels in last six months, mostly because of the rising domestic oil product surplus and rising crude oil stocks. China imported around 7.35 million barrels a day of crude oil in July, which was its slowest demand growth since January 2016. On the other hand, China's net fuel exports increase to a record 2.49 million tons in July. Another reason for decline in crude oil imports was China's 'tea-pot' refineries which reduced its crude imports because of the upcoming maintenance activities and capacity constraints. Any slowdown in China's oil demand - growth can be a bearish sign for oil (NYSEARCA:USO) in the coming time. Moreover, with China's fuel exports growing at record levels amid weak global demand, the existing product glut will swell even further.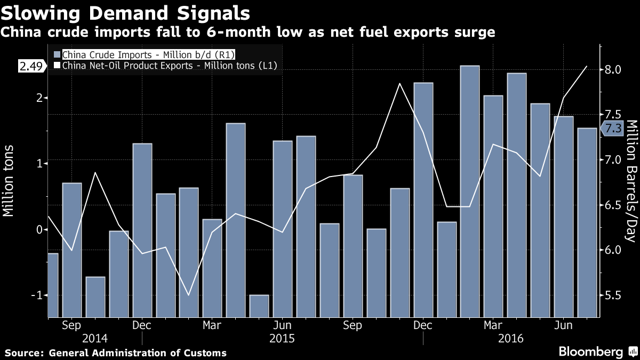 Click to enlarge
Takeaway
Oil prices can increase substantially once the existing crude oil and product glut subsides. Although EIA's weekly oil data will provide a direction to oil prices, oil can only enter the bullish zone once there is a significant drawdown in crude oil and product inventories and when the demand figures look more promising. Investors must note this. Although China's crude oil demand growth has reduced, it must be noted that China's oil imports were 31.07 million metric tons in July which is still a sizable figure. I am confident that China's crude oil demand growth will increase after its refiners complete their maintenance activities and once its domestic product surplus reduces. Till then, oil prices will remain under pressure.
Disclosure: I/we have no positions in any stocks mentioned, and no plans to initiate any positions within the next 72 hours.
I wrote this article myself, and it expresses my own opinions. I am not receiving compensation for it (other than from Seeking Alpha). I have no business relationship with any company whose stock is mentioned in this article.