Patheon N.V. (NYSE:PTHN) - Buy Recommendation - $27.25 PT
The 25-day quiet period on Patheon N.V. will come to an end on August 15, 2016, allowing the firm's IPO underwriters to publish reports and recommendations on the company on August 16. Patheon's share price will likely see a temporary increase as a result of the release of these reports.
We previewed this event and buying opportunity on our IPO Insights platform.
Strong Early Market Performance
Patheon was priced at $21, at the mid-point of its expected price range of $19 to $22. The stock opened at $24.99 on its first day of trading. It reached a high of $25.87 on August 1.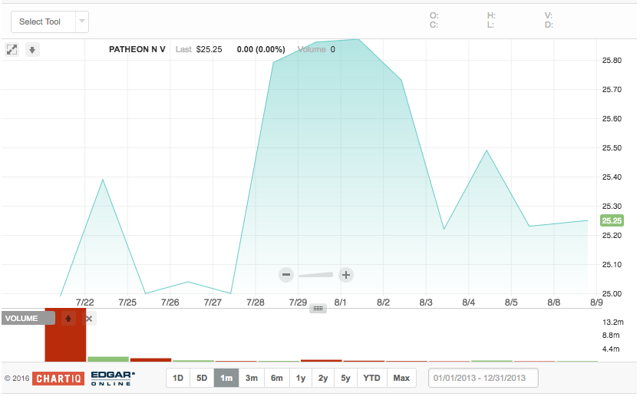 Click to enlarge
(Nasdaq.com)
Business Overview: Provider of Outsourced Pharmaceutical Manufacturing and Development Services
According to company filings, Patheon provides pharmaceutical manufacturing and development services, including the following array of active pharmaceutical and finished drug product services: clinical- and commercial-scale packaging, manufacturing and lifecycle management, and formulation development. Based in Amsterdam, the company focuses on the small molecule and large molecule biological drug sectors and has approximately 8,800 employees.
Patheon believes it is the only integrated, end-to-end provider of these services, which allows its clients to engage with a single outsourced provider. Its client base is highly diverse and comprised mainly of well-established, enterprise-level companies. These include over 400 clients in over 70 countries. They cover the 20 largest pharmaceutical companies, 18 of the top 20 largest biotechnology firms, and 15 of the top 20 largest specialty pharmaceuticals. Patheon N.V. currently provides manufacturing and development services for close to 700 products.
Successful Management Team
CEO and Executive Director James Mullen has served in his position since 2011. His previous experience comes from senior executive positions at Biogen Idec (NASDAQ:BIIB), GlaxoSmithKline (NYSE:GSK), and PerkinElmer Inc. (NYSE:PKI). Mr. Mullen holds a B.S. degree in Chemical Engineering from Rensselaer Polytechnic Institute and an MBA from Villanova University.
CFO and EVP Stuart Grant has served at Patheon since February 2012. He has held senior executive positions at BioCyst Pharmaceuticals, Merck Serono S.A., Digital Equipment Corporation and Pricewaterhouse in Glasgow, Scotland. Mr. Grant graduated with a Bachelor of Accountancy from the University of Glasgow and is a Chartered Accountant of the Institute of Chartered Accountants of Scotland.
Overview of Competitors: Quintiles Transnational, Medpace, INC Research and Others
Patheon faces competition from other contract research organizations. Primary competitors include Quintiles Transnational (NYSE:Q), Covance (NYSE:CVD), PPD, Charles River Laboratories (NYSE:CRL), Medpace (Pending:MEDP), INC Research (NASDAQ:INCR), PAREXEL (NASDAQ:PRXL), PRA Health Sciences (NASDAQ:PRAH), inVentiv Health (VTIV), and Chiltern.
Conclusion: Buy Recommendation
Patheon's IPO underwriters could capitalize on PTHN's recent growth through the release of positive reports. This powerful syndicate includes J.P. Morgan Securities, Jeffries LLC, Morgan Stanley, UBS Investment Bank, Credit Suisse Securities, Evercore Group, KeyBanc Capital Markets, Leerink Partners, Piper Jaffray, Raymond James & Associates, Robert W. Baird & Co., Wells Fargo Securities, and William Blair & Co.
Current research has found a significant potential for above-market returns in the five days prior to and two days after the conclusion of a company's quiet period.
Given PTHN's positive early market performance and promising future, we suggest investors consider initiating or adding to an existing position to take advantage of the potential short-term inclines and longer-term upside.
Disclosure: I am/we are long PTHN.
I wrote this article myself, and it expresses my own opinions. I am not receiving compensation for it (other than from Seeking Alpha). I have no business relationship with any company whose stock is mentioned in this article.