2Q16 Earnings Recap
American Express (NYSE:AXP) reported 2Q16 GAAP EPS of $2.10, and after adjusting for a $232mn impairment charge, "Guidance EPS" of $2.26, much better than consensus of $1.95. The beat was primarily driven by a much lower-than-expected expense base, lower provisions and a lower tax rate. Management now expects 2016 EPS to be "at the high end" of the previously guided $5.40-$5.70 range. AXP 2017 EPS guidance of "greater than or equal to $5.60" has been reiterated. The increase in outlook for 2016 is due to better credit and lower expenses than management had anticipated. Thanks to better than expected results, management will increase marketing spend in 2H16 (~$200mn above the $3.1bn budget in 2016), while the 1H16 is still allowing the company to deliver results towards the high-end of 2016 guidance.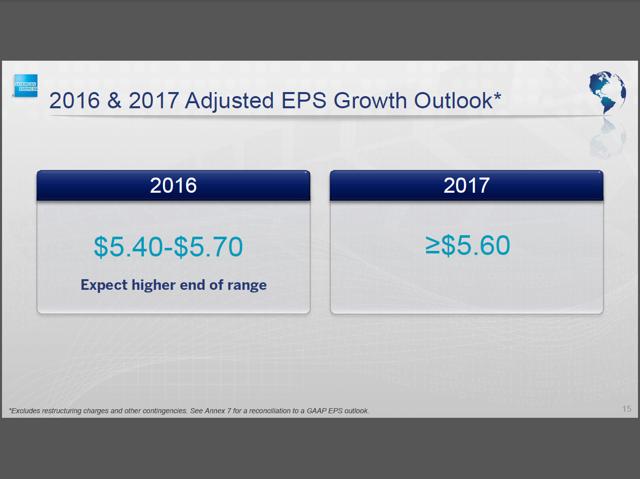 Click to enlarge
Source: Company data
Strong revenue growth
Core underlying trends were encouraging, with ex-Costco/FX-adjusted billed business growing +8% y/y (vs. +4% reported) and ex-Costco loan growth of +11% y/y (vs. -13% reported). International billed business growth was strong at +5% y/y. We believe solid growth is one of the main factors needed to drive better valuation.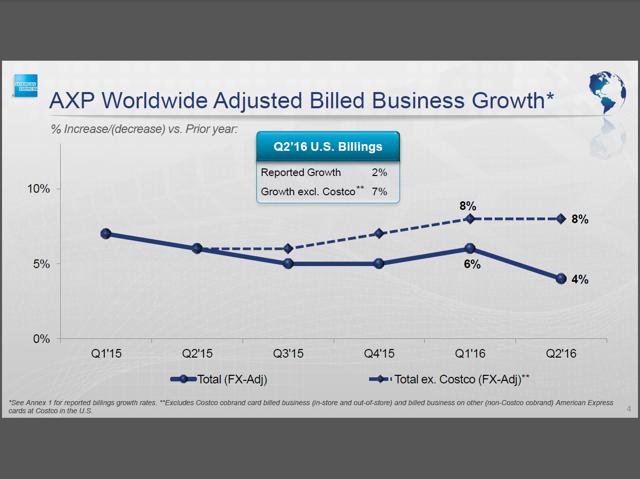 Click to enlarge
Source: Company data
New account acquisition growth remaining robust at 2.1mn in the United States and 3.0mn globally, many of which are former Costco (NASDAQ:COST) co-brand cardholders. As a reminder, 70% of the spending on the Costco Amex co-brand cards occurred outside the Costco store. Management estimates it has retained about 20% of that spending.
Loan growth of +11% y/y is also very welcomed.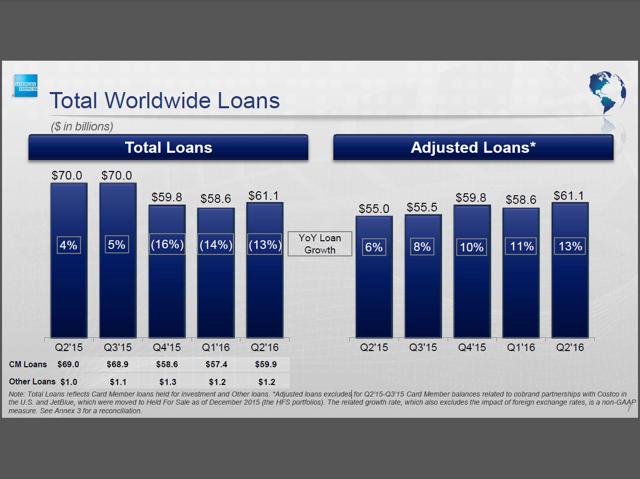 Click to enlarge
Source: Company data
While Amex remains largely skewed to spend vs. lend revenues, loan growth is a key part of the near-term strategy, in our view. We believe AXP's lending growth should remain well ahead of industry growth, thanks to new products (American Express EveryDay) and its investment in more effective marketing and distribution. We believe the "Lending on Charge" program presents a meaningful opportunity as well. American Express is marketing unsecured loans to its existing charge card customer base, which should drive incremental growth of its lending portfolio. Having said that, we do not expect the Amex strategy to shift to a lend model. Even as the portfolio grows, the management's goal is not to shift significantly from the post-crisis mix of 80/20 (transactions and fees versus interest income). Hence, American Express will remain one of the least credit-sensitive plays within the U.S. Financials.
It is well worth mentioning that asset quality trends are still very benign.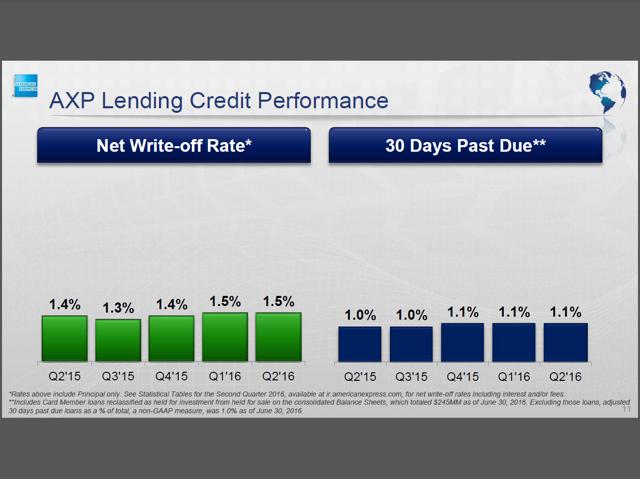 Click to enlarge
Source: Company data
Bottom line: We expect AXP's multiples to expand toward historical levels
It has been almost a year and a half since Amex announced that the partnership with Costco would not be renewed. As a result, the stock has experienced a massive multiple de-rating. Amex is currently trading at 12.1x trailing earnings. The 12.1x multiple is nearly 20% lower than 15.3x historically.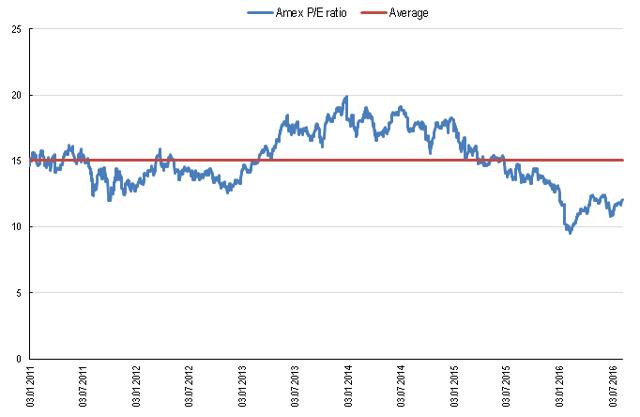 Click to enlarge
Source: Bloomberg, Renaissance Research
In addition, the following chart shows that historically, Amex has been valued at an average level equal to the S&P 500. However, the multiples have diverged considerably since the loss of Costco and AXP is currently trading at a 41% discount to S&P 500 on a trailing P/E basis.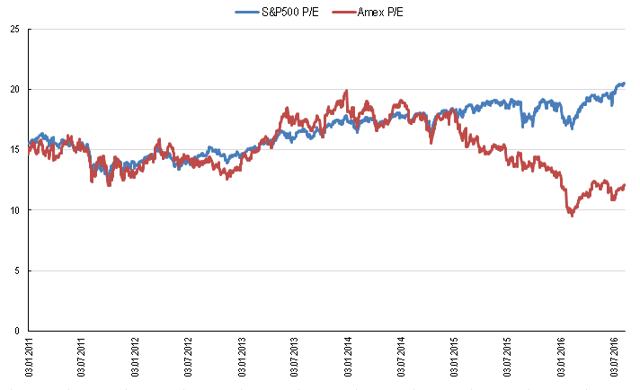 Click to enlarge
Source: Bloomberg, Renaissance Research
We expect the company's multiples to expand toward historical levels, driven by AXP's clear revenue growth strategy, solid cost discipline, a strong management team and generous capital returns to shareholders.
If you are interested in equity research on U.S., European, LatAm and CEEMEA banks/financial companies, including fundamental analysis, DCF/multiples valuation, commentaries on price-sensitive events and actionable trading ideas, click the "Follow" button beside my name on the top of the page.
Disclosure: I am/we are long AXP.
I wrote this article myself, and it expresses my own opinions. I am not receiving compensation for it (other than from Seeking Alpha). I have no business relationship with any company whose stock is mentioned in this article.