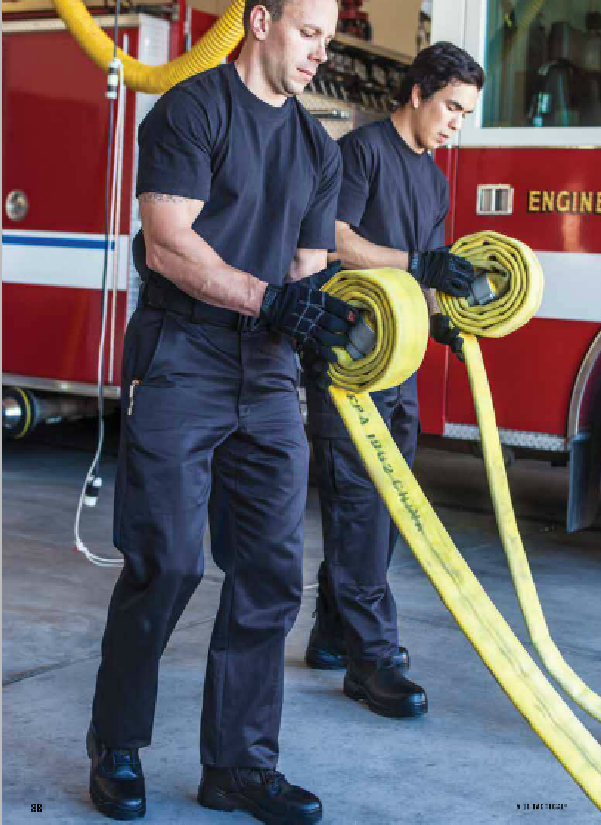 Compass Diversified Holdings (NYSE:CODI) roared into August as if still aboard a July 4th rocket. Thanks to its most recent acquisition, it was outfitted more safely. The acquirer of niche market leaders announced the addition of 5.11 Tactical to its stable on August 1st. On August 3rd, the company reported sound second quarter results.
Source
In 2015, Compass divested subsidiaries CamelBak and American Furniture. The net effect of the two sales bolstered cash on the balance sheet. But, it would also negatively impact Compass Diversified's expected earnings in 2016.
Distributions to shareholders are made from a portion of the operating cash flow. Since 2011, Compass has paid a quarterly distribution of $0.36 for an annual rate of $1.44. When 2016 began, the company was not expected to earn enough cash flow to cover its typical distribution. Still, CEO Alan Offenberg, offered shareowners assurance.
"We expect to consistently pay our distribution in 2016."
In the first half of 2016, Compass Diversified quickly redeployed capital from the sales to bolster existing subsidiaries. Northern International, distributor of flameless candles and outdoor lighting product, was bolted on to Sterno Products in January. Clean Earth acquired Phoenix Soil, in Connecticut, in April and EWS Alabama in June. ERGObaby added a premier line of baby-wearing products when it acquired New Baby Tula in May.
Northern International was quickly accretive to revenue and net income in both the first and second quarters. New Baby Tula added 8% revenue growth to ERGObaby in the second quarter. Clean Earth experienced a slight revenue bump in the second quarter as well.
The accretive impact from the bolt-on acquisitions, however, were still not enough to cover the distribution. For the first six months of 2016, Compass Diversified distributed $39.1 million on 54.3 million shares. Cash provided by operating activities was $45.5 million. Compass first allocates operating cash to maintenance capital expenditures, swap payments and necessary changes to its operating assets or liabilities. The remaining cash, labeled Cash Flow by Compass, is available for distribution (NYSEARCA:CAD). Cash Flow for the first six months totaled $29.2 million creating a $9.9 million shortage. Based on the outstanding share count, Compass was short approximately $0.18 per share.
The 411 on 5.11
The shortage emphasizes why the acquisition of 5.11 Tactical is a turning point in the year for Compass. Compass has specific targets when evaluating companies for acquisition. Candidates should be "highly defensible middle-market businesses with strong cash flows and a reason to exist". Compass is interested in businesses whose "absence from the market place would disrupt the category". Further, the long-term trends of a potential company's industry should be tracking positively. As well, Compass prefers annual EBITDA of at least $10 million.
5.11 Tactical met the Compass criteria. It leads the market for "purpose-built" and "functionally innovative" gear and clothing. It serves a broad customer base including law enforcement, firefighters, military special operations and outdoor enthusiasts. The Federal Bureau of Investigation began purchasing the company's tactical pant over twenty years ago. Its product portfolio ranges from clothing inclusive of uniforms, footwear, bags and packs to accessories. 5.11 Tactical reported its fiscal year-end results on April 30, 2016. Revenue tallied approximately $293 million and EBITDA tallied approximately $38 million.
Compass purchased 5.11 Tactical for $400 million. This makes 5.11 Tactical the largest acquisition relative to purchase price to date for the company. It outpaces the Compass purchase of Clean Earth in August, 2014 by $147 million. Compass believes there are certainly opportunities for growth.
The professional "protector" community, the core of its business, is expected to provide a stable cash flow. Because 5.11 Tactical works directly with its end users to provide products that will make them "always ready", consumer loyalty is strong and should drive single-digit growth. Branching further to the retail outdoor enthusiast consumer provides opportunity for stronger growth. In conjunction, expanding 5.11 Tactical's online presence and capabilities is expected to drive consumer awareness of the brand.
5.11 Tactical is expected to immediately add $0.30 to $0.35 per share to Compass' annualized Cash Flow. Therefore, based on this projection and the time available for contribution, 5.11 Tactical should contribute approximately $6 million or nearly $0.11 per share in 2016.
Second Quarter 411
Revenue in the 2016 second quarter totaled $229.4 million, a 14.9% improvement over the same quarter in 2015. The increase is primarily attributed to the acquisitions in the first half of 2016 for Sterno Products, Clean Earth and ERGObaby.
ERGObaby elected to wind down one of its product lines in the quarter. Compass recorded a loss on the disposal of the assets associated with the line. The $6.7 million loss resulted in lower operating income in the second quarter as compared to 2015.
Even including the loss, net income for the quarter compared positively to the 2015 second quarter when viewing continuing operations only. Net income on a GAAP basis equated to $0.33 per share for the 2016 second quarter. In 2015, continuing operations contributed $0.29 per share while the discontinued operations contributed $0.11 per share in the second quarter.
Compass' Cash Flow or cash available for distribution was impacted in the second quarter by two events related solely to timing.
"Advanced Circuits accelerated spend into the second quarter to take advantage of reduced pricing on capital equipment. The second impact was higher-than-anticipated cash taxes we incurred during the second quarter primarily related to Clean Earth."
The two items impacted Cash Flow by approximately $3 million or approximately $0.06 per share. This impact is not expected to repeat in the second half of 2016.
Remaining Year Projection
Between its top-line growth and its ability to expand margins, Compass management made a bold projection on the second quarter earnings call.
"As a result of the cash flow accretive add-on acquisitions for Clean Earth and ERGObaby completed in the second quarter as well as the anticipated closing of 5.11 Tactical during the third quarter, we would anticipate that our CAD will meet or slightly exceed our distribution for the full-year 2016."
The Cash Flow requirement for the full year equals $78.2 million. Considering the $29.2 million generated in the first six months, the second half of 2016 would have to generate $49 million or 68% more than the first half. Using the first half CAD of $29.2 million and adding back the $3 million impact from timing events in the second quarter creates a practical base of $32.2 million for the second half. As mentioned above, 5.11 Tactical should contribute approximately $6 million or nearly $0.11 per share. This would mean the typical seasonal impact and the accretive contributions from Phoenix Soil, EWS Alabama and New Baby Tula are expected to generate the remaining $10.8 million.
The Nitty Gritty 411
When 2016 began, many feared Compass Diversified would be forced to eventually decrease its distribution, perhaps even temporarily. That warning flag can be stowed away. The distribution is safe. And, so is Compass' track record. The company has never reduced its distribution.
Very few, if any, would have predicted Compass would not have to dip into its cash stash in 2016 to distribute at its historical level. And, to date, it has, indeed, had to dip. If the company delivers on its projection to wholly cover the full year distribution with Cash Flow, the dipping is not only temporary but the cash should be restored.
The average dividend yield on the S&P 500 registers around 2.1%. Compass Diversified's share price would have to reach $22.86 for it to register a yield of 6.3%, triple the S&P's average yield. Knowing such a yield is safe and anticipating no negative impact to Compass' cash reinforces the investment thesis for dividend investors.
Disclosure: I am/we are long CODI.
I wrote this article myself, and it expresses my own opinions. I am not receiving compensation for it (other than from Seeking Alpha). I have no business relationship with any company whose stock is mentioned in this article.
Additional disclosure: I belong to an investment club that owns shares in CODI