"The two most powerful warriors are patience and time." - Leo Tolstoy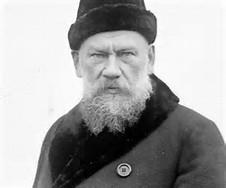 Note: To get these Biotech Forum Daily Digests as soon as they are published, just click on my profile, hit the big, orange "Follow" button, and choose the real-time alerts option.

The biotech indices have pulled back a tad from their recent highs they hit last week in the first couple of days of the trading week. This is certainly understandable as the biotech sector had romped forward some 18% since June 30th and was overdue for at least a minor consolidation phase.
However, I am still seeing myriad small cap names moving forward. Some because of very good earnings results. Others like Synergy Pharmaceuticals (NASDAQ:SGYP) and Progenics Pharmaceuticals (NASDAQ:PGNX) because of increasing speculation of possible buyout targets. Regardless, the sector is much better situated than it was a few months ago when it was locked in a long and deep bear market.

One of those small caps soaring on better-than-expected earnings is Eagle Pharmaceuticals (NASDAQ:EGRX). The stock screamed higher by almost 15% in trading on Tuesday. The company reported earnings for the second quarter of 80 cents a share, almost a dime a share better than expectations. Thanks to the impressive rollout of BENDAKA, revenues increased over 550% from the same period a year ago to over $40 million.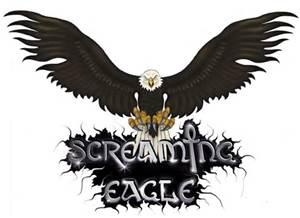 We have positively commented on this stock a few times in the Biotech Forum Daily Digest in the past few months. I also penned a detailed investment analysis on this small biopharma back in late April. The rally took Eagle back up to the $55 level. The shares peaked at over $100 last summer before the bear market descended on biotech & biopharma. The consensus estimate has Eagle earning over $5 a share in FY2017 so the shares are not expensive even with yesterday's rally.
The stock did not have the same reaction as Eagle's after earnings, but BioDelivery Sciences (NASDAQ:BDSI) had a solid quarter. BUNAVAIL is making inroads. The company has signed two deals with large managed care networks to move it into a preferred formulary position come the first day of 2017 which should boost sales significantly. BELBUCA which just rolled out is gaining traction and hit a weekly high of 1,300 prescriptions last week. I plan to follow up on a recent positive piece on BioDelivery in the near future to reflect on the latest progress.
Allergan (NYSE:AGN) reported earnings and updated guidance to reflect the recent sale of its generic business to Teva Pharmaceutical Industries (NASDAQ:TEVA) for some $40 billion. The company also stressed in its conference call that it is not looking to do any major deals after the Treasury Department derailed its mega-merger with Pfizer (NYSE:PFE) in April.
The company says it is focused on so-called "stepping stone" deals or "bolt on" acquisitions. The aforementioned Synergy Pharmaceuticals and Progenics Pharmaceuticals could be two small targets that would make sense given Allergan's desire to expand its footprint in the GI space. This is especially true for the latter if Valeant Pharmaceuticals (NYSE:VRX) does end up selling the rights to relistor to help pay down its huge debt load as has been rumored.
It has been a big week for Merck's (NYSE:MRK) cancer drug Keytruda. First, its main competitor Opdivo from Bristol-Myers Squibb (NYSE:BMY) failed in a key trial to expand the amount of indications it is approved for. In addition, Keytruda just snagged an approval in head and neck cancer for patients with advanced disease who've failed on platinum-based chemotherapy.

Mid-cap concern Incyte (NASDAQ:INCY) gets some love from the analyst community after reporting quarterly results that beat on the top and bottom line consensus. Revenues grew over 50% year-over-year as the company reported quarterly results yesterday.
That was enough for JPMorgan (NYSE:JPM), Brean Capital, Cowen & Co. and Piper Jaffray to all either reiterate or initiate the shares as a Buy. Price targets proferred within these ratings ranged from $92 at Brean to $102 at Piper.
Allergan also saw a lot of activity among analysts after its earnings report. Deutsche Bank (NYSE:DB), Bernstein, UBS (NYSE:UBS) and RBC Capital all say Buy with price targets ranging from $278 at Deutsche to $335 at Bernstein. Piper Jaffray is the only dissenter with a Hold rating and $227 price target issued yesterday. I think the majority is right on Allergan. Good growth, low debt and reasonable valuation.
It seems the huge run up in mid-cap Medivation (NASDAQ:MDVN) as it tries to fend off buyout attempt by Sanofi (NYSE:SNY) may be over. Over past couple of weeks, Jefferies, Leerink Swann and earlier today JMP Securities have issued Hold ratings on the oncology concern.
Note: New analyst ratings are a great place to start due diligence, but nothing substitutes for deeper individual research in this very volatile sector of the market. Many of the small cap names highlighted in the "Analyst Insight" will eventually appear in the "Spotlight" section, where we do deeper dives on this type of promising but speculative small cap concern.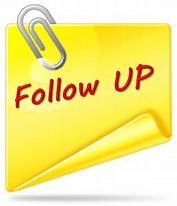 Now that the Biotech Forum Daily Digest is approaching its fourth month on being posted on SeekingAlpha three times a week, we will start mixing up some updates on previously profiled small cap stocks in addition to our regular Spotlight features. Today we will follow up on Cerulean Pharma (NASDAQ:CERU) that is up some 40% since we last took a look at it in late April and some positive events have happened for the company since then.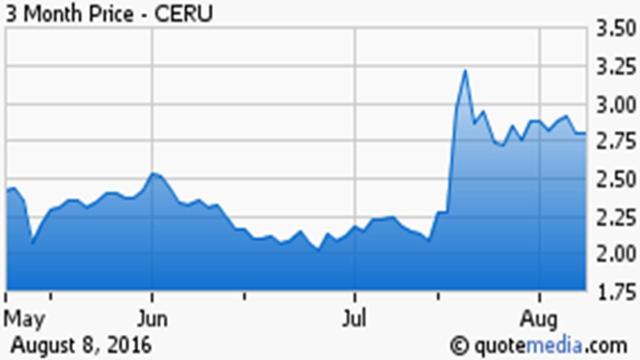 Click to enlarge
Company Overview:
Cerulean Pharma is a clinical-stage company and develops nanopharmaceutical product candidates in the areas of oncology and other diseases in the United States. Cerulean's Dynamic Tumor Targeting™ Platform creates nanoparticle-drug conjugates (NDCs) that are designed to provide safer and more effective cancer treatments. Once inside tumors, these NDCs should be actively taken up into the tumor cells where they slowly release their anti-cancer payload, providing a durable inhibition of their targets. An NDC consists of an anti-cancer payload that is chemically conjugated to a polymer backbone with a linker. The company has a current market capitalization of approximately $75 million and the stock sells for just under $3 a share.
Recent Events:
The company has benefited from several positives since we last highlighted it on April 20th. Cerulean continues to progress its pipeline forward. Late in June, the first patient was dosed in the 2a phase of a Phase 1/2a study assessing CRLX301 in patients with advanced solid tumors. CRLX301 is an NDC designed to concentrate in tumors and slowly release docetaxel, its anti-cancer payload, inside cancer cells. In preclinical studies, CRLX301 delivered up to 10x more docetaxel into tumors than the equivalent dose of commercially available docetaxel. Then in mid-July, it was announced that the FDA has designated its lead nanoparticle-drug conjugate, Phase 1/2-stage CRLX101, for Fast Track review for the treatment of platinum-resistant ovarian, fallopian tube or primary peritoneal cancer.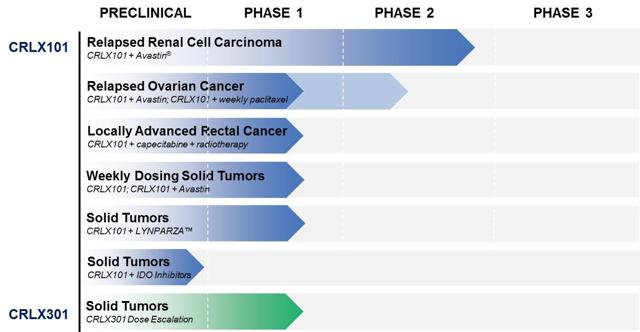 Click to enlarge
The company's pipeline progress has some fans in the analyst community. Leerink Swann reissued their Buy rating the same day that the first patient was dosed in the CRLX301 trial. Then on August 6th, Canaccord Genuity reiterated its Buy rating and whopping $15 price target. JMP Securities, Roth Capital, Wedbush and Janney Montgomery all have identical $9 price targets on Cerulean.
Upcoming Catalysts:
The company has quite a few milestones and possible catalysts in front of it as well. Cerulean will be presenting data from the second group of patients from a Phase 1b/2 trial of CRLX101 in combination with weekly paclitaxel in platinum-resistant ovarian cancer at the 2016 European Society for Medical Oncology (ESMO) Congress that meets October 7th through the 11th.
Phase 2 trial results for CRXL101 along with Avastin for the treatment of Renal Cell Carcinoma should be out before year-end. Further interim data from Phase 1b/2 CRXL101 trial combined with chemotherapy and radiation for rectal cancer should also be released along the same time frame.
Outlook:
The company has advanced its pipeline which has multiple "shots of goal" since we last profiled Cerulean. Analyst awareness and supports also seem to be growing. The outlook for biotech overall has improved tremendously since April with the sector being up some 18% in the second half of 2016 so far. The company ended the last quarter with almost $50 million in cash which will get through the first half of 2017. They will have to raise funding for continuing trial development at some point. My guess they will do so advantageously after additional positive progress on their pipeline through year end 2016. The prospects for Cerulean seem to be on a more positive slope than when we first looked in on the company.

"It is well that war is so terrible, otherwise we should grow too fond of it." - Robert E. Lee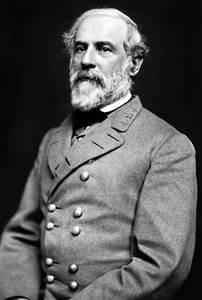 Thank You & Happy Hunting
Bret Jensen
Founder, Biotech Forum
Disclosure: I am/we are long AGN, BDSI, CERU, EGRX,PGNX, SGYP, TEVA.
I wrote this article myself, and it expresses my own opinions. I am not receiving compensation for it (other than from Seeking Alpha). I have no business relationship with any company whose stock is mentioned in this article.
Editor's Note: This article covers one or more stocks trading at less than $1 per share and/or with less than a $100 million market cap. Please be aware of the risks associated with these stocks.