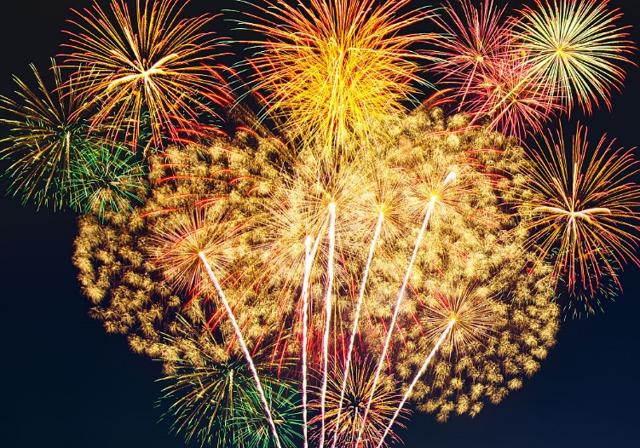 Click to enlarge
Palladium enjoyed a powerful rally on August 10, with prices rallying more than seven percent on an intraday basis to their highest since June 2015 at $748 per ounce.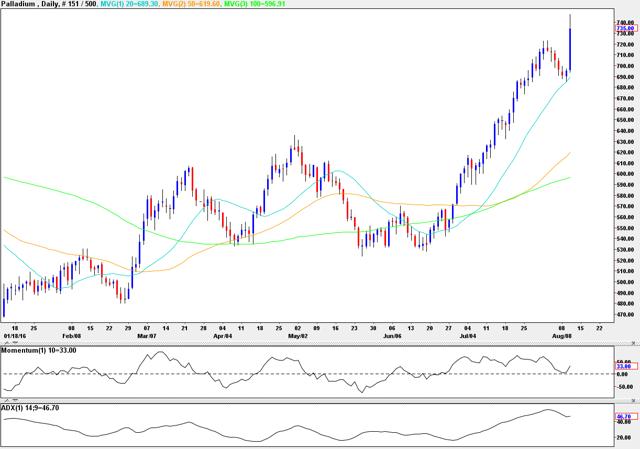 Click to enlarge
Source: NetDania, FastMarkets.
What are the possible drivers?
First, the macro backdrop has remained positive since the start of the week: although US macro data releases have recently surprised to the upside, most notably Friday's jobs report (as we highlighted in our latest Gold Weekly), the market has remained convinced that the Fed would remain behind the curve for longer, as the fall in the dollar and US real rates attest. This environment tends to exert broad-based upward pressure across precious metals. But PGMs have reacted much more positively, suggesting the presence of idiosyncratic factors. We discuss these next.
Second, it is already known by market participants that autocatalyst demand, which accounts for 70 percent of total demand, has been robust so far this year. US auto sales rose 1.3 percent in the first seven months from last year's record. EU sales climbed 9.4 percent in the first six months of 2016 from last year. But more importantly, while the latest official figures released last month showed that Chinese sales increased 9.2 percent year-on-year over in January-June 2016, a private automobile association released yesterday its figures for July, showing that auto sales rose significantly by 23 percent year-on-year in July. This could have prompted some investors to revise upwardly Chinese demand for palladium, thereby boosting prices.
Third, the rally in palladium could have been caused by the recent developments in South Africa over wage negotiations, which have intensified on August 10. While a first strike erupted at the start of the week (August 8) at Eskom, the National Union of Mineworkers (NUM) - the largest union in the platinum industry - announced that all its members at Eskom, corresponding to 15 percent of total workforce at, will embark on a strike from August 10 onwards due to an absence of agreement over wage negotiations. Against this backdrop, we believe that investors start to realize more carefully the risk of a repeat of a 5-month strike in 2014. This is why PGMs are outperforming gold and silver in recent days.
How far this rally could go?
Let's have a quick look at the speculative positioning on Nymex palladium and the ETF positioning.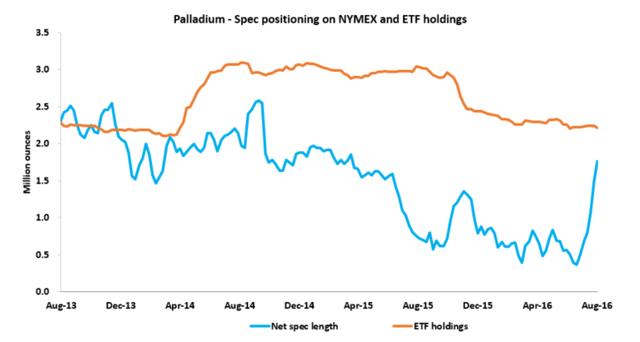 Click to enlarge
Source: CFTC, FastMarkets.
As can be seen above, the rally in palladium since June has been largely driven by speculative buying because ETF investors have remained absent for most of 2016.
While we warned our readers at the start of the year that palladium's spec positioning was clearly overstretched on the short side and as such, a rebalancing was to be expected, we now hold the view that the net speculative length has come back to normal levels, judging by historical standards. Still, we understand that speculators have a tendency to overshoot around the equilibrium, which suggests that speculators may continue to extend their bullish bets in the near term, resulting in further upward pressure on spot prices.
But we do not view the rally as sustainable. ETF investors, who hold currently 2.160 million ounces of palladium, have a more bearish view toward palladium despite its stronger fundamentals. They have sold about 10 percent of their holdings since the start of the year, with an acceleration of outflows recently. This suggests that the stronger the palladium price, the stronger outflows, reinforcing our view that ETF investors prefer to sell into rallies, holding the view that the current uptrend in palladium will not continue.
Our view:
We believe that the fundamentals of the palladium market are supportive - the palladium market is expected to be in a deficit for a fifth straight year in 2016. The global palladium market will record a larger deficit of 843,000 ounces in 2016 compared with a deficit of 447,000 ounces in 2015, according to the latest Johnson Matthey forecast. This reflects a 1.5-percent increase in total supply to 9.01 million ounces and a 5.7-percent increase in palladium demand to 9.8 million ounces.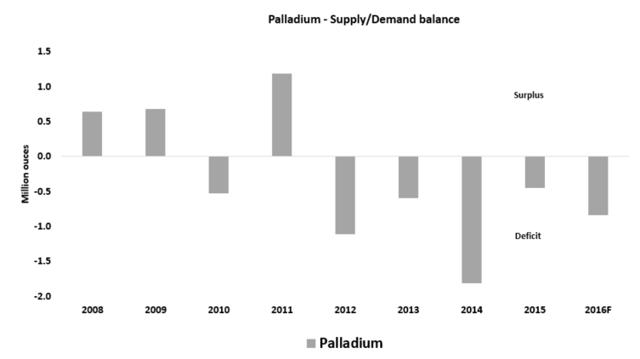 Click to enlarge
Source: Johnson Matthey.
As a result, we believe that the palladium's rally has further to run in coming weeks. Let's have a look at the technical picture to see where the potential resistance levels are situated.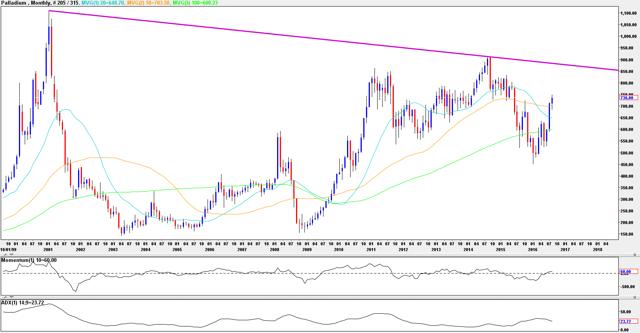 Click to enlarge
Source: NetDania, FastMarkets.
As can be seen above, we believe that palladium will encounter a first resistance at $800 - a strong psychological level. If this level is conquered, the next crucial resistance will lie at $890-900 - corresponding to the downtrend line drawn from palladium's all-time high reached in 2001 at $1,110. A break above $890-900 could send palladium much higher because a bullish breakout pattern could be in formation. Having said that $1,000 - another psychological level, will also need to be conquered. Those are purely technical numbers based on our technical analysis. But the developments in the fundamentals of the palladium market as well as the macro environment will play a crucial role.
To sum up, we see three possible drivers behind the explosive rally in palladium - the macro backdrop, strong auto sales in China, and recent strikes in South Africa. Given our view that the fundamentals are sound, we expect the rally in palladium to continue further. Still, the macro backdrop will play a key role in the durability of the rally.
Disclosure: I/we have no positions in any stocks mentioned, and no plans to initiate any positions within the next 72 hours.
I wrote this article myself, and it expresses my own opinions. I am not receiving compensation for it (other than from Seeking Alpha). I have no business relationship with any company whose stock is mentioned in this article.