Of all the stocks I have covered on Seeking Alpha, Electronic Arts (NASDAQ:EA) has shown one of the highest returns, having risen in price by over 120 percent since I first covered the company in August 2014.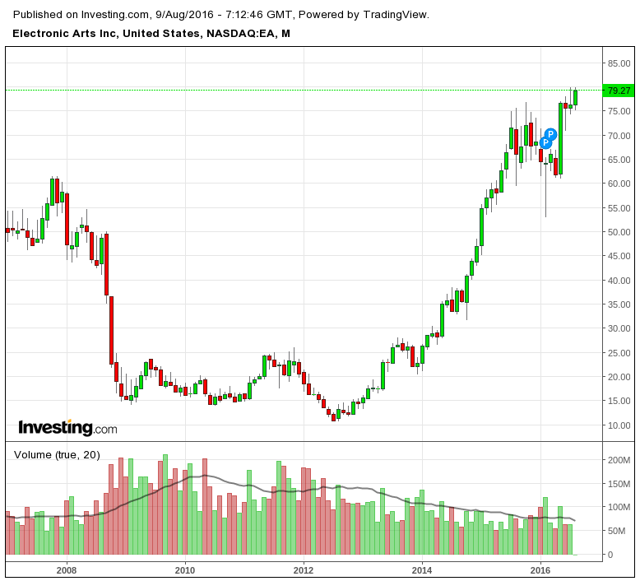 Click to enlarge
Even with this highly significant rise in the stock price over a two-year period, I still see further upside potential for the stock. There are two factors that highly attract me to Electronic Arts. The first one being a strong and highly competitive business model within the electronic gaming industry. The second being the company's strong track record in delivering robust earnings and free cash flow increases.
In regards to what lies next for the company, I had previously commended EA on its range of popular game titles placing it in a leading position in its industry, along with a strong mobile strategy ensuring a growing customer base. Indeed, mobile sales grew by 16 percent to $165 million in net sales for the first quarter, and titles including Star Wars: Galaxy of Heroes for mobile platform helped drive revenues.
Moreover, sales of console titles continue to remain strong including the Fifa 16 Ultimate Team title for Playstation 4. Indeed, the present time marks a period of growth for the gaming industry in general, with the mid-generation upgrades of Sony's (NYSE:SNE) Playstation 4 in September along with Microsoft's (NASDAQ:MSFT) Xbox One expected to lead to an increase in console sales and accordingly, major game titles. Additionally, CEO Andrew Wilson cites the company as having experience in quickly modifying its titles to accordingly suit modified platforms.
In this regard, I do not envisage that a mid-generational upgrade will pose a logistical challenge. The move by Sony is significant because while the move has come under some criticism as simply a profit-making exercise on the part of Sony, it does signal a significant shift in gaming tastes since it coincides with the company's release of its Virtual Reality headset. As standard with most companies in the electronic gaming industry, EA is still testing the waters with this industry, instead gauging demand before diving in. However, the company is in a good position to further build a user base in this regard through the X-Wing VR Mission which forms part of the Star Wars Battlefront game, which is a key offering for Playstation VR users.
From a financial standpoint, the company continues to excel. While the company trades at a higher valuation on its price to free cash flow, we see that both free cash flow per share and EPS (diluted) has continued to increase and has significantly outpaced that of rival Activision Blizzard (NASDAQ:ATVI):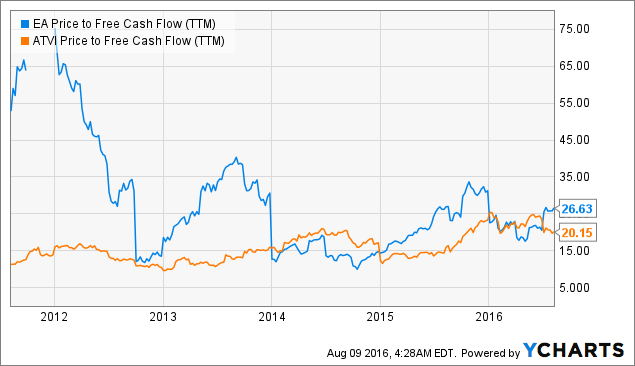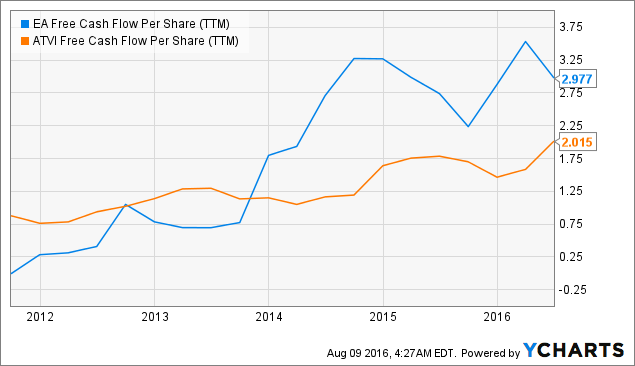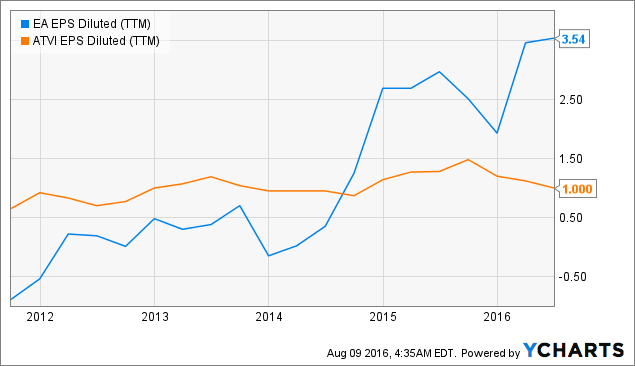 To conclude, I remain optimistic on Electronic Arts, and expect that the coming month should prove to be a time of heightened consumer interest for the gaming industry with the release of the Playstation Neo upgrade.
Disclosure: I/we have no positions in any stocks mentioned, and no plans to initiate any positions within the next 72 hours.
I wrote this article myself, and it expresses my own opinions. I am not receiving compensation for it (other than from Seeking Alpha). I have no business relationship with any company whose stock is mentioned in this article.