Good news just keeps on coming for Vale SA (NYSE:VALE), the world's leading iron ore producer. The Brazilian mining giant has seen its ADR climb 6% in the first nine days of this month.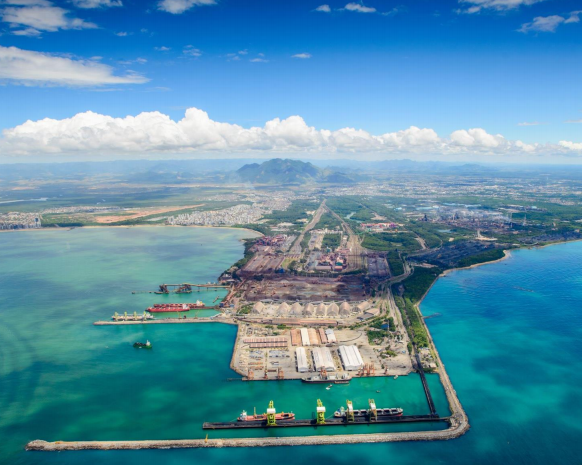 Tubarão Port, ES, Brazil. Image © Vale
Asset sales
Vale, like other major miners such as BHP Billiton (NYSE:BHP) and Rio Tinto (NYSE:RIO), has been battling a downturn in the broader commodities space. But unlike its peers, Vale also has a debt problem. The company is one of the most leveraged miners in its peer group. It carried a net debt (gross debt minus cash) of more than $27.5 billion at the end of the second quarter. That's up from $26.5 billion in the same quarter last year and translates into leverage, measured in terms of debt-to-EBITDA (2016), of 3.23x, as per data from Thomson Reuters. BHP Billiton and Rio Tinto's leverage metric, on the other hand, is substantially lower at 2.10x and 1.19x respectively. However, a recent report from Bloomberg suggests that Vale could meaningfully cut down its debt in the near future.
The Rio de Janeiro based company is reportedly closing in on selling its entire fertilizer business, which generated more than $550 million in adjusted earnings ((EBITDA)) last year, to an unidentified buyer, although Mosaic (NYSE:MOS) is reportedly mulling over buying the unit. Through this sale, Vale could pocket as much as $3 billion.
The news comes just days after Vale said that it is planning on announcing three asset sales by the end of this year. This was followed by revelation that Vale has reached an agreement to sell the rights to a quarter of its gold mine's future production to Canada based Silver Wheaton (NYSE:SLW), which already owns rights to 50% of Salobo mine's gold production, for an upfront payment of $800 million. Moreover, Vale is also reportedly thinking about selling a minority stake in its core iron-ore business to an Asian company for up to $7 billion.
The miner aims to raise billions through these asset sales and will use the proceeds to pay off some of its debt. Its target is to bring the debt down to $15 billion. It may not achieve this goal in 2016, but the miner is actively working on closing some large deals and I believe it will likely end the year with lower levels of debt as compared to last year. This can have a positive impact on the company's valuation. Its shares have already risen in anticipation of an announcement.
Iron ore price
In addition to this, the recent strength in iron ore price, which came on the back of China's stimulus plans and restocking activity by the country's steel mills, has also pushed Vale stock higher.
A drop in exports from Australia's Port Hedland, the world's largest bulk exports terminal which is frequented by the country's leading iron ore producers including BHP Billiton and Fortescue Metals Group, for the month of July to 38.7 million tonnes from record high of 41.8 million tonnes in June has also eased concerns regarding a supply glut, supporting higher prices.
The price of the steelmaking commodity (import price for ore with 62% content at port of Qingdao) reached three month of a little less than $62 per tonne on Monday, a gain of more than 30% from the average of price (Platts's 62% IODEX) of $46.65 in the fourth quarter of last year.
The S11D
On top of this, Vale's cost and production profile is positioned to improve over the next couple of years, which will allow it to compete more effectively with BHP Billiton and Rio Tinto, both of which have outperformed Vale over the last few years in terms of cost reduction and production growth. For instance, during 2010-15,Vale increased its annual output by almost 45 million tonnes while BHP Billiton and Rio Tinto's growth was more than twice that size. But the ongoing ramp up of Serra Sul, commonly known S11D, a giant mine in Brazil's Amazon which is a part of Vale's Carajás complex, will strengthen Vale's position in the global iron ore market.
The S11D iron ore expansion project is the largest of its kind in the world. It comes with a hefty price tag of $14.5 billion, but it will boost Vale's annual production capacity by 90 million tonnes while also lifting its logistics infrastructure capacity, especially the rail capacity which will grow from 155 to 230 million tonnes. The project also comes with low operational cost, thanks to its highly automated nature. This will allow Vale to improve its cost structure. At the same time, it will also give Vale an opportunity to capture premium prices since S11D will produce a superior quality iron ore with 66% fines, better than the industry benchmark ore with 62% fines.
A catch-22
Vale has recently confirmed in its quarterly results that the project's iron ore and processing plants are almost 90% complete. S11D is on track to begin commercial operations by the end of this year. However, this is a catch-22 situation.
That's because once the project becomes operational, Vale will be in a position to flood the market with additional quantities of iron ore. The company can't bring 90 million tonnes of ore to the market in 2017 due to a shortage of logistics facilities. But remember, the rail capacity is also growing by 75 million tonnes, which puts the company in a strong position to grow its output from its guidance of 340 to 350 million tonnes in 2016 to more than 400 million tonnes over the next couple of years.
This kind of growth is significant for a market whose total size is about 1.4 billion tonnes and which is already well supplied. Also, there are other, relatively smaller, projects as well which will also bring new supplies. Some of the biggest names are Gina Rinehart's Roy Hill in Australia that came in service last year and can produce 55 million tonnes of iron ore per year, Anglo American's Minas Rio project in Brazil which is ramping up to produce 15 to 17 million tonnes per year and Vale and BHP Billiton's 30 million tonnes per annum Samarco project in Brazil which shut down last year following a deadly dam burst but could restart in the near future.
Although the iron ore market seems to be moving to a balance in 2016 which has pushed the price to more than $60 per tonne, the new supplies from S11D in particular, as well as Roy Hill, Minas Rio and the restart of Samarco, could create a large supply glut in 2017. That will have a negative impact on iron ore prices, and by that extension, on Vale. The miner's revenues and earnings might come under renewed pressure. Furthermore, a weak price environment will also make it difficult for Vale to further cut down its debt by selling additional assets in 2017.
Therefore, I believe that despite the gains seen by Vale stock, investors should remain cautious.
Note from author: Thank you for reading. If you like this article, then please follow me by clicking the " Follow" link at the top of this page.
Disclosure: I/we have no positions in any stocks mentioned, and no plans to initiate any positions within the next 72 hours.
I wrote this article myself, and it expresses my own opinions. I am not receiving compensation for it (other than from Seeking Alpha). I have no business relationship with any company whose stock is mentioned in this article.